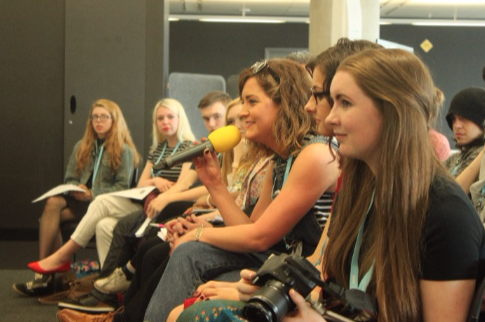 Free training day for 100 young journalists

One hundred of the 350 Podium.me audio producers and journalists are taking part in a training event to learn skills from industry professionals to develop their careers.
The Podium.me training day, now an annual occasion, will have industry speakers from commercial, BBC and independent media companies and provide advice and networking for Podium journalists. The day will explore topics such as the future of audio and a live pitching session with Radio 1 commissioner Louise Kattenhorn and CEO of Folder Media, Matt Deegan.
Other speakers include John Pickford, Editor in Chief of Bauer News, Will Jackson, Managing Director of Radio Independents Group, Rachel Mallender, Head of Audio at Harper Collins & DJ Sam Hall.
It'll all taking place at Thomson Reuters in Canary Wharf, London, sponsored by PRS.
Jane Barrett, trustee of Podium.me and Global Head of Multimedia, Reuters, said: "In an era when fake news and propaganda are putting journalism in the spotlight, it is so important to keep training young journalists how to report stories fully and tell them in compelling ways. The Podium training day is aimed at dealing with those issues and how we can all work together for the future of journalism, telling the stories that need to be told."
Andy Harrower, Director of Broadcast and Online Licensing, PRS for Music: "PRS for Music understands how important it is to nurture and support grassroots talent across all creative industries and so we are delighted to be supporting young audio producers by sponsoring the Podium training day."
Podium.me is an audio platform for the voices of 15-25 year olds. Created in 2012, it has grown into a nationwide team of over 350 young people who want to develop a career in the media. Podium creates podcasts and radio documentaries which have been broadcast on BBC Radio 1 and other networks. Podium has a Bronze Radio Academy award for Innovation, and a Silver Audio Production Award for Grassroots Production.