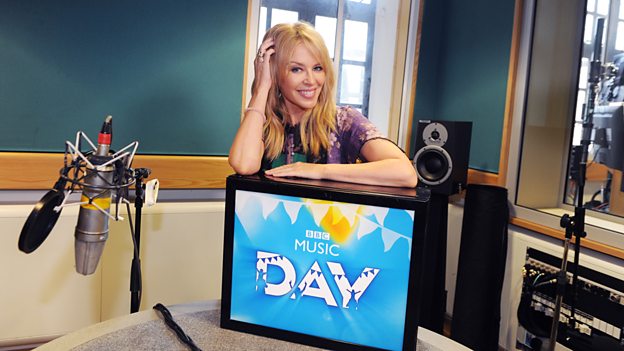 Kylie Minogue leads BBC Music Day celebrations

Kylie Minogue is headlining the promotion of BBC Music Day 2018, which will be heard across BBC Radio on Friday 28th September.
Gareth Malone and Jarvis Cocker are also amongst the famous names taking part in the event, featured on Radio 1, Radio 2, Radio 3, Radio 4, 6 Music and local and regional stations.

Kylie has recorded some music-related messages that will be played out at major rail stations on that day and there will be live music events and performances across the UK involving famous musicians, choirs and local community music groups.
BBC Music Day this year coincides with Freshers' Week. On that Friday, BBC Radio 1 will provide a Freshers' party by hosting a Rave Lounge in Brighton University with Annie Mac and Danny Howard. And BBC Radio 6 Music will be celebrating the link between art and music, including broadcasting some shows from art schools around the UK, culminating on BBC Music Day at Sheffield's Spiegeltent.
On BBC Radio 2, The Jeremy Vine Show from 1pm till 2pm will feature Songs That Changed My Life across the week, exploring the impact music has had on people. At The Troxy in London's Limehouse, a Friday Night Is Music Night choral special (8-10pm) will encompass rock, classical, musical theatre and pop – from a solo performance, to a duet, to a quartet, to the twenty piece Dynamic Voices musical theatre group, to the 1,000 strong Some Voices choir – all performing with the BBC Concert Orchestra in binaural audio to create a 3-D stereo sound sensation for listeners.
On Ken Bruce's show, The Kingdom Choir will perform live from the BBC's Maida Vale studios, and Chris Evans' Breakfast Show and Steve Wright in the Afternoon will also be reflecting BBC Music Day events.
BBC Radio 3 will be following the BBC Singers, broadcasting updates across the day as they entertain passengers on the Euston to Birmingham train, join with Workplace Choirs, and perform at New Street Station. In the evening, The Verb will be broadcasting from Contains Strong Language – a season of poetry and performance in Hull.
In addition to BBC Radio 4 Woman's Hour's Women in Music Power List, the station's Daily Service will feature live performances before an invited congregation at the programme's traditional home of Emmanuel Church in Didsbury, Manchester.
BBC Radio Wales is heading to Porthcawl with Eleri Siôn and Owen Money for the start of the Porthcawl Elvis Festival whilst Aled Hughes and Bore Cothi will be live from the National Library of Wales on BBC Music Day as they delve into the musical treasures and secrets held in the vaults for BBC Radio Cymru.
Kylie says: "BBC Music Day is a wonderful initiative – I truly believe in the power of music to bring joy and lift the soul. I am absolutely thrilled to be supporting it this year and very proud to be a BBC Music Day Ambassador. Hopefully my little messages for train passengers will be a nice surprise and a reminder of the power of music as they go about their daily locomotion journeys on Friday 28 September."
Bob Shennan, Director of BBC Music and Radio, says: "The UK is truly a nation of music lovers. BBC Music Day aims to bring the nation together to celebrate this, from pop and rock to classical and choirs and everything in between – there really is something for everyone to enjoy!"