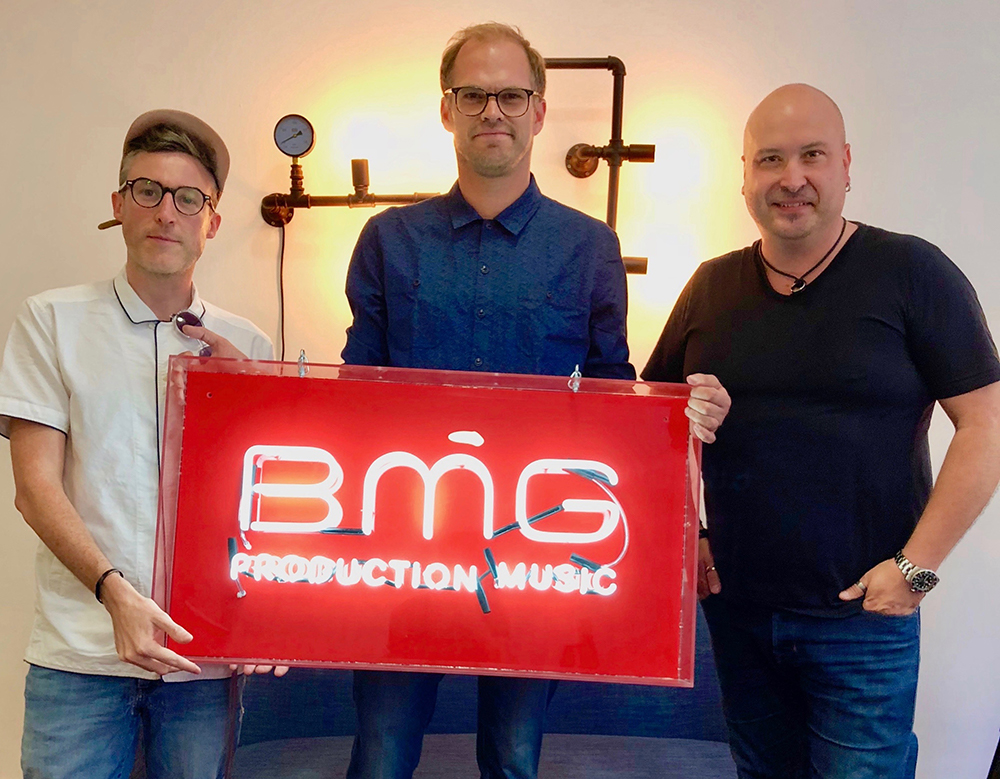 Ciaran McNeaney Deep East Music Alex Marchant Deep East Music John Clifford BMG Production Music

Independent UK production music company Deep East Music has been acquired by BMG Production Music.
At the same time, BMG has also bought the historic French production music label Tele Music.
Deep East Music was started in London in 2007 by Ciaran McNeaney and Alex Marchant. Incorporating the labels DEM, Zest and Scorched Score as well as representing Q-Factory in the UK, Deep East's catalogues are represented and available for license everywhere on every platform.
Deep East creates its music from scratch in its own studios, informed by its worldwide client network. And although they will now be a core part of the BMG PM organisation, Deep East Music will continue to operate in the UK as a separate entity.
John Clifford, BMG Production Music SVP Global Sales, Marketing & Repertoire said: "I am delighted to welcome Ciaran, Alex and the rest of the Deep East team to BMG Production Music. We have known them for several years and have always been thoroughly impressed with the way they have built and grown their business, combining great creative ideas with inspiring marketing, brilliant service and outstanding attention to detail."
Ciaran McNeaney and Alex Marchant who will both report to Clifford also commented: "After a decade of independent music-making and syncing, the whole Deep East team is excited to start a new chapter as part of BMG Production Music. Following their impressive global strategy and achievements, we look forward to joining forces, and together, contributing to BMG's vision for excellence in repertoire, personal service and music licensing for the modern media landscape."
BMG Production Music has also acquired the French production music label Tele Music. This follows the company's acquisition of AXS Music in 2017 – which established the foundation for BMG Production Music's French operation based in Paris, headed by Jérôme Keff.
Tele Music was founded in 1966 by Roger Tokarz. The company enjoyed early success when Pierre Bachelet composed the theme music for a TV ad for leading French hosiery brand DIM. They went on to create custom music for hundreds of radio and TV productions in France. Of particular note: the French version of Big Brother, Loft Story, first broadcast in the early 2000s.
Jérôme Keff, BMG Production Music France, Managing Director, said: "Integrating the Tele Music business to our current Production Music operations France is a tremendous opportunity to grow our business and extend our reach. Together with our remastered AXS label, we are excited to re-introduce Tele Music to the French media market, and to the world."
John Clifford, SVP Global – Sales, Marketing & Repertoire for BMG Production Music said, "Tele Music was one of the last great, independently owned production music catalogues with a rich heritage in our business. Like KPM, DeWolfe and others, the Tele Music catalogue represents a piece of production music history. We are thrilled to extend the BMG Production Music repertoire line-up with all that Tele Music offers and excited to make this available to our clients, and Tele Music fans around the world."
BMG also acquired UK-based Beds and Beats from Dave Bethell in 2015. BMG's production music business already includes well-known brands such as X-Ray Dog and Music Beyond in the US and MusicDirector in Continental Europe.
---
Posted on Monday, August 13th, 2018 at 1:44 pm by RadioToday UK
---