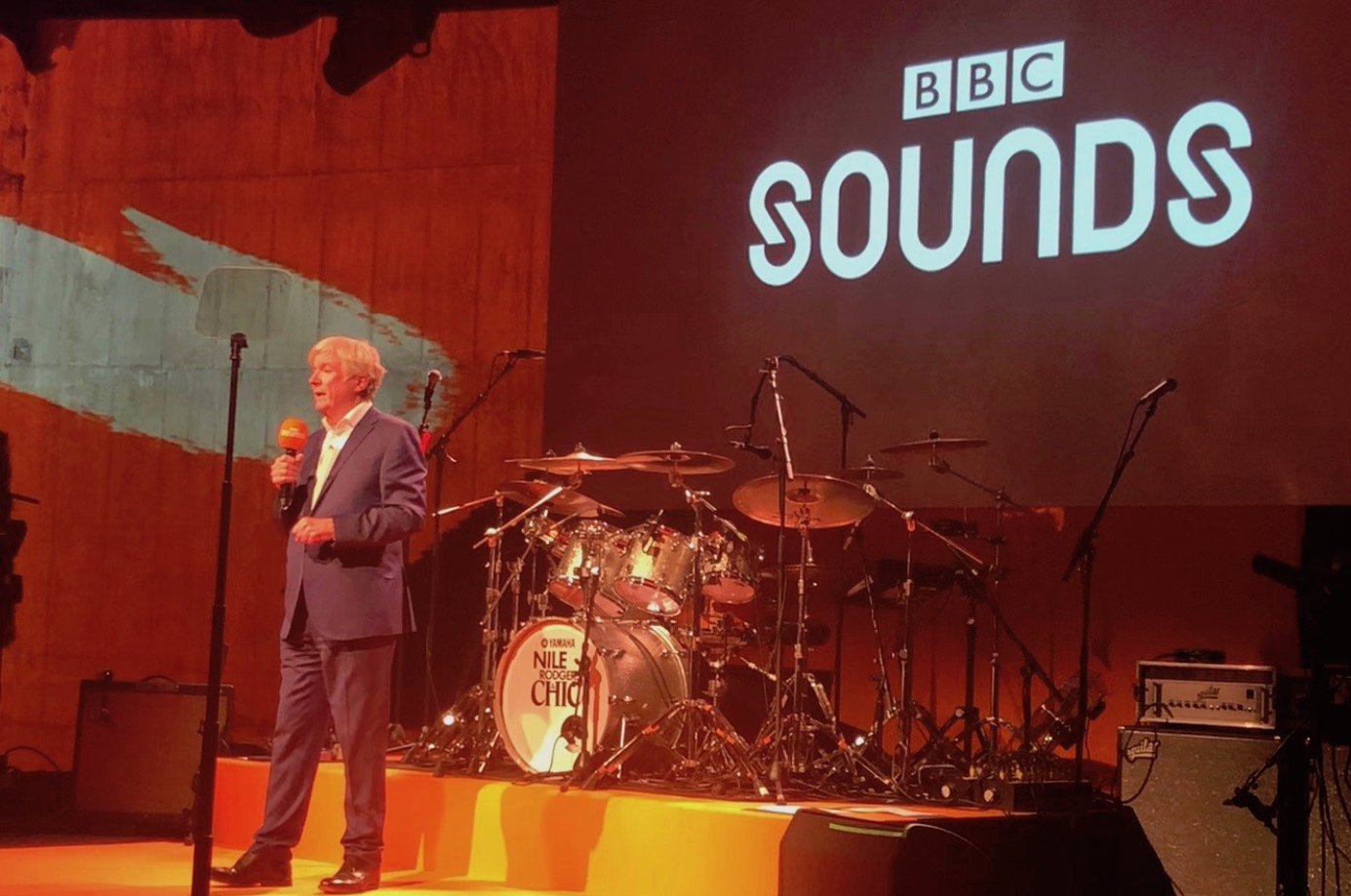 BBC Sounds has been officially launched at an event at London's Tate Modern, with the Director-General promising that the new offering would support a 'whole new generation of talent'.
The corporation's new app and online platform launches with 20 new podcasts, 40 playlists curated by artists and the BBC's music experts, and more than 100 hours of classic BBC comedy and drama from the archives.

It also provides live and on demand access to BBC radio stations (replacing BBC iPlayer Radio), and for the first time also showcases a back-catalogue of non-BBC podcasts including award-winning series such as Griefcast and Beef and Dairy Network.
The launch event on Tuesday night saw a who's who of BBC network radio turn out, including Greg James, Dotty, Steve Wright, Sara Cox, Ken Bruce, Jeremy Vine, Graham Norton, Claudia Winkleman, Tony Blackburn, Bob Harris and more. There were also performances by Nile Rodgers, Craig David, Tom Grennan, Mabel and the cast of Radio 4's Dead Ringers.
❤️ music. ❤️ radio. ❤️ podcasts.
Download the free BBC Sounds app now. pic.twitter.com/fKtqUoqEoo

— BBC Sounds (@BBCSounds) October 31, 2018
BBC Director-General Tony Hall said: "Radio is a unique and precious part of our lives and we're innovating to secure its future for generations to come. BBC Sounds is a standalone , and standout, destination bringing the best of everything we do in audio into one place. It allows us all to experiment – to explore new music, stories and ideas – to play with form and content. And it's going to support a whole new generation of talent."

James Purnell, Director of Radio and Education, added: "BBC Sounds will bring you all our audio, at the touch of a button. We'll do the hard work of finding the right mix, podcast or radio programme for you. It's the start of an adventure – we'll learn from our audiences to keep improving what Sounds offers, so we can bring the best to everyone."

Bob Shennan, Director of Radio and Music, said: "BBC Radio has always been brilliant at reinventing itself and BBC Sounds is the next chapter in that great tradition. We make the best radio, podcasts and offer the best music curation in the world and through BBC Sounds we can ensure more people than ever can enjoy that when and how they want."

Inside the app, Mcasso composed the new BBC Sounds Sting.

Mcasso producers worked with the team at BBC Creative to compose a contemporary, human sounding musical sting, created to lie at the heart of the audio content the BBC provides.

Mcasso Composer Dave Reynaud modified a real ultrasound Heartbeat, and added reverse Piano and Percussive elements for the sting, with the aim to quite literally provide the BBC Sounds heartbeat.

Specially-curated music mixes include 'Throwback Thursday' and 'Beats and Bars' from 1Xtra, Radio 1's 'Break Up Soundtrack', 'Classical Fix' from Radio 3 and a 'Match of the Day' mix created by footballers and managers. There are also celebrity curators including Nile Rodgers, Kylie Minogue and Craig David putting together playlists of their favourite songs in 'The Takeover'

New podcasts released to co-incide with the launch of BBC Sounds include 'Live Lounge Uncovered' from Radio 1 and 'Don't Tell Me The Score' hosted by sports journalist Simon Mundie, a Radio 4 Today Programme daily spin-off called 'Beyond Today' presented by Tina Daheley and Matthew Price, Rylan Clark-Neal's 'Step Back in Time' looking at pop culture from the 70s, 80s and 90s, and one using BBC Radio Sport archive material called 'Replay with Colin Murray'. There'll also be a companion podcast to BBC One drama Eastenders.

There are new episodes of popular BBC podcasts coming with BBC Sounds too – such as Evil Genius with Russel Kane, Colin Murray's Radio 2 show Blood On The Tracks and the ARIA-winning best new show You, Me and the Big C.

BBC Sounds is available online at bbc.co.uk/sounds and can be downloaded for iOS, Android and Amazon.

Here are a few podcasts available on BBC Sounds that we've picked out here at RadioToday that people working in the radio industry might enjoy…

The PopMaster Podcast
BBC Radio 2
Monday – Friday | Available November 2018
The PopMaster Podcast is a daily download of the hugely popular music quiz from Ken Bruce's midmorning show on BBC Radio 2. The much loved slot features two listeners who each answer 10 questions on pop music from the past 50 years. The winner then has to name three UK single chart hits by a certain artist in 'Three in Ten'. Alongside the quiz, it will also feature exclusive chat from Ken recorded especially for the podcast.

Replay
BBC Radio 5 Live
50 Episodes | Available November 2018
It is ninety years after the first football commentary was broadcast on BBC radio and Colin Murray delves deep into the BBC Sport archives to uncover classic moments in sporting history. Classic commentaries featured on Replay include the likes of Ali v Foreman in The Rumble In The Jungle in 1974, Celtic beating Inter Milan in 1967 to become the first British team to win the European Cup, Andy Murray winning Wimbledon in 2013, James Hunt becoming the Formula One world champion in 1976 and Jessica Ennis winning gold at London 2012. Colin Murray also rediscovers interviews with legendary names from the world of sport, such as Bill Shankly, Mary Peters, Seve Ballesteros and Alex 'Hurricane' Higgins.

Beyond Today
BBC Radio 4
New episodes Monday – Friday
In a world of non-stop news and sound bite social media, the BBC's topical news podcast Beyond Today takes listeners to the heart of a single story every day. Born out of Today – Radio 4's flagship news programme – and recasting news reporting for the on-demand world, alternate hosts Tina Daheley and Matthew Price and a team of younger journalists are on a daily mission to explore the right story, the right question with the right people to answer it. The 15-20 minute intelligent briefing will delve into a big news story with those who know it best. Aimed at anyone interested in making sense of what is happening in the world around us, Beyond Today will be available around 5pm every weekday.

Tailenders
BBC Radio 5 Live
Available November 2018
BBC Radio 1 Breakfast Show host and cricket geek Greg James, Test cricket's most successful fast bowler Jimmy Anderson, and Maccabee's guitarist Felix White take an alternative look at cricket in BBC Radio 5 Live's popular podcast. Tailenders takes a sideways look at the game, mixing humour, music, puns, stories and general mischievousness. And now, the unruly threesome is taking the hit podcast live for the first time. This December Greg, Jimmy and Felix will record an instalment of Tailenders live at the BBC Radio Theatre. Expect a variety of well-known guests, cricket-themed chat, lots of singing and some mild mayhem.

Live Lounge Uncovered
12 Episodes | Available November 2018
BBC Radio 1's Live Lounge is one of the world's most famous live music showcases. In this new companion podcast, listeners will follow the evolution of different cover versions performed in the Live Lounge through the eyes of the artist or band that are performing it. The podcast, hosted by BBC Music Introducing presenter Abbie McCarthy, will take listeners behind the scenes to hear the artists as they debate which track to cover, what elements they want to play with, deconstruct what made the song great in the first place, and follow them as they experiment with their reinterpretation.

You, Me, and The Big C
BBC Radio 5 Live
BBC Radio 5 Live presenter Rachael Bland died in early September from breast cancer after sharing her experience of living with cancer on her chart-topping podcast, You, Me, and The Big C. Now, just as she wanted them to, Rachael's co-presenters Deborah James and Lauren Mahon are honouring their friend in the best way they know how – continuing the conversation about cancer with a new podcast series. You, Me, and The Big C was crowned Best New Show/Podcast at the Audio and Radio Industry Awards (ARIAs) earlier this month, which Rachael's husband, Steve accepted on her behalf. It was also named best podcast the Northern Blog Awards at the end of September. The new series returns later this year to talk about life after Rachael, the profound impact she had on the world, and the next chapter for those still living with cancer.

Need a new or improved logo for your radio station? Visit OhMy.Graphics and see how awesome you can look.

Posted on Tuesday, October 30th, 2018 at 8:44 pm by RadioToday UK