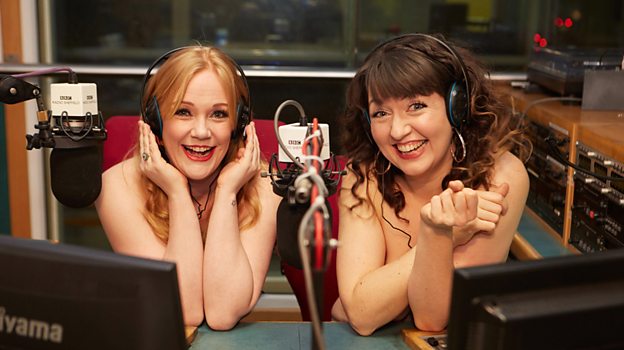 Radio Sheffield's Naked Podcast returns.. with men!

The Naked Podcast is back for a second season with something extra not featured in the first season… Men.
BBC reporters Kat Harbourne and Jenny Eells will once again strip off with their guests for honest conversations. Those who've dared to bare all for this series include Lauren Mahon from the Radio 5 live podcast You Me And The Big C; former Team GB para-cyclist Sally Hurst, and Reverend And The Makers frontman Jon McClure.
In their first ever Men's Special, Kat and Jenny hand over the mic to their BBC Radio Sheffield colleague Adam Oxley, who has an unclothed and unconventional chat to the Sheffield musician Jon McClure in his studio. Jon speaks for the first time about his struggle with body image, anorexia and puberty.
Jenny Eells says: "It feels great to be back in the saddle for series two. The incredible women (and now men!) we've spoken to never cease to amaze me. We learn new things with every episode we record and it's been quite the ride for me personally as I am now pregnant, which has given me a whole new perspective on my own body as well. Getting your kit off with a complete stranger is never an easy task especially with a growing bump… so we are, quite literally, bigger than before!"
Kat Harbourne says: "I had no idea when we started recording conversations naked that it would change the way I feel about my own body. The women we speak to have given me the confidence to run a half marathon and start loving my body – regardless of its size."
Among the adventures from series one of The Naked Podcast, BBC Radio 2 presenter Rev Kate Bottley got her kit off with Kat and Jenny to share how she had her bum pinched whilst conducting a funeral service – and the time she shared a bed with Debbie McGee. And broadcaster Stephanie Hirst confided to Kate and Jenny about the realities behind gender reassignment surgery and spending decades living in the 'wrong body'.
Katrina Bunker, Editor of BBC Radio Sheffield, says: "We're so proud of The Naked Podcast and all the fabulous guests who've taken part so far. It's got people talking about their bodies and how they feel about image and identity in a very positive and inclusive way. It means the world to hear from listeners how inspiring and empowering they've found it. Season two is even more fearless and even more fun – and there are some great surprises coming up. We can't wait to share it with listeners."
The first episode of the new series is available to download free today from BBC Sounds and will be available on Spotify, iTunes and other podcast platforms next month.