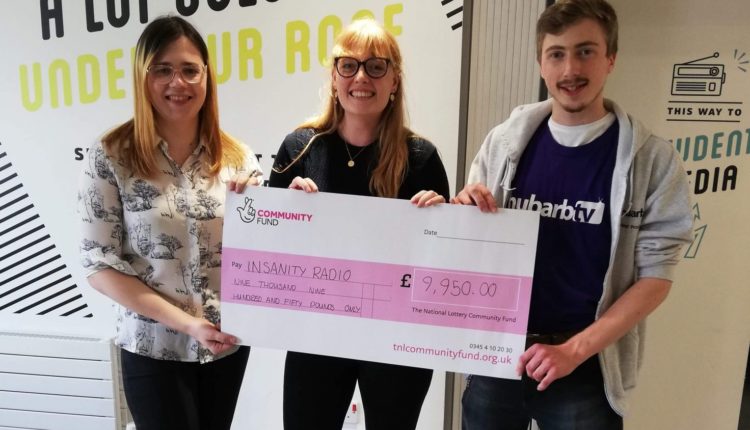 Lottery Grant for North Surrey community radio station

Insanity Radio, North Surrey's community radio station, has been awarded a £9,950 funding grant from The National Lottery Community Fund.
The grant will be used to build a new multimedia studio, which the station will use to produce radio, podcast and visual content, as well as to train volunteers and local school children who have an interest in media.
This project is part of Insanity's plan to further digitise its radio production, replacing the station's existing production studio.
Jamie Woods, project-lead and Station Manager-Elect said: "This is a fantastic achievement. It goes to show that the impact of Insanity's work over the last 21 years is massive, and has been recognised by a grant-awarding body. It's really exciting to see one of our biggest projects in recent years receive funding, as this really lifts the limit on what we can achieve as a station.
"Our aim is to make a space that is accessible to everyone. Insanity doesn't just provide media training to Royal Holloway students, but to local students and young people who have a passion for music, entertainment and media in general. By introducing a digital studio, which aligns much more closely with studios used by bigger radio groups, we can provide better training and employment prospects to those who want to pursue broadcasting as a career, but who do not have the privilege of otherwise doing so.
"We're aiming to start work on constructing this space over the University's summer break, potentially with broadcasts beginning from the new space in September 2019.
"I must say a massive thank-you to the team who worked on the project proposal – I know they are relieved that their hard work has paid off! Fantastic things happen when we work together with Royal Holloway Students' Union and the College, and we'll be continuing to work closely to bring this dream to life."
Insanity Radio is a community radio station, led by students at Royal Holloway University of London. It is funded and supported by Royal Holloway Students' Union, its parent organisation.