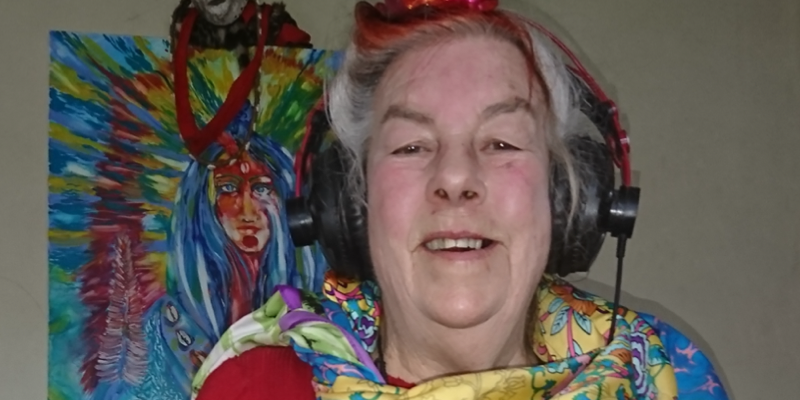 Community radio stations have teamed up to take part in an unusual radio experiment this month to celebrate International Women's Day.
Thirty women around the UK took part in a radio production challenge to make a short radio feature in a day.
Each contributor will only have heard the piece made the day before hers, and turn around a quick response to send on.
These pieces will be joined together to create a unique show for community radio listeners called "Lightning Birds: A Game of Sonic Tag".
Musician Emma Welton contributed one of the features in the show. She says "I'm genuinely intrigued by the outcome and none of us know what will come out of it and that feels really exciting."
Annemarie Bala, a community artist based in Falmouth says "It was very exciting and fun to play with something different, to disrupt the daily routines of lockdown, to be creative in a setting that can stifle creativity."
Megan Murphy at Radio LaB, Luton says: "It was a real challenge having to create an entirely new piece of audio based simply off of the inspiration of the previous days' piece."
Writer Sammy Weaver added: "Responding to the previous piece was exciting as it felt like I had an immediate connection with the maker just through their 90-second audio."
Student Megan Hayward who manages all speech on Spark in Sunderland is one of 30 women around the UK taking part. Megan said prior to the event; "I am so excited to have this as a part of our IWD programming on Spark, there's a team of nine women leading the rest of our programming on Monday from women's issues to comedy to dramas to hip hop! We've got everything covered!"
Associate Professor of Radio and Participation at the University of Sunderland Dr Caroline Mitchell says: "We are delighted that Spark is part of the Lightening Birds – A Game of Sonic Tag radio programme for International Women's Day. The station is committed to innovative programming and working in conjunction with Stellaria Meda and Soundart Radio has really enabled this to happen!"
And Lisa Redford, a presenter at Future Radio, Norwich says: "Community radio is so important and provides such a valuable service." Musician Emma Welton agrees, saying, it's "a genuine place for experimenting…and as a platform that you can specifically devise and compose pieces for at the same time as being a kind of hub and network."
The project was funded by the Audio Content Fund and produced by Alice Armstrong and Lucinda Guy, at Stellaria Media. Stellaria Media is an independent production company, based at Community Radio Station Soundart Radio, in Totnes, South Devon.
Alice and Lucinda say: "Community Radio has been more vital than ever over the last year, but for many women who have taken on extra caring responsibilities, it can be hard to get involved and have their voices and ideas heard. This innovative approach to making radio, enables us to collaborate at a distance, and create something greater than the sum of its parts."
It's easy to put travel news on your radio station, from £25 a month for online stations. See
RadioTravelNews.com
for details and same day set up.