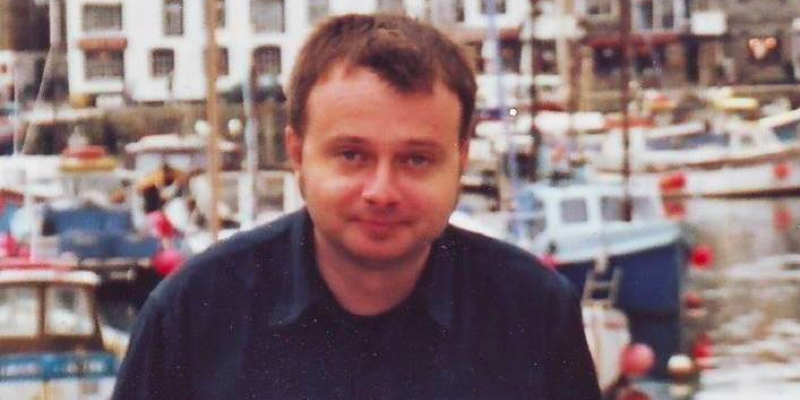 Former Pirate FM presenter and journalist Ian Polmear has died at the age of 54.
Ian was at the station for 15 years from its launch in 1992, and more recently worked in local media in his native Cornwall.
He was also a lecturer at Lincoln College and held positions at BBC Radio.
Ian's friend and former colleague Aaron James writes this tribute for RadioToday:
"To begin to explain to those not fortunate enough to spend the 1990s and 2000s listening to Ian Polmear, you have to understand that the Pirate FM of that era was an embodiment of a very different radio era to now.
Along with broadcasters such as Duncan Warren, Allen Fleckney and Robbie Dee to name three of many, the Pirate FM I grew up listening to was one far detached from the endless focus on music today. It was an appointment to listen, it was entertainment that brightened up your day, it was like having a friend inside your radio day in, day out.
Ian was a one-of-a-kind broadcaster which we will never hear the likes of again. As someone born eight months before Pirate launched, I literally had the privilege of growing up with Ian as the soundtrack. Occupying the afternoon slot for a number of years, both his ability to make his audience laugh and the very liberal use of sound effects meant that as a child I was captivated by what I heard. I wanted to be Ian Polmear when I grew up for that reason. You always got the sense that he absolutely loved entertaining others and no two shows were ever the same.
Added to that he was a terrific producer of audio too and its probably no coincidence that in the era he was responsible for a large part of the stations overall sound in between the music and links that was heavily involved in, that Pirate won the prestigious Sony Gold Award twice in 2003 and 2006- something he was hugely proud of. He also loved music, delighting in the good and revelling in the bad and notorious- who else would get away with playing the Hamster Dance on air?
I got to know Ian after he eventually moved from radio back to his roots in Journalism and lecturing in Radio Production. While I came to call him a friend, I was always mindful of the fact that this was a person I had grew up idolising and it was an absolute privilege to get to know him. He was every bit as entertaining off the mic as he was on in addition to being a walking, talking encyclopedia of radio Production that I learned a lot from as I progressed through education.
He was a great help when myself and a team of volunteers launched NCB Radio in 2011. But most of all, he was a thoroughly decent man and the regard he's held in by the many tributes from former colleagues on social media today testifies to that.
One of his big prides and joy outside of radio was his dogs, consisting of beagles and a shar-pei that he thought the world of. Indeed, almost everything I know about beagles today I learned from Ian. Perhaps it's fitting that the Beagles are very loving, loyal dogs that have a tendency to be naughty – it's a great description for Ian as a person.
Journalist. Radio Presenter. Production Genius. Brilliant man. That's how best I can summarise Ian in a few words and although there's a little part of me that's hoping hell play a sound of blowing a raspberry and announce he's gone nowhere ultimately all I can do is semi borrow a title of one of his favourite Andrew Gold songs.
"Ian Polmear. Thank you for being our friend".
---
Posted on Monday, May 24th, 2021 at 4:54 pm by RadioToday UK
---