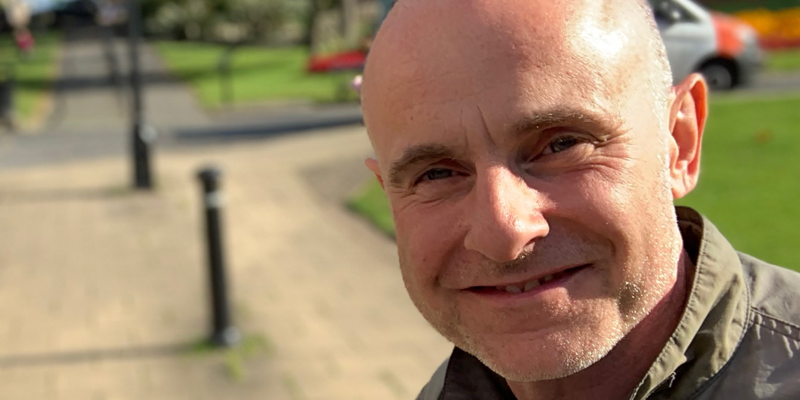 BBC and former commercial radio presenter Dom Busby has died after a short illness at the age of 53.
Dom worked at the BBC for over 30 years, most recently in sport for various radio stations.
Colleagues and radio stations have been tweeting tributes since the sad news was announced this morning.
His career took him around BBC local radio, BBC Radio 5 and 5 Live, and as one of the launch presenters at Minster FM in York.
We've lost one of our own at @bbc5live.

Dom Busby lifted us all. Forever positive.

See you around old friend pic.twitter.com/CQ6sT8H8l3

— Chris Latchem (@chrisdotlatchem) June 10, 2021
If you didn't know Dom Busby by name, you'd probably heard his voice – as he presented shows on countless BBC local radio stations.

He was also a fantastic, "sit up and take notice" sports broadcaster – this was the final bulletin he read on Radio 4 in early April.

RIP. pic.twitter.com/AT3aGXL1TZ

— Tom Hourigan (@TomHourigan) June 10, 2021
In loving memory of the nicest guy you could ever meet. From MinsterFM and BBCYork to FiveLive and Radio 4 @Dom_bbc Dominic Busby was quite simply unique. He died today after a short illness. #york #harrogate pic.twitter.com/l0jTk0Y57L

— DavidDunninguk (@daviddunninguk) June 10, 2021
It's with great sadness that we report the passing of former presenter Dominic Busby after a short illness. He was a well loved member of our team. Our thoughts are with his family and friends.
Rest in peace Dom. pic.twitter.com/inOZp8BJyM

— BBC Radio Sussex (@BBCSussex) June 10, 2021
Our paths rarely crossed physically but when we did see one another Dom Busby always greeted me like a close friend. That was Dom.

A lovely, warm & incredibly positive guy (+ v.talented broadcaster) who made EVERYONE around him feel better. Thoughts with all who knew him #RIPDom pic.twitter.com/3dHzgD4zBY

— Nick Hope – the dyslexic journalist?️?‍???‍♂️ (@NickHopeTV) June 10, 2021
Our former colleague and friend – presenter Dom Busby has died after a short illness. Dom was a familiar voice across BBC radio including here at Radio Lancashire. The thoughts of everyone here are with his family and friends.https://t.co/OnC5HTtCEv

— BBC Lancashire (@BBCLancashire) June 10, 2021
This is such sad news. The most positive, warm and encouraging person.

Pleased that our paths crossed and devastated that he has been taken from us.

Sometimes life just isn't fair…

Dom Busby: BBC radio presenter, 53, dies after short illness https://t.co/g9hGCHO24h

— Sam Clack (@Clack_Sam) June 10, 2021
Dom was such a kind man. He was so welcoming when I joined the BBC… he always had a compliment and a lovely smile for his friends and colleagues. Such a sad day.

Dom Busby: BBC radio presenter, 53, dies after short illness – BBC Sport https://t.co/GsKfkw8AMP

— Beccy Barr (@BeccyBarr1) June 10, 2021
RIP Dom Busby. Such a nice, gentle, positive and charismatic human being who was wonderful company. So sad to hear this news. BBC has lost a real friend. Wish the world was full of Dom's pic.twitter.com/AGjtK3ecvD

— Don Topley (Toppers) (@ToppersSnr) June 10, 2021
So very sad to learn about the death of Dom Busby. I'd worked quite a bit with him over the past few years, including a final time @RadioHumberside only months ago. He was always complementary about my work, which meant a lot coming from someone as liked and respected as him

— Lee Stott (@leestottradio) June 10, 2021
Sad news to hear than Dom Busby has passed away. A lovely man- my condolences to Dom's family, friends and colleagues.#RIPDomBusby

— Jason Gillespie ? (@dizzy259) June 10, 2021
I first came across Dom Busby listening to the Word Football Phone In, and his infectious rapport alongside @dotunadebayo & @Tim_Vickery

Years later we became colleagues & would constantly banter over 800m PB's.

But he would ALWAYS genuinely ask how I was.

A beautiful man ? https://t.co/Vyb6A2JunP

— Tom Gayle ? (@Tom_Gayle) June 10, 2021
A dear old friend @Dom_bbc died last night after a fight against a brain tumour. We started our careers at BBC Radio York and remained friends. Terribly sad, but I'm happy he's no longer in pain. He was a one off. @dombusby pic.twitter.com/jq9F3Xr4vN

— ???? ??????? ? ? (@andyhodgsontv) June 10, 2021
Rest in peace ⁦@Dom_bbc⁩ ?
Such a great broadcaster, you will be greatly missed by all those who had the honour of being on shift with you x pic.twitter.com/KDwZJD3YWR

— Stuart Clarkson (@stuartclarkson) June 10, 2021
---
Posted on Thursday, June 10th, 2021 at 2:24 pm by RadioToday UK
---