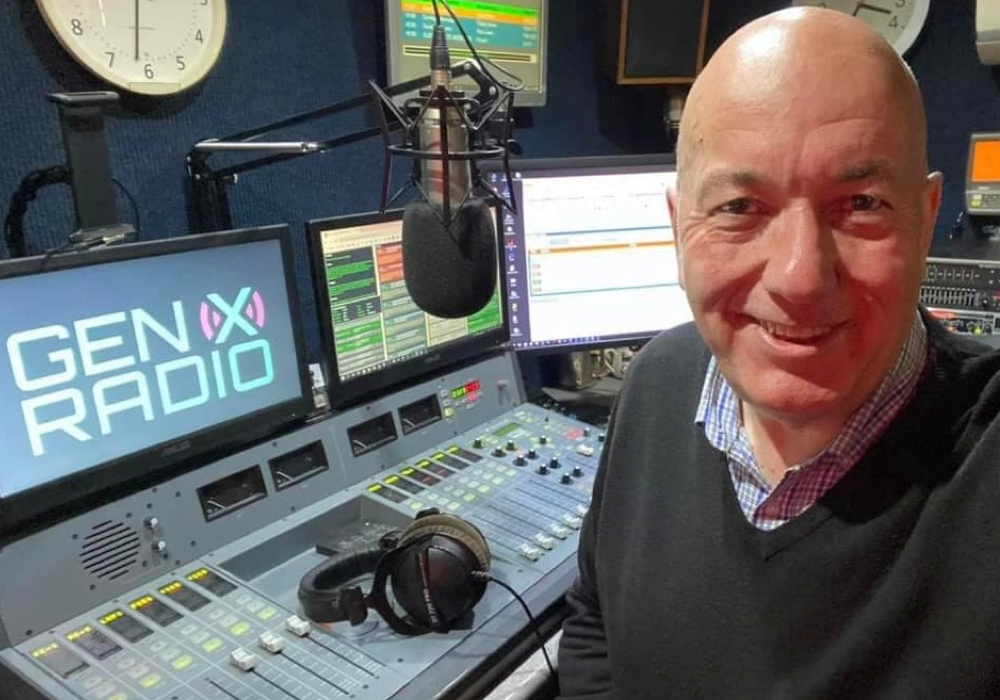 GenX Radio Suffolk has announced its breakfast presenter Tim Gough died during his breakfast show on Monday morning.
Tim, who was just 55, passed away at 7:50am from a suspected heart attack, the station said.
Tim started his broadcasting career in 1985 at Radio Orwell in Ipswich. He saw through the re-brand of the station to SGR-FM, before joining Trent FM in Nottingham in 1995.
He then spent five years at Leicester Sound presenting before becoming Programme Controller.
Tim then moved to Saga Radio to host the evening show in the East Midlands, and when GMG Radio took over in 2007 and re-branded the station as Smooth Radio, Tim was appointed Head of Presentation and subsequently Programme Controller till he left for family commitments and projects outside radio in 2010.
James Hazel, Managing Director of GenX Radio Suffolk told RadioToday: "Tim has been on the radio since the 80s and had come out of radio retirement to fully involve himself in our project from the beginning, to bring local commercial radio back to his beloved Suffolk and was hugely excited for our DAB launch at the end of the month.
"To know Tim personally, as I did very closely for over 30 years, was to know a warm, caring, fun guy who myself and my family loved dearly. We are heart broken by the news.
"I know his family are enormously comforted by the hundreds of loving messages that have been received and have asked for privacy at this devastating time."
It is with the heaviest of hearts that I have to inform you, our dear friend and breakfast host Tim Gough passed away this morning whilst presenting his program.
Our love to his family, son, sister, brother and mum.
Tim was doing what he loved. He was 55 years old.
RIB buddy. x

— GenX Radio Suffolk (@genxradiouk) October 24, 2022
That's terrible news. Ten years ago (he'd left radio then) we met up in Suffolk one evening while I was spending a week clearing my late mother's home in Stowmarket. Tim was great company and helped bring some light into an otherwise difficult time. RIP @Tim_Gough

— Paul Easton (@PaulEaston) October 24, 2022
OMG. This is a big shock. I worked with @Tim_Gough at Smooth Radio Midlands 10 years ago. We used to go for dinners at various expensive Nottingham restaurants. A wonderful man who was very entertaining company. Thoughts with his family. RIP Tim. V sad. 😪 https://t.co/C88K6dSKgf

— Paul Chantler (@PaulChantler) October 24, 2022
Absolutely gutted to hear this news about Tim. He was my first ever boss in radio at Leicester Sound when I was 18 and was SO wonderful. I have the happiest of memories & we always kept in touch & if it wasn't for him I might not be in radio… #timgough https://t.co/x43crjEHsI

— Amy Voce (@amyvoce) October 24, 2022
Heartbroken today. A phone call just after midday confirmed the news that none of us could have expected @Tim_Gough is no longer with us. A beautiful human, gentleman and father. Sleep well my friend, it's been a privilege to call you a friend https://t.co/3N5Ubk2ILV

— Jason King (@kingjasonantony) October 24, 2022
Tim was one of the kindest and most loveliest men I've had the pleasure of being friends with… Now that is a legacy we can all aspire to.

Cheers Tim for all the memories, love and laughs 🥂♥️ https://t.co/dONAEmHLdI

— Steph Miskin (@Stephie_B) October 24, 2022
Just heard the incredibly sad news today of @Tim_Gough passing. I know Tim was always supportive of his peers and colleagues. His loss will be felt deeply by everyone who was lucky enough to have known him. My condolences to his family, friends and the Gen X team. RIP

— Paul Morris (@Paul_Morris_74) October 24, 2022
It is with the heaviest of hearts that I have to inform you, our dear friend and breakfast host Tim Gough passed away this morning whilst presenting his program.
Our love to his family, son, sister, brother and mum.
Tim was doing what he loved. He was 55 years old.
RIB buddy. x

— James Hazell 📻 (@jameshazell) October 24, 2022
---
Posted on Monday, October 24th, 2022 at 5:03 pm by RadioToday UK
---