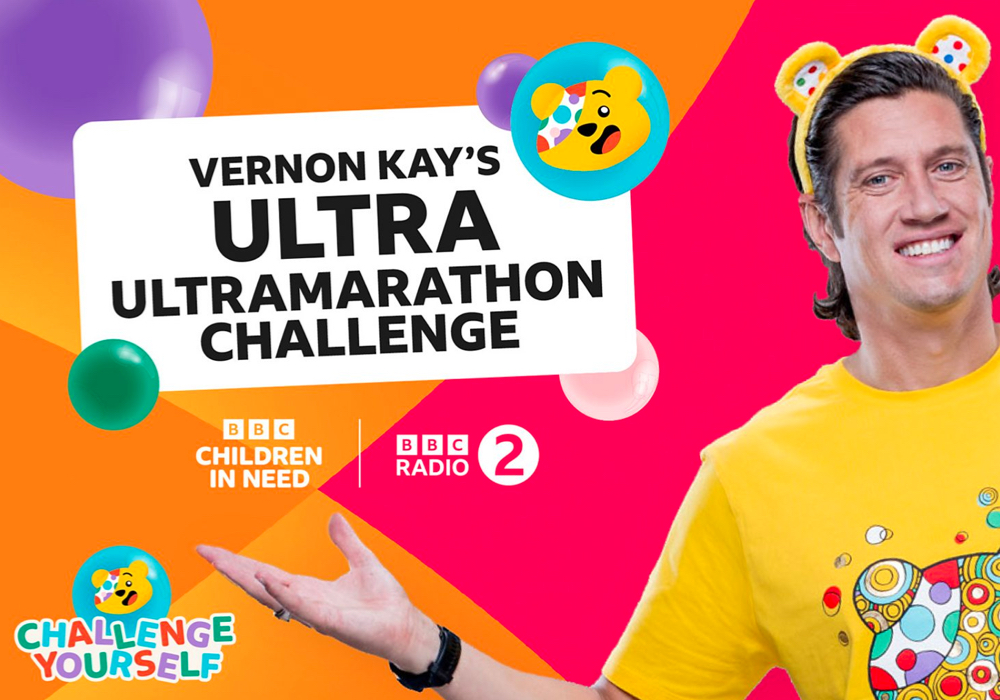 Vernon Kay joined Zoe Ball on her BBC Radio 2 Breakfast Show this morning to reveal his Children in Need challenge for 2023.
He announced he'll be taking on marathons and ultramarathons across four days to get him from Victoria Park in Leicester, recent home of Radio 2 in the Park, to Bolton Wanderers' football stadium in his hometown in Vernon Kay's ULTRA Ultramarathon Challenge.
Vernon will start his challenge on Tuesday 14 November and aim to finish around 9am on Friday 17 November (BBC Children in Need Appeal day), covering approximately 115 miles on foot. It will be broadcast live on Radio 2 across that time, with video highlights and further coverage on Radio 2's social channels.
During the challenge, Radio 2 presenters will be broadcasting their regular shows offering Vernon lots of support and keeping him motivated and spurred on with messages from the listeners. Vernon will also be broadcasting his own weekday morning show live whilst undertaking the challenge. He'll be joined on his journey by a variety of special guests to keep him going.
Vernon says: "I was just settling into my new mid-morning routine and now this! Everyone who has previously undertaken a BBC Children in Need challenge has raised so much money for this brilliant charity, so the pressure is on, but I'm up for it… so come on, let's do this!"
Helen Thomas, Head of BBC Radio 2, says: "Who better than to take on this year's Radio 2 challenge for BBC Children in Need than the newest member of our family and Bolton's very own, Mr Vernon Kay. Run, Vernon run, we're all super proud of you!"
Also announced today, this year's Radio 2 Gala performance in aid of BBC Children In Need is Back to the Future The Musical. It takes place at 3pm on Sunday 12 November at London's Adelphi Theatre.
Radio 2's Sounds of the 80s presenter, Gary Davies, will host the performance and join his fellow Radio 2 presenters to watch the show in the audience. Ticket sale proceeds from the show will be donated to BBC Children in Need.
Finally, yesterday on his show (Sundays, 11am-1pm), Michael Ball launched the search for nominations for this year's Sir Terry Wogan Young Fundraiser of the Year Award. The Award recognises Children in Need fundraisers, under the age of 18, who have shown creativity, commitment and inspiration while raising money for the charity. It was created as a tribute to the charity's Life President, Sir Terry Wogan.
The Young Fundraiser of the Year will be revealed on the BBC Children in Need Appeal show on BBC One on Friday 17 November, with the recipient receiving their award during the programme that night.