BBC Radio Sport's Jimmy Armfield dies aged 82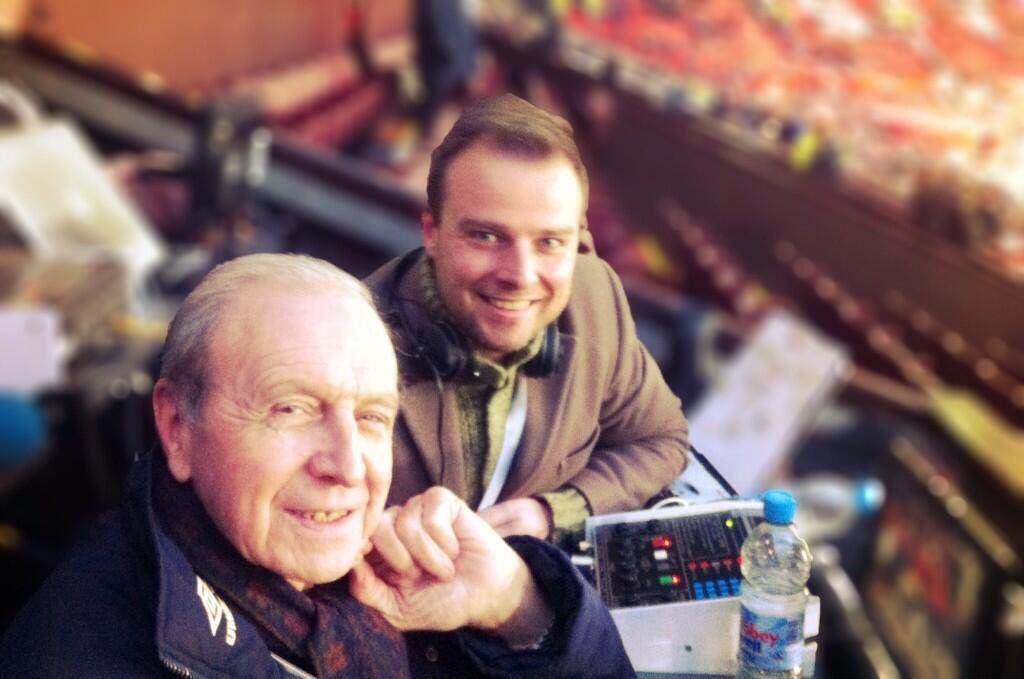 Jimmy Armfield, who spent almost 40 years on air as a BBC radio football pundit, has died following a battle with cancer.The former England football captain and Blackpool player went on to become as famous for his radio work as his footballing skills after joining the BBC in 1980.
He was regular voice on commentaries and match reports over several decades on Radio 2, Radio 5 and 5 live.

5 live Controller Jonathan Wall said: "Today 5 live Sport mourns the loss of one of our true legends and friends. Gentleman Jimmy Armfield. A very sad day but filled with so many warm memories. Talking football which I did for the first time as a 13 year old and for the last time just a few weeks ago was one of life's great pleasures. His passion for the game was infectious and his generosity of spirit second to none. He was a brilliant broadcaster, an even better man."
Speaking on 5 live, the BBC's Football Correspondent, John Murray, said: "This is extremely sad news for us, it will be extremely sad news to hear for everyone who knew Jimmy because he was such a popular man, such a friendly man. And certainly for all of us at BBC Radio Sport – all the commentators and the football producers who have worked with Jimmy over many many years – over decades. I think Jimmy was quite proud of the fact that he'd worked as long in his career broadcasting about football as he did as a player and a manager."
Sports broadcaster John Helm – the man who first hired him for the BBC – told 5 live: "I got to know Jimmy when he was manager of Leeds United… we used to do the Daily Telegraph crossword – cryptic of course – together on flights abroad. When he'd left Leeds United I met him at a Manchester City game, they were playing Bristol City, I just bumped into him in a corridor. We were chattering away and I just thought this guy's knowledge, his dry sense of humour, his wisdom, that lovely voice, his avuncular nature – was absolutely perfect for Radio 2 as it was in those days. And I said 'Jimmy would you fancy doing a bit of broadcasting for us?' He said 'I'd love that', and from the following Saturday that was it – he became one of the great voices of BBC Radio."
Jimmy did an in-depth interview with 5 live's Mark Pougatch last year – the station is broadcasting it in full again tonight at 10pm.
Today @5liveSport mourns the loss of one of our true legends and friends. Gentleman Jimmy Armfield. A very sad day but filled with so many warm memories.

— Jonathan Wall (@wallj10) January 22, 2018
The saddest of days. Jimmy Armfield was the finest football man I ever met. Will try my best with @Emmabarnett at 1105 to say why.

— Mark Pougatch (@markpougatch) January 22, 2018
So many hours spent listening to the voice of Jimmy Armfield. He was such a friendly, humble and kind individual. We have lost a true gentleman.

— Dan Walker (@mrdanwalker) January 22, 2018
Saddened to hear that Jimmy Armfield has passed away. A wonderful footballer and England captain who went on to be a terrific broadcaster of the game he loved, and, most importantly, he was a delightful man. He'll be much missed. #RIPJimmy

— Gary Lineker (@GaryLineker) January 22, 2018
Jimmy Armfield was born avuncular,with a twinkly wisdom & kind nature that belied the steel needed to prosper in football. Wore his great knowledge modestly and with dignity. RIP

— Pat Murphy (@patmurphybbc) January 22, 2018
An absolute honour to have worked with such a legend of football. Every meeting an education and, above all, a pleasure. Will be greatly missed by all who knew him which, I imagine, includes listeners who never met him. Therein lies the warmth and beauty of Jimmy Armfield. RIP. https://t.co/vktf8oY3Ip

— Jonathan Overend (@jsoverend) January 22, 2018
"He was such a popular, friendly man."@bbcjohnmurray pays tribute to Blackpool and England legend Jimmy Armfield, who has passed away aged 82.

? https://t.co/NI1sjtGRxI pic.twitter.com/1CoCG64tKO

— BBC 5 live Sport (@5liveSport) January 22, 2018
RIP Jimmy.

You absolute hero. pic.twitter.com/9cph27DkJc

— Conor McNamara (@ConorMcNamaraIE) January 22, 2018