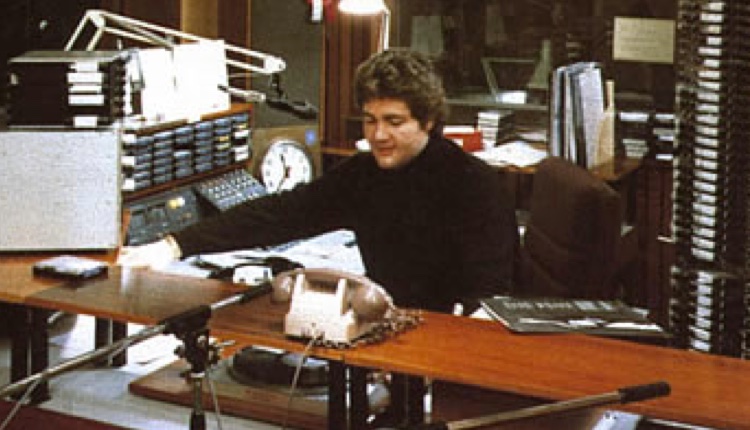 Former BBC Radio 2 and Radio Trent presenter Dale Winton has died at the age of 62.
His agent, Jan Kennedy, made the announcement on Wednesday evening, saying he passed away at his home earlier in the day.
"While we know many will share this terrible loss, we ask that you respect the family's privacy at this time of grief," she said.
Dale was a household name for his television presenting work, but had started out as a club DJ and radio presenter with United Biscuits Network before going on to a spell with Radio Trent in Nottingham in the late 1970s and early 80s. From there he went to Radio Danube, Radio Chiltern and in 1988 Beacon Radio for three years.
Following TV success with Supermarket Sweep and Pets Win Prizes in the 90s, he was given a slot on BBC Radio 2 – replacing Alan Freeman on Pick of the Pops in 2000. He presented the classic chart show for a decade, leaving when Tony Blackburn took over in October 2010. He subsequently sat in for Steve Wright and Liza Tarbuck on Radio 2 a number of times over the last five years or so.
For many years he presented the National Lottery In It To Win it quiz on BBC One as well.
Here's a recording of Dale from Radio Trent in 1982

The radio industry has been paying tribute – here's a selection of the reaction:
Dear me. Goodnight Dale. An unassuming gentle man, lively company, a pleasure to write for. I will henceforth always salute your regular spot outside Pat Val's Marylebone High Street. God Bless.

— Danny Baker (@prodnose) April 18, 2018
Not Dale Winton !! #Hero

— JOEL ROSS (@joelrossradio) April 18, 2018
Very sad to hear about #dalewinton who has died at 62. Such a charismatic lovely guy. #rip Dale pic.twitter.com/yxy2n2Zl7n

— Bruno Brookes (@therealbrunoB) April 18, 2018
Very sad to hear that Dale Winton has passed away. Met him many times over the years and he was always funny, warm and very kind. A gentleman and a great presenter.

— Dave Vitty (@davidvitty) April 18, 2018
So sad to hear to hear Dale Winton has died. I met him several times and was an absolute gent. One of the nicest men you could meet. Started his career as a DJ, then onto Radio Trent in Nottingham for many years before huge national success came his way.

Very sad day. RIP Dale. pic.twitter.com/LIQIrjmxKU

— Stephanie Hirst (@StephanieHirst) April 18, 2018
So sad to hear that the true gentleman, the charming and so kind Dale Winton has been taken from us far to soon. RIP lovely man. Xx

— Michael Ball OBE (@mrmichaelball) April 18, 2018
We are in shock…Just heard the news about Dale!From the moment I started in TV he was always good for advice,always a great laugh with a dig in the ribs and a wink! We will raise a glass tonight Dale? . RIP.

— Vernon Kay (@vernonkay) April 18, 2018
Sad news about Dale Winton. Much love to his family and friends.

— Steve Penk (@StevePenk) April 18, 2018
So very sad to hear of #DaleWinton passing. I loved listening to him on Trent & at Beacon. Amazing what he achieved following such a difficult childhood.

— Carlos (@carlosradioguy) April 18, 2018
Dale Winton gave me the best bit of showbiz advice I ever got – Don't quit the hit! Thank you Dale. X

— graham norton (@grahnort) April 18, 2018
Dale Winton was a real sweetheart. Lovely man. Sad to hear the news.

— Jonathan Ross (@wossy) April 18, 2018
Sad to hear the news that Dale Winton has passed away. I always enjoyed his company. He was fun in an endearingly chaotic way and was a warm and generous person. And he loved his Country music!

— Bob Harris (@WhisperingBob) April 18, 2018
So sorry to hear that Dale Winton has passed away.I knew him well and he was lovely man. R.I.P.

— Tony Blackburn (@tonyblackburn) April 18, 2018
Produced Dale about 10 years ago and it's an experience I'll always remember with a smile, a character in the best possible sense

— Phil McGarvey (@PipMcGyver) April 18, 2018
Sad news about Dale Winton. He was grand company. In the early 80s, he was on Radio Trent, I was on Radio Nottingham. Morning rivals. He called us the Bette Davis and Joan Crawford of local radio. I'm not sure who was who though.

— Simon Mayo (@simonmayo) April 19, 2018
---
Posted on Wednesday, April 18th, 2018 at 9:46 pm by RadioToday UK
---