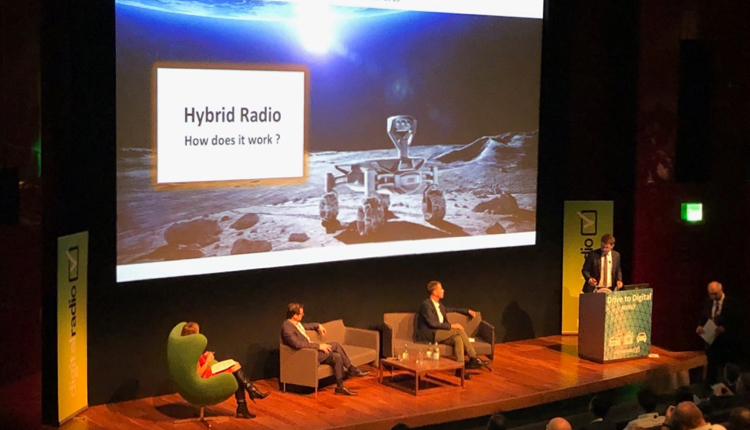 Final agenda confirmed for Drive to Digital event

Digital Radio UK has confirmed the final conference agenda for Drive to Digital 2018: The Future of Radio.
Drive to Digital 2018 will be chaired by Gethin Jones, co-presenter of the new Hits Radio Breakfast Show, and has a line up of senior speakers from broadcasters, supply chain, the automotive sector, the audio market and podcasters, who will be sharing their views on the future of radio.
The afternoon kicks off with writer, broadcaster and Observer radio critic, Miranda Sawyer interviewing Ian O'Neill from the DCMS with an update on Government policy following a video address by Digital Minister of State, Margot James MP.
Delegates will hear from BBC, Global, Bauer and Arqiva about their drive to digital, great digital content and coverage improvements. Wireless will be talking about their investment in digital radio, including Chris Evans' move to Virgin Radio, and we will also hear from Absolute Radio about their celebration of 10 years of broadcasting digitally.
The session The Podcast Revolution: What's Next? features the BBC's Podcast Commissioner, Jason Phipps; Audioboom's Ruth Fitzsimons; Acast's Sophie Herdman; and new speaker Efe Jerome, the founder of the Shout Out Network. All in conversation with Folder Media's Matt Deegan, responsible for the Fun Kids podcast network and helping to deliver the British Podcast Awards and the Love Island podcast – The Morning After.
John Lewis will talk about what's next in the new audio market along with Deezer and market analysts, Futuresource. We'll also hear from conference sponsor and audio manufacturer Pure, techUK and new speaker, WorldDAB's Jacky Bierhorst on European digital radio developments. Digital radio and audio in cars will be covered by Harman Samsung, drinks reception sponsors, DTS Connected Radio, and the Society of Motor Manufacturers and Traders.
Former BBC Director of Radio, Helen Boaden, will also share her thoughts on the drive to digital and the Rt Hon Ed Vaizey MP, former Culture and Digital Minister and now co-chair of the All Party Commercial Radio Group, together with Dianne Fuller, Global Sales Director, Roberts Radio, will be presenting the awards to the new Digital Radio Hall of Fame Inductees.
Ford Ennals, CEO, Digital Radio UK, said: "These are exciting times for radio with 50% of listening now digital, investment in high-profile digital content, and new stations and ways of listening. Drive to Digital is a must-attend, free event for anyone who wants to know what's next in radio's digital future with sessions covering Government policy, radio content, podcasting, automotive and retail. We are delighted to have assembled a line-up of exceptional speakers, from DCMS, broadcasters and across the supply chain, who are helping to shape the future of radio.
"Our thanks to our main sponsor Arqiva and supporting sponsors Pure and DTS Connected Radio."
When: Tuesday 25 September 2018, from 12.30pm
Registration and exhibition from 12.30 – 1.25pm
Conference from 1.25pm – 5.30pm
DTS Connected Radio Drinks Reception from 5.30pm – 6.30pm
Where: The British Museum, Great Russell Street, London, WC1B 3DG
How: To reserve your FREE place please contact lucy.forster@digitalradiouk.com
Created on Thursday, September 13th, 2018 at 12:55 pm