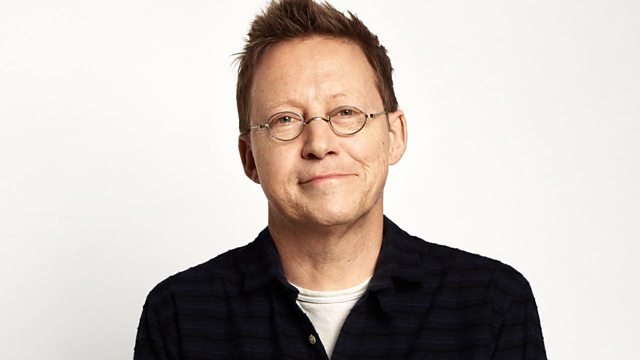 Simon Mayo is leaving BBC Radio 2 later this year and the station will get a new drivetime show, as Jo Whiley moves back to evenings from January 2019.

The pair have been hosting the 5-8pm slot since earlier this year, with listeners expressing dissatisfaction since the change.
Mayo will leave Radio 2 after 8 years on a daily show, but will continue to co-host the Kermode and Mayo Film Review on 5 live on Friday afternoons.
In a series of tweets, he wrote: "So. A few things to say. Very sadly, I have decided to move on from Radio 2. Sad to leave the show, sad to leave Jo, sad to leave Wogan House (I thought I'd be dragged out aged 120). But circumstances change. Juggling my writing and radio has become increasingly tricky (a nice problem to have). I've just signed a new 2 book deal with the nice folk at Transworld and they'll be expecting something half decent before too long. On top of that my Itch books are about to be filmed for television in Australia and the work turning Mad Blood Stirring into a movie continues apace.
"I know, I know, I'm as surprised at this turn of events as you. But at my grand old age to be setting off on these brand new trails is enormous fun. And all the more so for being so unexpected.There are, however, only so many hours in a day. I'll continue with the (flagship) film show on 5Live with Mark Kermode and, beyond that, other radio adventures beckon! But for now it's just the sadness of leaving. Radio 2 has been a wonderful place for me-my happiest radio I think. Our listeners are really quite extraordinary. One other thing. Maybe it needs to be said, maybe not but so there is no room for argument I'll be clear. I've loved working with the exceptional Jo Whiley and when the show was 'reconfigured' she was my first and only choice. Some of the abuse she has had here has been appalling. Support for a show is one thing, assaulting the dignity of a warm-hearted and loyal friend is another. So by all means discuss what's happening here, but let's keep some civility. Thank you. Here endeth the lesson. And (one very final thing), as anyone who has worked here will attest, the producers and APs are a class apart. Brilliant production teams make our jobs a joy. Thanks to each and every one. Onwards."
In the BBC press release, Simon says: "Obviously, I'm very sad to be leaving Radio 2, and my good friend Jo. However, 2019 looks like being incredibly exciting for me. I have a new two book deal with Transworld, my children's series Itch is being filmed for TV in Australia in early 2019, and I'm continuing to develop my novel Mad Blood Stirring for a movie with screenwriter Jack Thorne. Plus the film show with Mark Kermode continues on 5 live. Radio 2 has been a quite wonderful experience – my happiest in radio I think – but new adventures beckon and I cannot wait to get started."
Jo Whiley will launch a brand new show in January from 7-9pm, Monday – Thursday, featuring 'the very best new music and amazing live sessions'. Jo will continue to present the Radio 2 In Concert series and will also be standing in for Ken Bruce in 2019 when he is away.
Lewis Carnie, Head of Radio 2 said: "Simon is a fantastic broadcaster, and I'd like to thank him for entertaining millions of Radio 2 listeners with his wit and warmth over the years. Everyone at the station wishes Simon the very best of luck for what promises to be a very exciting future, and he'll be missed at Wogan House. With Simon leaving, we've taken this opportunity to take a fresh look at the schedule, and create a show for Jo which will focus on her passion for music."
Jo said: "I'm incredibly sad that Simon has decided to leave Radio 2. He's a brilliant broadcaster, a great friend and I really will miss working with him. However, I'm very much looking forward to hosting a new show for a new year which will have music at the very heart of it as well as guests and live sessions. Dream show, actually. Can't wait!"
Bob Shennan, Director, BBC Radio and Music (and former Controller, Radio 2) said: "I brought both Simon and Jo in to Radio 2 many years ago, and they have been fantastic keystones in the Radio 2 schedule. I wish Simon good luck with his forthcoming projects, and congratulate Jo on her new show, which I look forward to listening to in January."
Simon joined Radio 2 to host the Album Chart Show in 2001, alongside his afternoon show on 5 live. Before that he had been at Radio 1 since the late 80s.
---
Posted on Monday, October 22nd, 2018 at 10:17 am by RadioToday UK
---