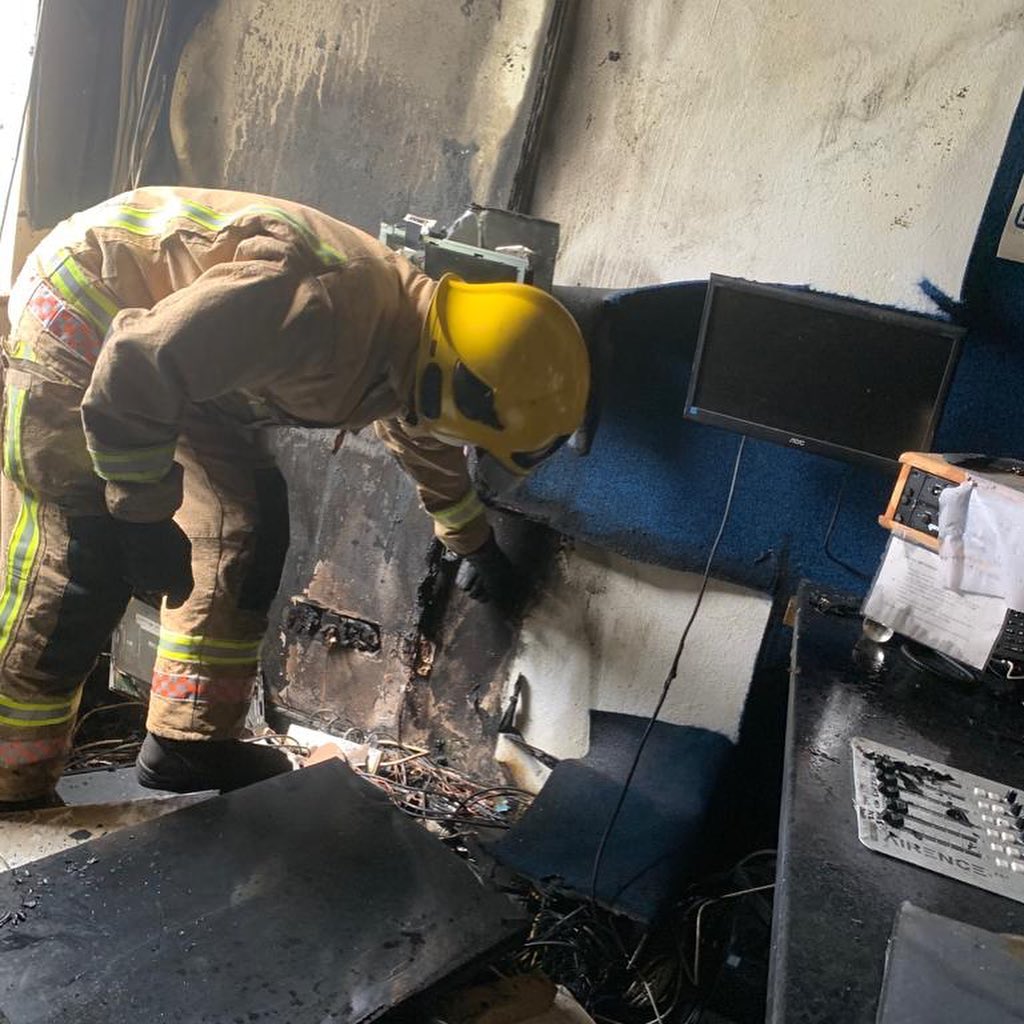 Bristol community radio station BCfm has resumed broadcasting following a fire which has destroyed its main studio in the city.
The fire appears to have started in the corner of the studio in the Easton Community Centre, shortly after 11am today (Thursday), while a presenter was live on air. The alarm was quickly raised and everyone got out of the building safely. Avon Fire and Rescue Service says 20 adults and 30 children escaped unharmed.
A video posted on the station's Facebook page shows the extent of the damage caused by the fire. In it, the presenter on air at the time, Tony, describes what happened. "Smoke suddenly appeared on my left hand side, smoke was coming up from behind the cabinet," he said. "I opened the cabinet doors to see if there was a switch or anything I could turn off, nothing appeared that I could do anything with. There was no obvious flames at this point. The next thing was the room started filling with smoke so I went out to get the reception to call the fire brigade."
In another post, BCfm said: "We are devastated to announce our studio and most of our broadcast equipment at Easton Community Centre has been destroyed. The fire broke out during a live broadcast of our Silversound Show at approx 11am this morning – thankfully neither our presenter Tony nor anyone else in the building was injured.
"The whole building was evacuated and is currently without power. Initial thoughts are that that the fire was caused by an electrical fault but this is yet to be confirmed. Our thanks go to staff and colleagues in the building and Avon Fire & Rescue Service for handling the situation so well."
The station later tweeted on Thursday evening that broadcasts had resumed on FM, DAB and online, though normal programmes are likely to be affected for the immediate future.
Thank you to all of our well-wishers following the fire that destroyed our main studio today – thanks to our tech team we are now broadcasting on FM. DAB & online. We hope to return to our regular schedule as soon as possible – stay tuned to our social media for updates! pic.twitter.com/DXz8Zktu2G

— BCfm Radio (@BCfmRadio) August 8, 2019
BCfm launched full-time operating with a community radio licence in March 2007.

Need a new or improved logo for your radio station? Visit OhMy.Graphics and see how awesome you can look.

Posted on Thursday, August 8th, 2019 at 7:10 pm by RadioToday UK