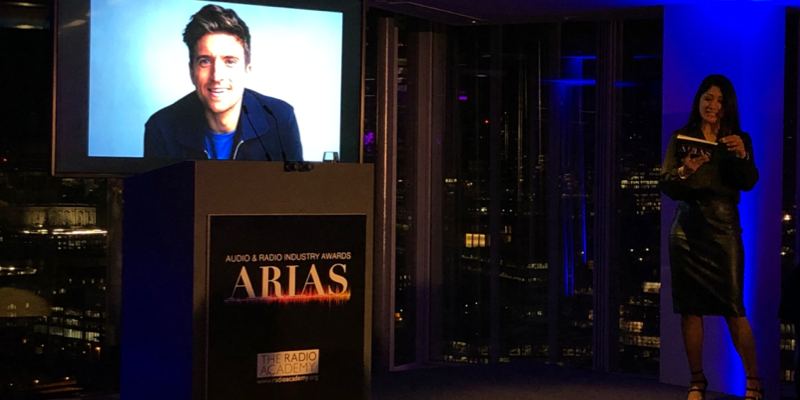 The shortlist for this year's Radio Academy's ARIAs have been announced at an event at News UK headquarters in London.
Presenters getting nominated include Chris Evans, Greg James, Stephen Nolan, Zoe Ball and Frank Skinner.

Bauer leads the Commercial Radio nominees with just over two dozen, whilst we count that News UK has around 15. Global isn't mentioned due to not submitting any entries once again this year.
The rest of the shortlist includes newspapers, independent podcasts, independent producers and presenters, along with a few local radio stations including JACK fm, Swansea Sound, Stray FM and Wycombe Sound 106.6fm.
BBC Radio 1's Greg James, who appeared on video at the nomination event on Wednesday night, will host the 2020 event on Wednesday 4th March at the London Palladium.
And whilst last year's event in Leeds was free to attend, it'll cost you £60 plus VAT for a seat at the 2020 ARIAs.
FULL LIST OF NOMINEES
Categories are in alphabetical or no particular order
Best New Presenter
Anushka Asthana, on Today in Focus, by The Guardian
Jacob Hawley, on Jacob Hawley: On Drugs, BBC Sounds
Kenny Allstar, on BBC Radio 1Xtra, by Somethin' Else
Raj & Pilar, on BBC Radio 1's The Reality Tea, by Fresh Air Productions
Simon Jordan, on talkSPORT
Tyler West, on Kiss FM
Best New Show
Politix & Chill, BBC Sussex
Radio 1 Breakfast with Greg James, BBC Radio 1
The Hang with Gregory Porter, Cup and Nuzzle
The Next Episode, BBC Sounds
Through the Decades, Absolute Radio
Today in Focus, The Guardian
Best News Coverage
Anatomy of a Stabbing, PM on BBC Radio 4
Cops on the Front Line, BBC Radio Manchester
Myles Bonnar – A-Game Exposé, BBC The Social and BBC News Scotland
The JACK News Team, Jackfm Oxfordshire
Today in Focus, The Guardian
Valley of Tears, Q Radio
Best Speech Breakfast Show
5 Live Breakfast, BBC Radio 5 live
Alan Brazil Sports Breakfast, talkSPORT
Annabel Amos at Breakfast, BBC Radio Northampton
Good Morning Ulster, BBC Radio Ulster
Julia Hartley-Brewer Breakfast Show, talkRADIO
Toby Foster at Breakfast, BBC Radio Sheffield
Best Speech Presenter
Emma Barnett, on BBC Radio 5 live
Frank Skinner, on Absolute Radio
Iain Lee, on talkRADIO
Mark Patterson, on BBC Radio Foyle
Matthew Wright, on talkRADIO
Mike Sweeney, on BBC Radio Manchester
Best Sports Show
Alan Brazil Sports Breakfast, talkSPORT
Drive with Adrian Durham and Darren Gough, talkSPORT
Super G: How Geraint won the Yellow Jersey, BBC Radio Wales
Tailenders, TBI Media for BBC Radio 5 live
That Peter Crouch Podcast, BBC Radio 5 live
The Jim White Show, talkSPORT
Best Coverage of an Event
Bloody Sunday: The Decisions Live, BBC Radio Foyle
Cricket World Cup Final, BBC Radio 5 live
England Cricket Winter Tours, talkSPORT
Great North Run, Metro Radio
Mental Health Awareness Week, Absolute Radio
The Duke, The Duchess and the Royal Dolls, BBC Sussex
Funniest Show
Elis James and John Robins, Audio Always for BBC Radio 5 live
James Veitch's Contractual Obligation, BBC Radio 4
Kurupt FM, Audible UK
ReincarNathan, Talkback for BBC Radio 4
Shagged Married Annoyed, Avalon Television Ltd
The Dave Berry Breakfast Show, Absolute Radio
Best Music Breakfast Show
Big John @ Breakfast, Hallam FM
KISS Breakfast with Tom & Daisy, Kiss FM
Radio 1 Breakfast with Greg James, BBC Radio 1
The 1Xtra Breakfast Show with Dotty, BBC Radio 1Xtra
The Dave Berry Breakfast Show, Absolute Radio
The Zoe Ball Breakfast Show, BBC Radio 2
Best Music Presenter
Abbie McCarthy, on BBC Radio Kent / Radio 1 / 6 Music
Kate Molleson, on BBC Radio 3
Mistajam, on BBC Radio 1Xtra
Olivia Jones, on Total Access
Edith Bowman, on Soundtracking a podcast by Ebow Productions
Nigel Williams, on Jazz FM
Best Specialist Music Show
Absolute Radio Stories, Absolute Radio
Bobby Friction, BBC Asian Network
Gilles Peterson, Somethin Else for BBC Radio 6 Music
Soundtracking with Edith Bowman, a podcast by Ebow Productions
The Ty Bentli Show, Country Hits Radio
This Classic Life, BBC Radio 3
Best Factual – Single Programme
A Sense of Quietness, Falling Tree Productions for BBC Radio 4
Being Gerry Adams, Juniper for BBC Radio 4
Kane Walker: Life and Death On The Streets, BBC WM
Little Volcanoes, White Stiletto Productions for BBC Radio 4
The Gig That Changed The World, Absolute Radio
The Listening Room, Prison Radio Association
Best Factual – Series
Absolute Radio Stories, Absolute Radio
Blood Territory, 7 Digital
Breakdown, BBC Radio Ulster
Ladder to Nowhere, Whistledown Productions for BBC Radio 4
Surrogacy: A Family Frontier, BBC Radio 5 live
The Bellingcat Podcast: MH17, by Novel
Best Independent Podcast
Conflicted, Message Heard
Folk on Foot
My Dad Wrote A Porno, Medium Maze
Passenger List, Goldhawk Productions / Radiotopia
The Bellingcat Podcast: MH17, by Novel
The Secret Life of Prisoners, Prison Radio Association
Best Fictional Storytelling
Alien III, Audible
A View From A Hill, Bafflegab Productions for Audible UK
First Do No Harm, BBC Radio 4
Forest 404, BBC Radio 4
Macbeth, Almost Tangible
ReincarNathan, Talkback for BBC Radio 4
Best Station Sound
Kiss FM
Project Baxter on 6 Music, BBC Popular Music Station Sound
Radio 1 Station Sound, BBC Popular Music Station Sound
Radio 2 Station Sound, BBC Popular Music Station Sound
Scala Radio Launch Package
The Absolute Radio Network
Best Commercial Promotion
Absolute Radio Queen
Samaritans, talkSPORT
The Dave Berry Breakfast Show with Wickes, Absolute Radio
The Hometime Fish And Chip Tour 2019 with Maldon Salt, Absolute Radio
Unfold Japan: Asahi Super Dry Beer, Worldwide FM
Women of Steel, The Wave and Swansea Sound
Best Marketing Campaign
Absolute Radio 10, Absolute Radio
Boyzone Tour, Magic Radio
England's Winter Tours of Sri Lanka and the West Indies, talkSPORT
New Voices, BBC Local Radio
Our biggest ever Cake and a Cuppa, BBC Radio York
Radio 1 Breakfast #MakeThisGreg, BBC Radio 1
Best Community Programming
Chris Evans with Reverend Ruth Scott, Virgin
National Prison Radio, Prison Radio Association
Samaritans, talkSPORT
The Sista Collective, BBC Radio 5 live
The Stephen Nolan Show, BBC Radio Ulster
You, Me & The Big C, BBC Radio 5 live
Best Local Radio Show
Allison Ferns, BBC Surrey & BBC Sussex
Boogie in the Morning, Forth 1
Justin Dealey, BBC Three Counties Radio
Pulse 1 Breakfast with Mylo & Rosie, Pulse 1
Stephen Nolan, BBC Radio Ulster
Trev and Rich JACK's Morning Glory, JACK FM Oxfordshire
The John Myers Award for Local Station of the Year
BBC Hereford & Worcester
BBC Radio Sheffield
BBC Radio Ulster
Metro Radio
Stray FM
Wycombe Sound 106.6fm
National Station or Network
BBC Radio 1Xtra
BBC Radio 2
BBC Radio 2 Beatles
Planet Rock
The Absolute Radio Network
Union JACK Radio
Moment of The Year
To be decided by a public vote
Boris Johnson: "I paint buses", talkRADIO
Chris Evans returns to Virgin, Virgin Radio
England Win the Cricket World Cup, BBC Test Match Special
Father Joe Gormley on Lyra McKee's Death, BBC Radio Foyle
Live from the helicopter crash site, BBC Radio Leicester
Matthew Sweet interviews Naomi Wolf, BBC Radio 3
Mental Health Minute 2019 by Radiocentre and TBI Media, across UK Radio
Overdosing man calls Iain Lee, talkRADIO
Rory Stewart makes up a stat on Emma Barnett, BBC Radio 5 live
Zoe Ball takes over at breakfast, BBC Radio 2