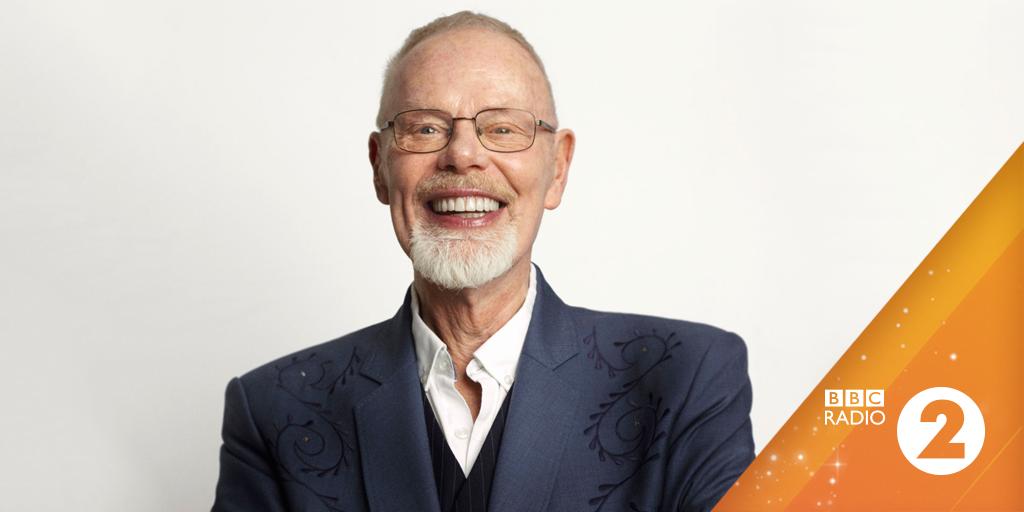 Fifty years of Bob Harris on air to be marked at Radio 2

Greg James will interview radio legend Bob Harris about his 50 years in broadcasting as part of the BBC Radio 2 summer schedules.
The programme called 'Bob And Greg' airs on Saturday 22nd August at 9pm. The Radio 1 Breakfast presenter grew up with Bob's famous whispering voice coming out of the radios at home as his father, Alan, has been a fan since Bob's first broadcast on Radio 1 in August 1970. Greg will talk in depth to Bob about his life – including writing sleeve notes for an unknown Elton John, watching Bob Marley play, and touring with bands like Led Zeppelin; his influences and his constant search for the next big thing.

Bob Harris says: "Greg and I have become great friends over recent years. I am a huge fan of his and I am really looking forward to reminiscing with him about my 50 year long career and my love and support of new music, from Bowie and Bolan via John Lennon and Bruce Springsteen to Kacey Musgraves, Lukas Nelson and the stars of Nashville Tennessee. We'll be going behind the scenes of some of my favourite interviews and on-air moments and playing a selection of amazing music from across the decades."

Greg James said: "Bob is one of the all-time radio greats and a hero to music fans all over the world. I feel very lucky that I get to sit down with him and hear some of his infamous stories and play a load of his favourite songs. I'll also make sure to get some tips on how to stay on the radio for as long as he has because I'm bad with money and my crippling mortgage won't pay itself off!"

Radio 2 has also announced that its weekday evening schedule will return to pre-pandemic timings from next week ahead of the start of a 'summer of music' on the station.

From Monday 20th July, Sara Cox, Jo Whiley, Trevor Nelson and the weekday specialist music shows will revert to their regular, pre-lockdown times. Sara Cox returns to 5-7pm, Jo Whiley to 7-9pm, specialist music shows 9-10pm and Trevor Nelson's Rhythm Nation 10pm-midnight.

Johnnie Walker's Rock Show will return from Saturday 5th September.

Helen Thomas, Head of Content Commissioning, says: "I'd like to thank the Radio 2 presenters and production teams for their incredible work during the pandemic, but it's now fantastic that next week we'll be getting back to a more familiar schedule. I'd also say a huge thank you to the listeners for their company and support over these last few months – their positive feedback and wonderful messages to our shows has kept us all going."

Bruce Springsteen is also coming to Radio 2 with his SiriusXM E Street Radio show from the US airing on the BBC from next weekend. "Bruce Springsteen: From My Home To Yours" sees The Boss playing records from his own personal collection and sharing his thoughts about the times we're living in, direct from his home in New Jersey.

Other highlights of the Radio 2 summer schedule include Aloe Blacc performing with the BBC Concert Orchestra for Ken Bruce's 'House Music' series; the return of The Keith Urban Playlist; a special edition of Trevor Nelson's Rhythm Nation to celebrate the music of the year 2000; and My Life In A Mix Tape where famous names including Emilia Clarke and Keeley Hawes will create their own playlist of songs along with stories about the reasons they've picked them.

There will also be two shows to mark the 25th anniversary of the Blur v Oasis chart battle in 1995 – one hosted by Claudia Winkleman, another by Jo Whiley.

And Radio 2 teams up with ten BBC Local Radio stations in the north of England to celebrate The Great Northern Playlist on Sunday 16th August at 7pm. Craig Charles will host a programme simulcast on Local Radio stations and broadcasting pieces of music recorded in lockdown by the BBC Philharmonic, after listeners voted for the most iconic tune to represent their area.

It's easy to put travel news on your radio station, from £25 a month for online stations. See

RadioTravelNews.com

for details and same day set up.

Posted on Friday, July 17th, 2020 at 10:48 am by Stuart Clarkson