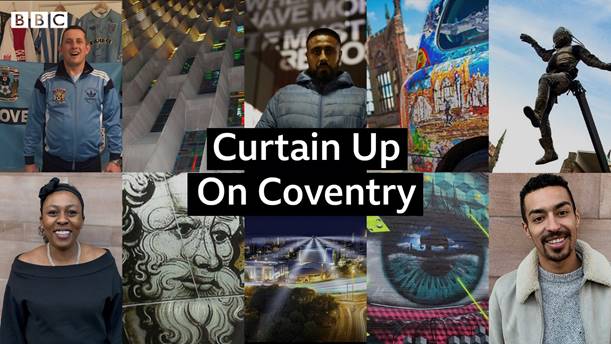 The BBC will be filming a city-wide event of performances from across Coventry this weekend with live coverage planned on BBC CWR.

BBC cameras will film "Coventry Moves" on Saturday 5th June for a special programme to be broadcast on BBC One and BBC Four.
'Curtain up on Coventry' will reflect the action from throughout the day, telling of the story of the city's past, present and future through the eyes of the people of Coventry.
Stuart Thomas, Head of Midlands for the BBC, said: "It's an enormous year for Coventry and we are proud to be able to make this film and bring into people's homes the 'Coventry Moves' event. It's one of the highlights of this great year for the city. Our cameras will capture the event and broadcast it direct to our audience."
Radio presenters Trish Adudu, Vic Minett, Brody Swain, Lorna Bailey and Letitia George will be on air from 6am -11pm whilst the BBC Midlands Today TV and online team will also be reporting on it.
'Curtain up on Coventry' will be broadcast across the Midlands on BBC ONE on Monday 7th June at 7.35pm, and nationally on BBC Four at 7 pm on Wednesday 9th June.
---
Posted on Tuesday, June 1st, 2021 at 1:01 pm by RadioToday UK
---