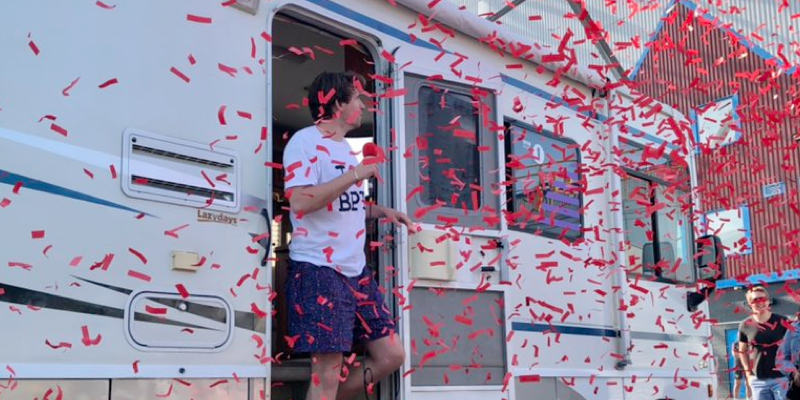 Greg James is free from the Radio 1 Campervan after 61 hours stuck inside travelling around the parts of the UK.
The promotion launched on Monday night and Greg, along with Vick Hope, Jordan North and special guests along the way including Vernon Kay joining them at Gwyrch Castle in Wales.
Getting the password required the combined help of BBC Radio 1 listeners and involved them finding clues on special stickers placed on items in three different supermarkets nationwide.
BAMBOOZLE #R1SummerBreakOut @gregjames @jordannorth1 @VickNHope pic.twitter.com/kaWogCDr6b

— BBC Radio 1 (@BBCR1) July 22, 2021
#R1SummerBreakOut @gregjames pic.twitter.com/MPtb70qs5v

— BBC Radio 1 (@BBCR1) July 22, 2021
?️LATEST CLUES?️

Can we get @gregjames out today?! pic.twitter.com/WnfHaZhogk

— BBC Radio 1 (@BBCR1) July 22, 2021
And @gregjames is out of the camper van! #R1SummerBreakOut ☀️ pic.twitter.com/J87uHdtfmO

— Burnley FC (@BurnleyOfficial) July 22, 2021
Hate it when people say my head has got too big. @BBCR1 @gregjames #R1SummerBreakOut pic.twitter.com/0W9JgX9oyA

— Jordan North (@jordannorth1) July 20, 2021
We're having the best time! Can't really say the same for @gregjames but you're getting there…keeping cracking the clues and it will all come together. #R1SummerBreakOut pic.twitter.com/5zLjFVFd6p

— Jordan North (@jordannorth1) July 21, 2021
THE GIRAFFE BREAD CLUE #R1SummerBreakOut @BBCR1 pic.twitter.com/PoJv71ULqb

— abbie little (@abbbielittle) July 22, 2021
HAPPY PLACE HAPPY PLACE TURF MOOR ?☀️#R1SummerBreakOut @jordannorth1 @gregjames @VickNHope pic.twitter.com/s95x7wNIHx

— BBC Radio 1 (@BBCR1) July 22, 2021
More follows.

Posted on Thursday, July 22nd, 2021 at 9:25 am by RadioToday UK