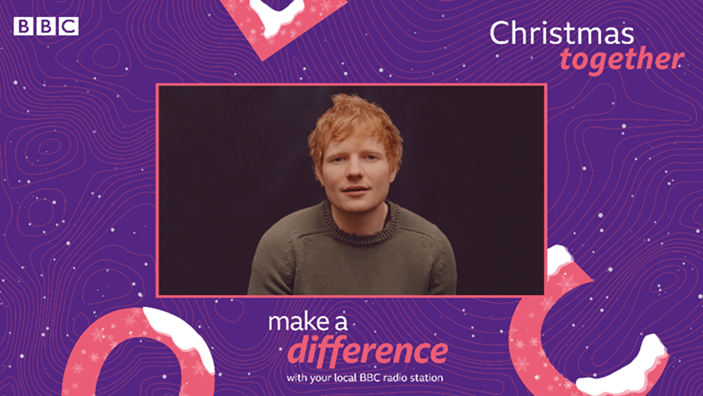 Ed Sheeran, Rod Stewart and Duran Duran have teamed up with Local BBC Radio to thank hero key workers across England.
The network of 39 stations will have a special week of programming, speaking to key workers who have been going the extra mile and making a difference in their communities.

An intensive care nurse from Leicester, who is a huge Ed Sheeran fan, got the opportunity to speak to him. Kirstie Hill works at the Leicester Royal Infirmary and during both lockdowns, she wanted to comfort and support her colleagues and patients. She decided to give them morale-boosting hugs, at a time when they could only be given whilst wearing PPE.
She said: "When you're head to toe in PPE, you can have contact with your colleagues and patients and bring a bit of humanisation to it all."
She picked up a new skill during lockdown and learnt how to crochet, and asked Ed what new skill he learnt?
Ed said: "We had a baby during lockdown and I spent my time reading books and preparing for being a father. I learnt carpentry and built a cot out of cherrywood and when Lyra was born it was about learning how to be a good dad. The thing about being a first-time dad is that no one knows what their doing at the beginning."
"I spoke to my friend who is a dad and he likened being a parent to ducks on a pond, so calm on top but underneath, the legs are frantic."
Practise nurse, Dawn Varney works in a GP surgery in Sheffield. She went out of her way to support some of her patients by visiting them on Christmas day, last year. She said: "I realised that some of my patients would be alone over Christmas. So I decided to collect presents and delivered them on Christmas morning. Some of them have no family and would have had no one visiting, so I decided to make a small difference and visited them.
Ed said: "That's incredible."
Dawn is a huge Ed Sheeran Fan and loves to sing. She started a singing group with some of her patients, so they could get out of the house every week. She asked Ed to play his guitar and sing with her whilst she sung 'Lean On Me' which became the theme song for her group.
Other key workers also get their chance to put their questions to music legends Rod Stewart and Duran Duran this Christmas, on Local BBC Radio.
Chris Burns, Head of BBC Audio and Digital, for England says: "It's been an extraordinary 18 months across local BBC Radio. This Christmas we hope to bring some joy to the nations 'hero key workers' for making a huge difference across England. We hope the star line-up across local BBC radio will go a long way in bringing joy and sparkle to the many who have helped their communities."
Each special episode will be packed with Christmas spirit and the very best music from each of the artists from over the years and will go out daily, across Local BBC Radio at 9.00am, from Monday 27 December to Friday 31 December.
Other programming across Local BBC Radio this festive December includes (taken from BBC Press):
From 6 December to 10 December Special programming on Local BBC Radio Breakfast shows where Singer Katie Melua finds out how we can Make a Difference to help homeless people this Christmas. It comes after Katie had a personal experience of a close friend becoming homeless last year, during the pandemic.
24 December – Together for Christmas. From 1.00pm -2.00pm listen to the emotion of families and friends being reunited in 'Together for Christmas' across Local BBC Radio.
Listen to Our Communities Sing – 5.00pm – 6.00pm, which is a great mix of communities singing together to celebrate Christmas in a concert.
Listen to Hacker and Dodge: Christmas With Friends 9.00pm-10.00pm A Concert with the BBC Philharmonic.
At midnight on Christmas Eve, Keeping Faith at Christmas, will broadcast across Local BBC Radio in England. Presented by Reverend Frances Finn, the special programme features stories of people whose faith is helping them make a difference in their communities; an "in conversation" with the Archbishop of York, Stephen Cottrell; and a selection of Christmas carols.
The Christmas Day service airs at 0700 across all 39 Local BBC Radio stations. Coming from Coventry Cathedral it is led by the Dean of Coventry John Witcombe and includes messages from the Archbishops of Canterbury and York.
Need a new or improved logo for your radio station? Visit OhMy.Graphics and see how awesome you can look.

Posted on Wednesday, December 1st, 2021 at 11:57 am by RadioToday UK