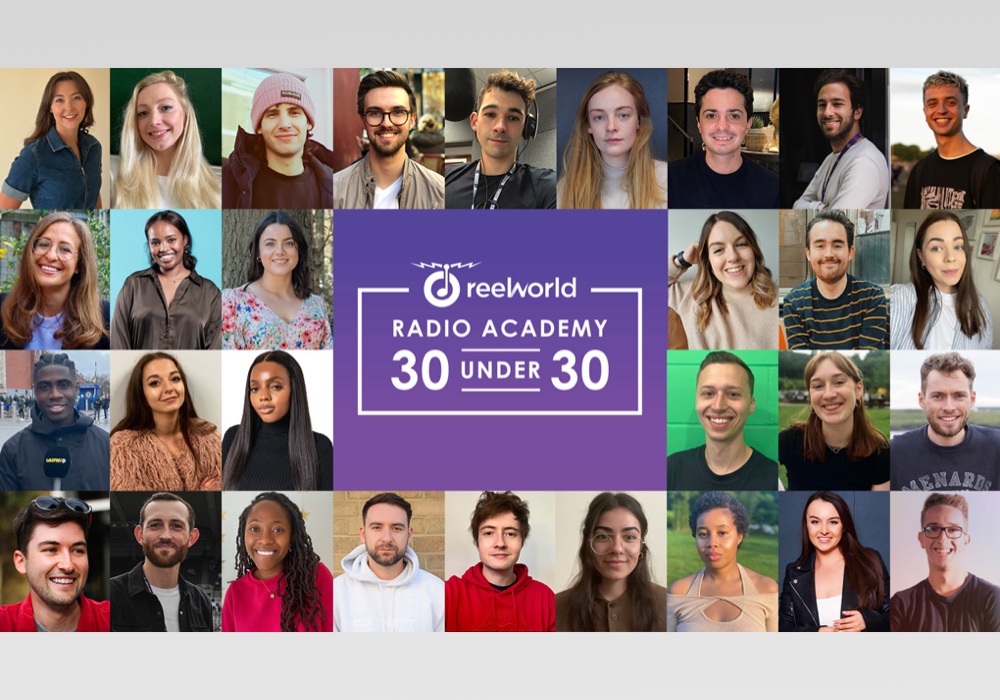 The Radio Academy has unveiled the Class of 2022 in its annual 30 Under 30 list of ones to watch.
The list features 30 individuals who have shown they are on a trajectory to lead our industry into a bright and bold future, demonstrating passion, skill, and a deep understanding of the medium.
The annual ReelWorld Radio Academy 30 Under 30 features people in a wide range of roles across the industry, including presentation, production, commercial, engineering, journalism, digital and station management.
Steve Parkinson, Chair of Judges for 30 Under 30, said: "This group of extraordinary people demonstrates once again that radio and audio is the most appealing of industries in which to build a career. Year after year, hundreds of young people apply to show off their skills and passion for a range of audio roles – from presenter and engineer to producer, podcaster, journalist and more.
"The industry is thriving like never before with impressive Rajars and an explosion in creative podcasts. It's a privilege to chair such a prestigious and diverse panel of industry specialists and professionals who have the near impossible task of whittling the scores of inspiring entries down.
"We could have easily awarded 60 or more places. Huge congratulations to all 30."
Anthony Gay, MD and CSO of ReelWorld Europe, added: "Audio continues to be a medium in the ascendance. Creative excellence, technical innovation and powerful engagement continue to light up our industry, regardless of the platform or format.
"ReelWorld's passion and enthusiasm for the medium extends beyond our audio branding and it's a huge honour to help acknowledge all those talented individuals that have made this year's 30. Judging was both difficult and hugely inspirational and I look forward to seeing those on the list continuing to make waves in the audio industry in years to come."
The full Class of 2022 are:
Abigail Bower – Commissioning Producer, BBC Sounds
Annabel Dry – Breakfast Producer, BBC Radio Kent
Ben Tulloh – Co-founder, Burning Bright Audio
Callum Marks – Founder/Production Director, Listening Dog Media
Charlie Jones – Journalist, BBC Radio Newsroom
Charlotte Ivers – Political Correspondent, Times Radio
Dan Hardoon – Producer, Freelance
Daniel Wittenberg – Senior Producer, BBC News
Gabriel Francis – Producer, Reduced Listening and Presenter, WorldwideFM
Georgie Prodromou – Westminster Correspondent, Bauer Media Audio
Hanna Adan – Freelance Podcast Producer and Journalist
Iona Hampson – Journalist, BBC World Service
Izzie Clarke – Senior Producer, Presenter & Author, Fresh Air Production and The Supermassive Podcast
James Norman-Fyfe – Assistant Commissioner, BBC Sounds
Katie Bevan – Producer, KISS
Kweku Afari – Broadcast Journalist & Producer, talkSPORT
Leila Al-Mitwally – Assistant Producer, BBC Radio 1
Lisa Kinga-Wahinya – Assistant Producer, BBC Radio 1Xtra
Oliver Dyer – Broadcast Journalist, Isle of Wight Radio
Olivia Swift – Producer & Podcasting Manager, Reform Radio CIC
Ollie Thomson – Executive Producer, Audio Always
Patrick Thomas – Assistant Producer, Zoe Ball Breakfast Show on BBC Radio 2
Rob Schofield – Broadcast journalist, BBC Radio 5 Live Sport
Rufaro Faith Mazarura – Assistant Producer, Audio Always
Sam Hutt – Senior Producer, We Are Grape
Sean Allsop – Factual Producer, Audio Always
Soila Apparicio – Podcast Producer, Sky News
Sylvie Carlos – Producer, Unedited for BBC Radio 1Xtra
Tatum McGreal – Presenter, KISS
Will Dell – Freelance Audio Producer
---
Posted on Tuesday, November 15th, 2022 at 5:00 pm by RadioToday UK
---