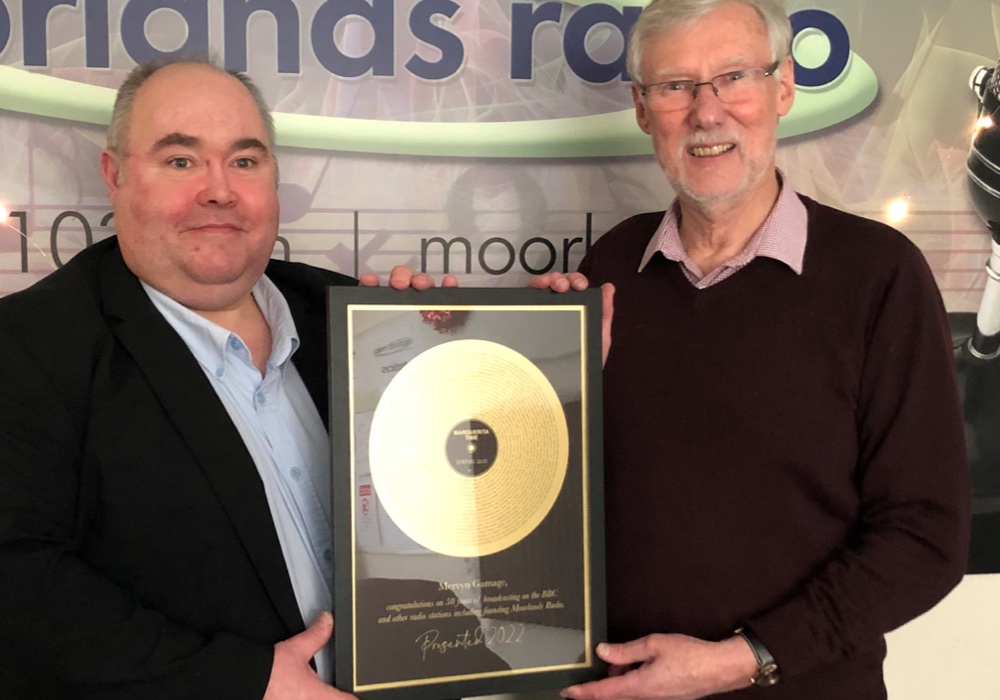 Former BBC Radio presenter and now community radio volunteer Mervyn Gamage is celebrating 50 years on the radio.
Initially joining Hospital Radio Chelmsford as a volunteer, he soon had his own show, which eventually led to him joining the BBC.
In his career with the BBC he presented a weekend breakfast show on BBC Radio Sheffield, followed by the breakfast show on BBC Radio Northampton.
In the late 80s he moved to Leek in the Staffordshire Moorlands and took up a position as programme organiser at BBC Radio Stoke, with a time managing the entire radio station. Mervyn left the BBC in the late 90s to take on a media role within the local NHS until his retirement just over ten years ago.
In 2003 Mervyn joined Staffordshire Moorlands based 'Moorlands Radio' and over the years with the station he has worked as a director and manager, along with helping them to secure a full-time 'FM' license in 2009.
For the last 8 years, Staffordshire listeners have been able to hear him on the Saturday Breakfast Show with Tony Mullins.
On Saturday, the radio station team surprised Mervyn with a party at the station, including clips and jingles from the last 50 years. Tony presented him with a special gold disc on behalf of the station team, his friends and family.
Leek's town crier Bill Lomas started off the special radio show with a cry to mark Mervyn's 50 years on the radio.
Mervyn said "it was a real surprise when everyone turned up at the station. It was also strange to hear some clips of my shows and interviews from the last 50 years. I have been in local radio for most of my career and I still believe in the concept.
"Saturday mornings are a lot of fun, and my career has gone full circle as my first proper radio show was Saturday Breakfast on Radio Sheffield. My wife Trish and my daughter Carrie have been working with the team at the radio station for weeks to organise this surprise. It was such a shock!"
One of Mervyn's closest friends Steve England had a very special PAMS jingle made for the show. Thanks to Steve, during the show, there were Alfasound jingles played from BBC Radio Northampton and BBC Radio Stoke from Mervyn's time at each station.
Photograph: Mervyn Gamage receives his gold disc from his Saturday co-presenter Tony Mullins. (Mervyn is on the right)
---
Posted on Friday, December 16th, 2022 at 10:27 am by RadioToday UK
---