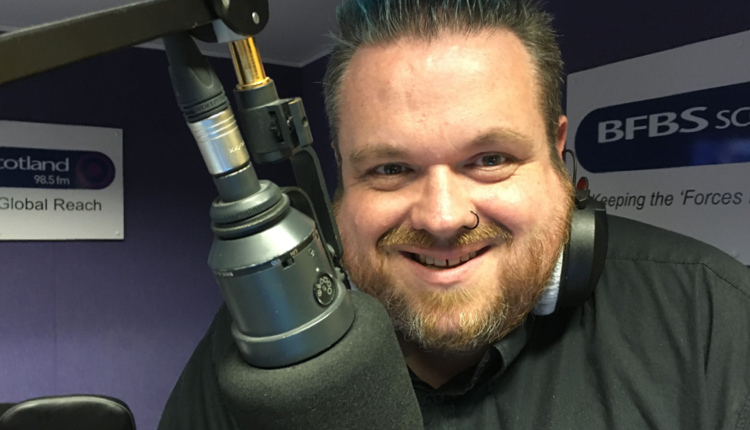 Jim Gellatly joins BFBS Scotland for Breakfast

Jim Gellatly has been recruited as a forces broadcaster to present the Breakfast Show on BFBS Scotland.
The former Northsound, XFM, Clyde 1 and BBC Radio Scotland presenter is also on Amazing Radio where he'll continue to host a new music showcase show.
"It's a great opportunity to engage with a new community and learn about the amazing work the Forces do across the world," he says.
"I feel so privileged to be part of the BFBS family. I was looking for a challenge and I've been blown away by the passion for the station and what we do."
Jim was recognised in 2008 when he was awarded the Radio Academy PRS John Peel Award for Outstanding Contribution to Music Radio. Previous winners include Kenny Everett, Tony Blackburn and John Peel himself.
The Dundonian shares his own career highlights in the industry too: "I was the first presenter in the world to play some of Scotland's biggest acts including Biffy Clyro and Amy Macdonald. I've twice surprised Amy live on stage at the legendary Barrowland in Glasgow to present her with sales discs."
After starting out on work experience at MFR in Inverness in 1987, Jim moved to Northsound in Aberdeen and XFM Scotland. He's also presented shows on BBC Radio Scotland, Clyde 1 and the Bauer network.
In addition to his new daily 6.30-10am show for BFBS Scotland, Jim will continue to write his weekly New Music column for The Scottish Sun and work on Amazing Radio.
"I'm probably best known as a new music broadcaster but I genuinely think that the music we play at Forces Radio BFBS is outstanding. It's a class above the playlist fodder on some stations," he adds.
"I'm really looking forward to meeting some interesting people with amazing stories to tell, engaging with the forces community, getting stuck in and learning more!"
BFBS Scotland is on 98.5FM in Edinburgh, 87.7FM in Inverness and Fort George and 1287AM in Glencorse.