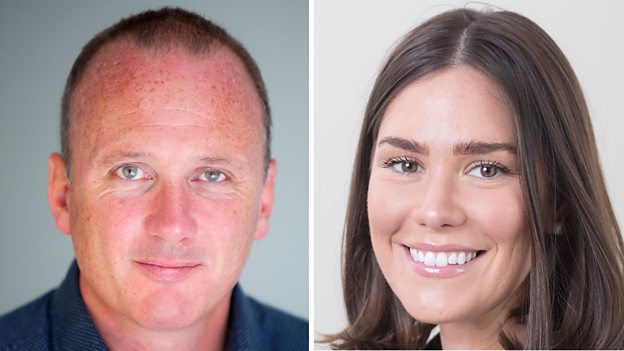 Flagship TV show for ex-Northsound journalist

BBC Scotland's flagship daily news programme on its new channel will be co-anchored by former Northsound journalist Rebecca Curran.
Rebecca will be on the television each evening for an hour-long show starting in February along with Martin Geissler.
She's been at the BBC since 2016, based in the BBC's Aberdeen newsroom, and spent three years before that at STV.
Speaking of her appointment, Rebecca says: "I am absolutely delighted to be joining the new BBC Scotland channel. This is an amazing opportunity for me personally and professionally, at what is an exciting time for broadcasting in Scotland. I have enjoyed every minute of working in the Aberdeen newsroom, covering a fantastic patch with great colleagues, but I am looking forward to this next challenge."
Martin Geissler has been with ITN since 2002 and is currently based in Scotland with ITN, covering stories from around Britain and across the globe, and also produces and presents regular "essay" pieces on politics and modern Britain. He was previously Brussels, Africa and Scotland correspondent for ITN.
Programme editor Hayley Valentine says: "Rebecca has gained a reputation as one of the BBC's most talented reporters over the last two years, and brings with her a passion for original journalism that will continue to shape the agenda on the show every night. She's also smart, warm and engaging.
"Martin has earned his status as one of the stand out journalists on British television, covering some of the major world events of the last 25 years. His knowledge of world, UK, and Scottish affairs is difficult to beat, while his hunger to get beneath the skin of a story will be a huge asset to the new programme. I'm delighted he's chosen to join BBC Scotland at such an important time.
"What the two of them have in common is their energy, curiosity, drive to set the agenda, passion for original stories and desire to put the audience at the heart of their journalism."
Gary Smith, Head of News & Current Affairs at BBC Scotland, says: "The appointment of Rebecca and Martin is brilliant news. They'll bring a commitment to bold, challenging and original journalism to the channel and our audiences. With Rebecca and Martin at the front of a talented team, the news at nine o'clock will be able to compete with the strongest TV news programmes in Scotland and anywhere across the UK."