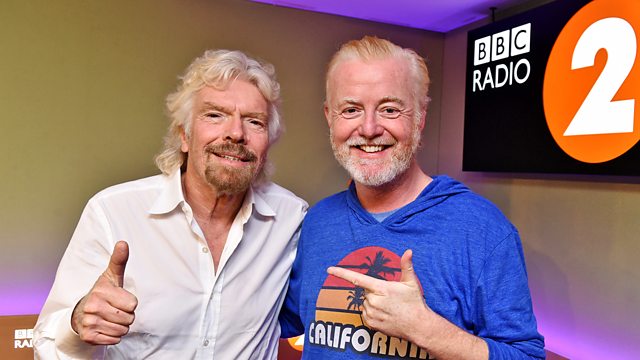 Branson suggested Virgin move to Evans last October

Sir Richard Branson has revealed that he had a conversation with Chris Evans about joining Virgin Radio nearly a year ago while making an appearance on his Radio 2 breakfast show.
Speaking on ITV's Good Morning Britain earlier this week, the Virgin founder admitted it was "maybe a slight discourtesy to the Beeb to steal one of their people", but says he suggested that a change of scenery "would be good for him" while in the Radio 2 studios for an interview in October 2017.
Asked about whether the BBC being forced to publish information about the salaries of top talent had an influence on Chris' decision to leave the corporation, Sir Richard said: "I had no idea what he earned at the BBC or even what he's earning at Virgin. I think he wanted a change. Virgin Radio gives him a lot more freedom I suspect than he would have at the BBC and Chris is someone who I think would value freedom over salary. I think it's fantastic for Virgin Radio. Virgin Radio is back in Britain and I think that this will put it firmly on the map."
Sir Richard was on the Radio 2 breakfast show on Thursday 12th October 2017 to talk about his autobiography,'Finding My Virginity'.
Chris announced on Monday that he was leaving Radio 2's breakfast show after 8 years, and within a couple of hours it had been announced that he was joining Wireless DAB station Virgin Radio UK in the New Year. He'll replace Sam and Amy, who only took over the breakfast show on 2nd October last year.
You can watch the interview with Good Morning Britain below
Article created on Thursday, September 6th, 2018 at 11:12 am by RadioToday UK