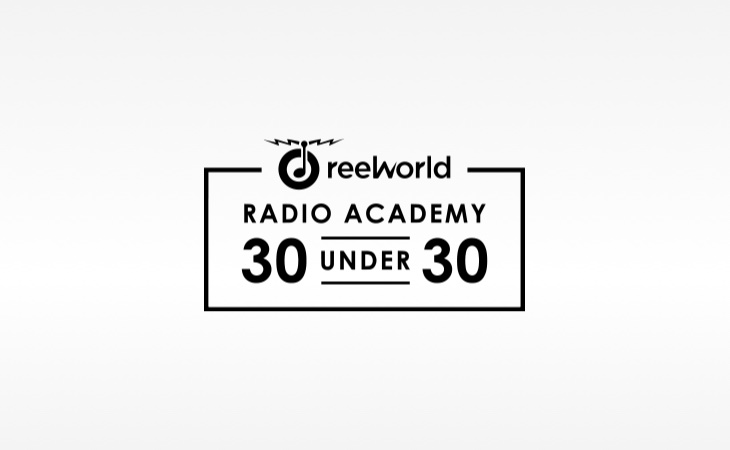 The Radio Academy and ReelWorld have unveiled this year's 30 people under the age of 30.
The list is made up of people who have shown exceptional tenacity, talent and a proven trajectory, to become the industry's next generation of talent.

The Radio Academy ReelWorld 30 Under 30 is open to anyone under 30 working in UK radio and audio, from producers, sales people, journalists, presenters, production assistants and PAs to technicians, commercial producers and support staff.
Full list of winners, in no particular order:
Abbie McCarthy Freelance Presenter

Alex Farrell Executive Producer, talkRADIO

Alexandra Jueno Assistant Producer, Magic Radio

Anishka Sharma Radio Producer, Whistledown Productions

Ben Sheppard Presenter, Global

Cheyne Hewison Digital Content Producer, Communicorp UK

Cornelius Mendez Freelance Producer and Writer

Erin-Jane Golding Marketing Coordinator, BBC Radio 1, 1Xtra and Asian Network

George Butler Marketing Executive, Radiocentre

Hana Walker-Brown Executive Producer, Audible / Freelance

Hannah Austin Broadcast Engineer, Bauer Media

Harrison Stock Producer, BBC Radio 1

Harvey McCabe Social Media Producer, BBC Radio 2

Inzy Rashid (Inzamam) Broadcast Journalist, BBC Radio Manchester

Jackson Davies Assistant Producer, BBC Radio 1

Jak Carlin Account Manager, Radio Forth

Jamie Lee Content Producer, Capital/Global

Jessica Bumby Creative Account Manager, Global East Midlands

Juliette Nicholls Imaging/S&P Producer, Heart

Kathy Green News Editor, Lincs FM Group

Liam Hadley Station Sound Producer, BBC Radio 1

Louis Chadwick Producer, BBC Asian Network

Lucy Ford Entertainment Reporter, Bauer Media

Matt Willdig Project Deliver Engineer, Arqiva

Nick Harris Assistant Producer, Bauer

Rachel Holmberg Editor, BBC Music Introducing BBC

Reece Parkinson Presenter, BBC Radio 1 & 1Xtra

Sammy James Freelance Producer and Presenter, KISS FM UK (and others)

Scott Hastie Music Officer, Student Radio Association

Victoria Ferran Radio Producer, Just Radio Ltd
Ahmed Hussain, Radio Academy Trustee, 30 under 30 judge and a previous 30 under 30 winner, is currently Head of Prison Radio at HMPPS, having worked at BBC with Radio 1, 1Xtra and Asian Network for a number of years. Hussain immersed himself in the world of radio from the age of 14 years, learning the ropes at a local community station and has since set-up numerous community projects to help those with a keen interest in radio, music and the media industry.

Hussain commented: "The quality of candidates this year (like every year) has been exceptional. I still can't get over the amount of ridiculously talented people working in our industry who are under the age of 30. They all deserved to be recognised which is why it was so hard for all of us judges to whittle it down to the final 30.

"As a previous 30 under 30 winner, I can say from experience that this accolade will most certainly boost winners' profiles and help them gain recognition in and out of their workplaces. The 30 under 30 list is always eagerly anticipated by the radio industry and beyond. It holds great merit to make this prestigious list in such a competitive field. These are our future legends! Congratulations to all of this year's winners, I look forward to meeting you all at the ARIAS in October."

Anthony Gay, Managing Director of ReelWorld added: "Our passion and enthusiasm for radio extends beyond our audio branding and it's a huge honour to acknowledge all those talented individuals that have made the 30. This year's judging was both tough and hugely inspirational and I look forward to seeing those on the list continuing to make a ruckus in the audio industry in the coming years."

Steve Parkinson, Group Managing Director at Bauer Media and Chair of the 30 under 30 judges added: "This year has been another hotly contested 30 under 30, demonstrating that the young, vibrant, new generation are working and shouting loud across our industry, which bodes well for the future of radio and audio sector in the coming years."

Posted on Wednesday, September 5th, 2018 at 9:02 pm by RadioToday UK