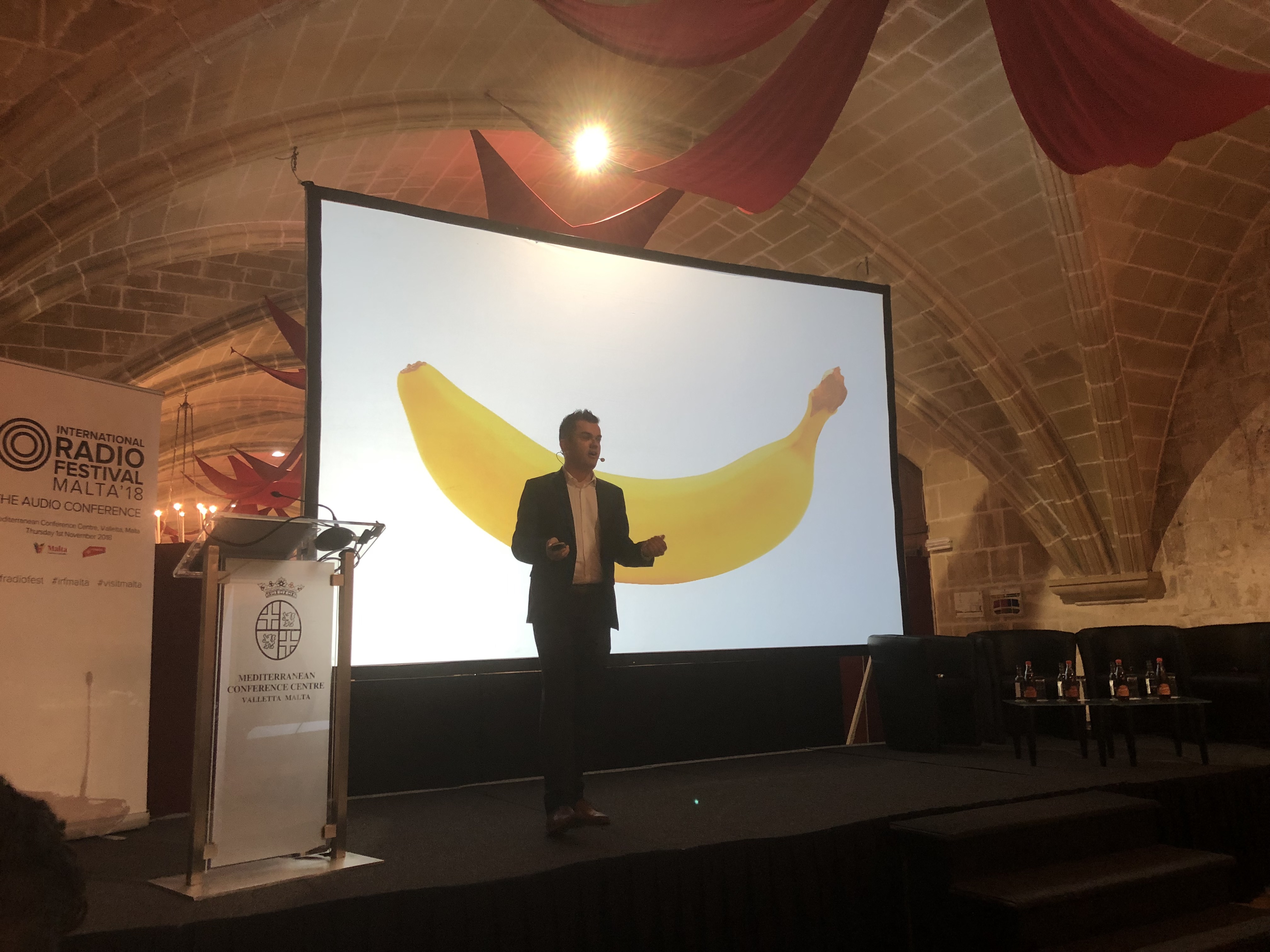 Radio professionals from all over the world gathered in Malta this week to celebrate radio and music at the International Radio Festival.
Part of the event included the Global Audio Conference at the Mediterranean Conference Centre, opposite IRF Radio Studio @ Fort St. Elmo.

Celebrating music radio, the IRF 2018 Malta edition explored the way major broadcasting organisations are tackling the changing nature of audio consumption; the rise of niche format radio stations, and the unique challenges of serving listeners across different media cultures with industry experts and leaders from broadcasters, production and technology companies.
Dr Joanna Spiteri the Chief Executive of Broadcasting Authority in Malta gave the opening speech of the conference with a positive outlook on radio saying "radio has continually evolved with the times".
Absolute Radio's Content Director, Paul Sylvester gave a lively presentation charting stations rise to success over the past 10 years concluding that "radio has the spirit and ability and the passion to do things differently" and to "Be brave, be bold, care less, its only radio and be happy to make mistakes."
First session is Absolute Radio's @paulsylvester75 explaining about the decade strategy of the station – we're looking forward to the slide with the giant banana ? #irfradiofest pic.twitter.com/3QnLQIewFa

— RadioToday Live (@RadioTodayLive) November 1, 2018
Music producer David Lowe talked us through how he created a more modern piece of music for the BBC News, which has been on-air around the world for the last 20 years.
"I wanted to be the Freddie Mercury of theme tunes" – says David Lowe who created the BBC News theme used since 1999 across all BBC news output #irfradiofest @DaveLoweMusic pic.twitter.com/eKJxialFQQ

— RadioToday Live (@RadioTodayLive) November 1, 2018
Later, there was a viewing of a new cinema advert for the launch of BBC Sounds in a session with Trevor Dann and Paul Smith discussing the reinventing and growing BBC Radio.
Reinventing and Growing BBC Radio – Paul Smith, Head of Editorial Standards and Commissioning Policy Radio is talking to @TrevorDann about #bbcsounds "is it going to work" "If we offer the right stuff it will" #irfradiofest pic.twitter.com/c2JGUcxn7R

— RadioToday Live (@RadioTodayLive) November 1, 2018
❤️ music. ❤️ radio. ❤️ podcasts.
Download the free BBC Sounds app now. pic.twitter.com/fKtqUoqEoo

— BBC Sounds (@BBCSounds) October 31, 2018
James Keen, the newly-appointed Station Director for Channel 103 and Island FM in the Channel Islands, spoke with Andrew Zammit from Malta's 'number one hit music station' 89.7 Bay, about the benefits and challenges of targeting a small island-based audience with key takeaways being that they have a "different relationship listeners have with the station" being "deeper and more intimate".
James Keen from Tindle Channel Islands and Andrew Zammit from 89.7 Bay on Island Life #irfradiofest https://t.co/zzpnC2PwDw

— RadioToday Live (@RadioTodayLive) November 1, 2018
International radio consultant and former GMG Radio Group Programme Director John Simons led a panel on the rise of niche radio with Matt Deegan (Fun Kids), Nick Pitts (Jazz FM) and Lindsay Wesker (Mi-Soul).
Is niche the new mainstream panel at @irfradiofest with @lindsaywesker @matt @nickpitts and @simoradio #irfmalta pic.twitter.com/QhufBSS5C7

— RadioToday Live (@RadioTodayLive) November 1, 2018
#irfradiofest Niche Radio is the new mainstream https://t.co/ZekUsjScWF

— RadioToday Live (@RadioTodayLive) November 1, 2018
Paul Sylvester was back on stage in the afternoon to head up a discussion about reinventing radio with Xanthe Fuller, Head of Community at Mixcloud, BBC R&D's Executive Producer Nicky Birch and The Orchard's Scott Cohen stating that "radio is dead and streaming services have "disrupted listening habits" while Xanthe said "with playlists you can be in an echo chamber of your own taste" with one of the main take away points being how do we how do we define radio in the future as it's a term that has changed meaning over time.
"RADIO IS DEAD!" @ScottCohen_ claims, saying young people are only listening passively, challenged by Absolute Radio's @paulsylvester75 and @XantheFuller, Head of Community @mixcloud who say radio is very much alive #irfradiofest #fight pic.twitter.com/LygFUjTCYG

— RadioToday Live (@RadioTodayLive) November 1, 2018
Cliff Fluet explained blockchain and how the audio industry can benefit from this new technology giving examples of companies already doing this such as Jaak, Audius and Lucid Tunes and pirate radio taking centre stage with Tony Prince, Gordon Mac, Tempo Flex talking about this history of Radio Luxembourg, Kiss FM and Flex FM.
Tony Prince tells us the story of Radio Caroline starting and Gordon Mac tells us about how he and his friends started KISS 100 in London "the second coming" #irfradiofest pic.twitter.com/fPyuoMtfdh

— RadioToday Live (@RadioTodayLive) November 1, 2018
Going legal – UK pirates through the years: gateway to new musicTony Prince, Gordon Mac at #irfradiofest https://t.co/Qb6rJfKeA3

— RadioToday Live (@RadioTodayLive) November 1, 2018
Nails Mahoney and Tracey Lee followed with a presentation on The Power Of Sound with the day's sessions ending with a keynote interview with Martyn Ware hosted by Carly Wilford.
Nails and Tracey with the Power of Sound #irfradiofest @onaircoach https://t.co/og5A1gdVXT

— RadioToday Live (@RadioTodayLive) November 1, 2018
Final session and keynote at #IRFradiofest is @CarlyWilford in conversation with @martynware pic.twitter.com/pLoh9FF71x

— RadioToday Live (@RadioTodayLive) November 1, 2018
Need a new or improved logo for your radio station? Visit OhMy.Graphics and see how awesome you can look.

Posted on Friday, November 2nd, 2018 at 11:46 am by Roy Martin