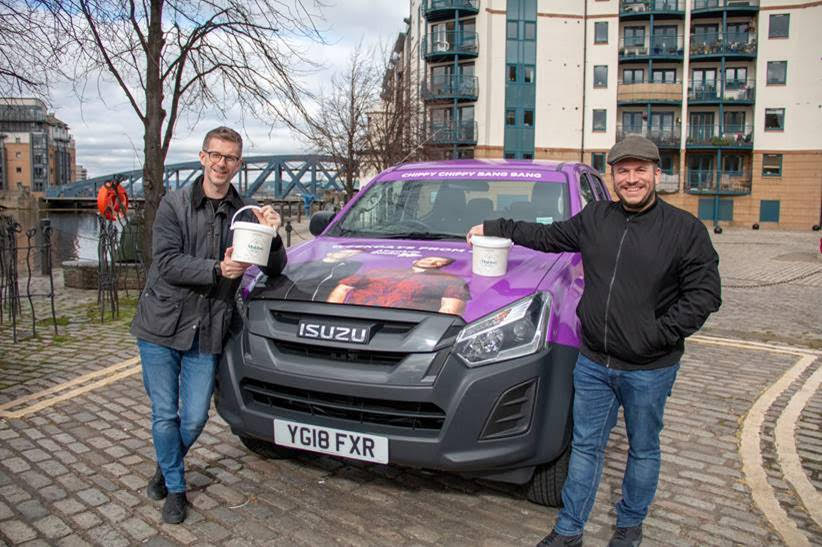 Absolute Radio is running a bespoke campaign with Maldon Sea Salt called The Hometime Chip Shop Tour.
The project, spanning radio, digital and social, will see afternoon presenters Bush and Ritchie travel to chip shops during this week.
Hitting the road in a specially-commissioned Maldon Salt mobile truck, The Hometime Chip Shop Tour with Maldon® Salt kicked off in Edinburgh on Monday, and will be stopping at local landmarks and tourist attractions.
Simon Kilby Chief Revenue Officer Bauer Media said: "Our insight and understanding of Absolute Radio's audience of 'reluctant adults' coupled with our programming expertise, has delivered a unique campaign seamlessly celebrating the best of Britain up and down the country with Maldon Salt, underpinned by Absolute Radio's inimitable sense of humour, across radio, digital and social."
Steve Osborne, Managing Director of Maldon Salt said: "Perfect seasoning is as good as it gets for Fish & Chips. Being a British family business since 1882, we glow with pride over traditions, so partnering with Absolute Radio on The Hometime Chip Shop Tour was the perfect fit.
"It has been the ultimate experience to celebrate the heritage of this nation, and Britain's favourite dish."
Arrived in Edinburgh and ready to kick off our #HometimeChipTour – live from ??????? on @absoluteradio tonight! pic.twitter.com/d3rLMzHgOQ

— Andy Bush (@bushontheradio) March 18, 2019
#HometimeChipTour is on!
NO.1 – Caste Rock Chip Shop. pic.twitter.com/WgNkRuszNi

— RICHIE FIRTH (@RichieFirth) March 18, 2019
The winner of The Hometime Chip Shop Tour with Maldon® Salt will be decided by the Hometime listeners and will be awarded a bespoke ad created by Absolute Radio, voiced by the winning shop with Absolute Radio talent and a trophy designed by listeners.
The campaign was brokered by The Village Communications and runs from 18th – 22nd March covering Edinburgh, Sunderland, Blackpool, Nottingham and Canvey Island. The campaign encompasses radio (with bespoke on-air branded content), a dedicated hub online and social activity: #hometimechiptour.
Breaking News! We'll be visiting Plumtree Fish & Chips in Nottingham on Day 4 of our #HometimeChipTour with @maldonsalt
While we're in the area what MUST we do? @bushontheradio @RichieFirth pic.twitter.com/EWuYPgyIOo

— Absolute Radio (@absoluteradio) March 14, 2019
Posted on Tuesday, March 19th, 2019 at 12:41 pm by Roy Martin