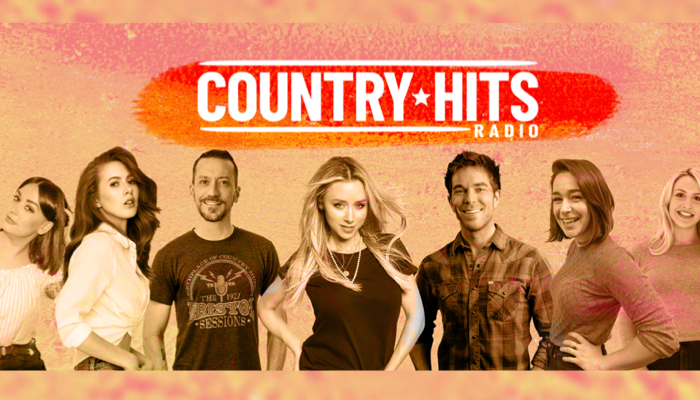 Bauer is starting its third new radio station this year as Country Hits Radio gets ready to launch on a number of DAB multiplexes in the UK.
Country Hits Radio launches on April 5th via DAB in London, Birmingham, Manchester, Liverpool, Leeds, South Yorkshire, Lancashire, Humberside, Tyne & Wear, Teesside, Glasgow,, Edinburgh, Tayside, Inverness and Ayr.

Bauer is to remove Kiss Fresh from the above local multiplexes to make room for Country Hits Radio.
Country Hits Radio is targetting modern country music-lovers aged 25-44, with country music radio host Baylen Leonard (Chris Country, BBC Radio 2, BBC Radio 4) joining the station for a daily weekday show.
Nashville's Ty Bentli will share news from the US country scene Monday to Friday and singer-songwriter Una Healy from The Saturdays will also join the station for a weekend show.
The presenters in the photo above are Jennie Longdon (breakfast), Scarlett Howard (weekends), Baylen Leonard (mid-mornings), Una Healy (weekends), Ty Bentli (Drive), Lou Nash (afternoons) and Emma Jones (weekends).
Speaking ahead of the launch, Una Healy said: "When you look at the success of artists such as The Shires and Ward Thomas as well as huge events like Country 2 Country, it's clear there's a real audience for country music in the UK. It's a genre I've fallen in love with and it's thrilling that it now has a home in Country Hits Radio. I can't wait to get started!"
During launch week next month, the station will play host to guest appearances from Chase Rice, Carly Pearce, Ashley McBryde, Brett Eldredge and Jimmie Allen.
The UK's only other terrestrial country radio stations are Chris Country, operated by Chris Stevens, and Bauer's Downtown Country in Northern Ireland. Chris Country has been running since 2013 and is currently on DAB in Manchester, Cambridge, Portsmouth, London, Norwich, Suffolk, Glasgow and Wrexham / Chester / Liverpool. Last month, Global launched Smooth Country, an online stream of country music within the Global Player.
Country Hits Radio is the third new station launch from Bauer Media this year – following on from Greatest Hits Radio and Scala Radio.