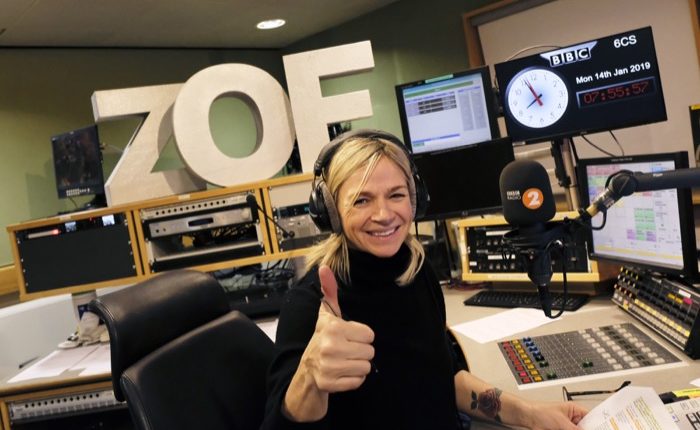 Zoe Ball & Margot James confirmed for Radio Festival 2019 line-up

BBC Radio 2 Breakfast host Zoe Ball and Digital Minister Margot James have been added to the line-up of this year's Radio Festival, joining already-announced Simon Mayo.
Zoe Ball will open the Radio Academy event this year talking to Paddy O'Connell about her old Radio 1 days, history repeating itself as she stepped into Chris Evans's shoes and taking on Radio 2 breakfast, alongside her love of radio.

Zoe Ball said: "This is such an exciting time in radio, and I've fallen back in love with doing a daily breakfast show! I'm looking forward to having a good chat with the brilliant Mr O'Connell about how much we're enjoying our new adventure."
Margot James, MP, Minister for Digital and Creative Industries at the Department for Digital, Culture, Media and Sport will present a keynote address on the UK radio and audio sector.
Also added to the Festival line-up will be a session on the growth of time sensitive podcasts, which will take a look at the market for informative, short shelf-life, audio-on-demand. With The Guardian and The Economist recently revealing new, big budget, daily current affairs shows and rapidly updated football podcasts frequently topping the charts, are these the areas where sustainable growth can be found?
How are these shows made and marketed – and importantly, how are they monetised? Mike Newman, Head of Partnerships at Audioboom, Cheryl Brumley, Editor of the 'Intelligence, the daily podcast from The Economist and Kait Borsay, host of Offside Rule and presenter at ITN and TalkRadio, will be sharing their insights.
Nick Pitts, Creative Director at Radio Festival told RadioToday: "Some more great speakers and thought-provoking sessions added to the Radio Festival line up, which already includes Simon Mayo talking about his flip from the UK's most listened to station to one that he launched in the commercial sector. We are also delighted that, to celebrate the launch of this year's search for the future of our audio industry, the 'Reelworld 30 Under 30', one of our sessions will be devised and produced by 30 Under 30 alumni."
Radio Festival, which takes place at the British Library on Monday May 13th, will be part of this year's Radio Audio Week. More details and tickets here.