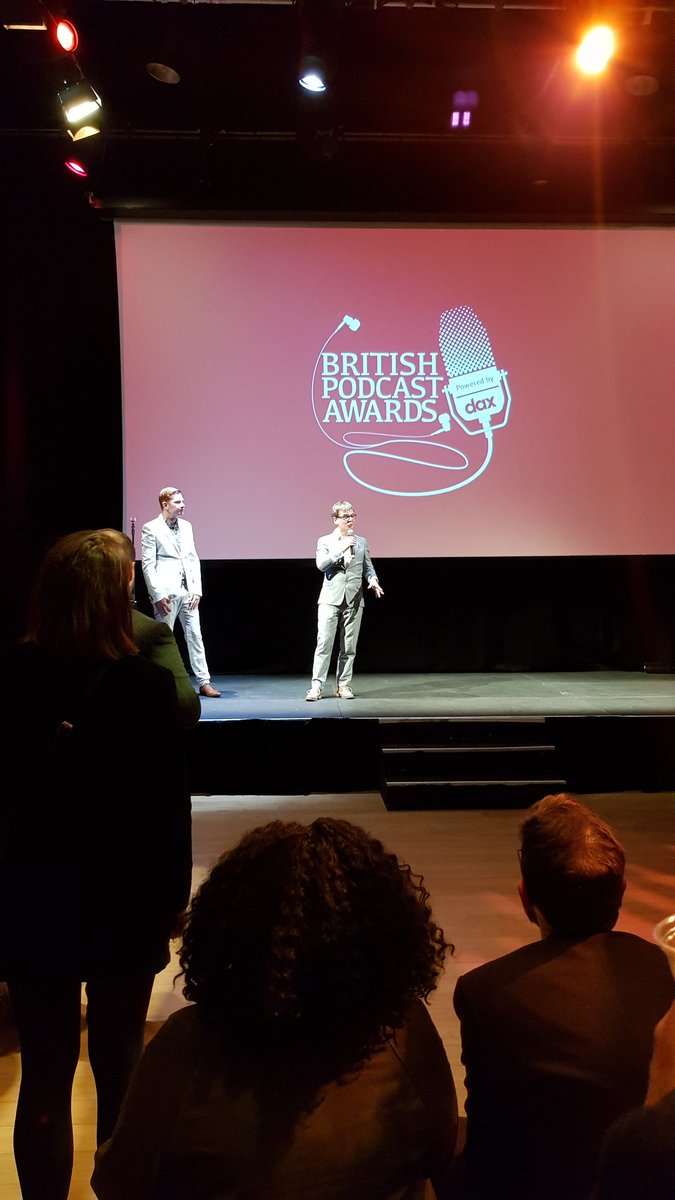 BBC Radio 5 Live's Brexitcast has been given the Listeners Choice Award at the British Podcast Awards.
Chris Moyles and Kermode and Mayo made the top five list too, with The Chris Moyles Show on Radio X coming in 4th place and Mark Kermode & Simon Mayo coming in 5th.
All the winners were announced at the awards ceremony on Saturday night in London's Kings Place, hosted by Cariad Lloyd.
Now in it's third year, the event saw over 500 guests attend, including Michael Sheen, Fearne Cotton, Julia Davis & Vicki Pepperdine, Elizabeth Day, Lauren and Deborah from You, Me & The Big C, Brexitcast, Giovanna Fletcher, Alice Levine, Jane Garvey, Fi Glover, Olly Mann, Chris & Rosie Ramsey, Hussain Manawer, Katie Piper, Anna Whitehouse, Hazel Wallace, Angelos Epithemiou and Anna Williamson.
George The Poet was the stand out winner of the night, walking away with five awards, including Smartest, Best Arts & Culture, Best Fiction, Best New Podcast and was named Audioboom's Podcast of the Year.
You, Me and The Big C was awarded Acast Moment of the Year, with presenters Lauren and Deborah joined on stage by Steve Bland, who's wife, BBC Radio 5 Live presenter Racheal Bland, died from cancer whilst recording the podcast.
Earlier this year, BBC Radio 5 Live announced The Rachel Bland New Podcast Award in her memory. The first recipients of this award were announced at tonight's ceremony as Melissa, Jade and Selvi for their warts-and-all look at the reality of addiction through the eyes of three addicts. Their new podcast idea will now be made by BBC Sounds.
The third ever Podcast Champion award was given to My Dad Wrote A Porno. Hosted by Jamie Morton, James Cooper and Alice Levine, each episode features Jamie reading a new chapter from an erotic fiction book written by his dad and analysed by his fellow presenters.
With over 160 million downloads, the podcast has moved from our headphones and onto a worldwide sell out tour and it's own HBO show. Their award was presented by special guest, BAFTA award-winning actor Michael Sheen, who's such a big fan of the podcast, he appeared on one episode.
The coveted Listeners' Choice Award supported by BBC Sounds went to Brexitcast, a show full of geeky gossip about Brexit from Westminster and Brussels. Launched in June 2017, the podcast has been going on longer than anyone anticipated, with Laura Kuenssberg, Chris Mason, Katya Adler and Adam Fleming calling in from wherever they are in the world each week, to try and decipher for it's listeners exactly what is going on with Brexit.
Dustin Lance Black can place a Podcast Award next to his Academy Award, as he walks away with Best Family Podcast for Surrogacy: A Family Frontier, a podcast exploring attitudes towards surrogacy and his own journey to parenthood.
Brexitcast's @adamfleming picks up the Listener's Choice Award supported by @BBCSounds on behalf of co-hosts @BBCLauraK @BBCKatyaAdler & @ChrisMasonBBC ?? #britpodawards pic.twitter.com/1VJuHeXptx

— British Podcast Awards (@britpodawards) May 18, 2019
FULL WINNERS
LISTENERS' CHOICE AWARD Supported by BBC Sounds
Over 190,000 podcast listeners voted for their favourite podcast, with the full top 5 revealed on the night:
1 BREXITCAST
BBC Radio 5 Live
2 THE ANFIELD WRAP
Presented by Liverpool FC Supporters
3 SH**GED MARRIED ANNOYED
Chris & Rosie Ramsey
4 THE CHRIS MOYLES SHOW ON RADIO X
Global
5 KERMODE & MAYO'S FILM REVIEW
BBC 5 Live
MAIN AWARDS:
Podcast Champion
MY DAD WROTE A PORNO
Alice Levine, James Cooper, Jamie Moreton
Audioboom Podcast of the Year
HAVE YOU HEARD GEORGE'S PODCAST?
George The Poet
Acast Moment of the Year
YOU, ME AND THE BIG C
BBC Radio 5 Live
Spotlight Award
THAT PETER CROUCH PODCAST
BBC Radio 5 Live
Best Arts & Culture
HAVE YOU HEARD GEORGE'S PODCAST?
George The Poet
Bet Branded Podcast
SELFRIDGES HOT AIR: FRESH EYES
Radio Wolfgang
Best Comedy Supported by Spotify
DEAR JOAN AND JERICHA
Julia Davis and Vicki Pepperdine
Best Current Affairs
THE GRENFELL TOWER INQUIRY WITH EDDIE MAIR
BBC Sounds
Best Family Podcast
SURROGACY: A FAMILY FRONTIER
Dustin Lance Black, Tracy Williams, Jane Andrews
Best Fiction
HAVE YOU HEARD GEORGE'S PODCAST?
George The Poet
Best New Podcast
HAVE YOU HEARD GEORGE'S PODCAST?
George The Poet
Best Interview
THE MODERN MANN
Olly Mann
Best Radio Podcast Supported by Radioplayer
MULTI STORY
BBC Local Radio
Best Sex & Relationships
PROJECT PLEASURE
Anouszka Tate and Frankie Wells
Best Sport
THE TOTALLY FOOTBALL SHOW WITH JAMES RICHARDSON
Muddy Knees Media
Best True Crime
CASE NOTES
Classic FM
Best Entertainment supported by Sony Music's 4th Floor Creative
THIS PARANORMAL LIFE
Rory Powers & Kit Grier
Smartest Podcast
HAVE YOU HEARD GEORGE'S PODCAST?
George The Poet
Bullseye Award Supported by Podiant
PROBABLY TRUE
Scott Flashheart
---
Posted on Saturday, May 18th, 2019 at 11:14 pm by Roy Martin
---