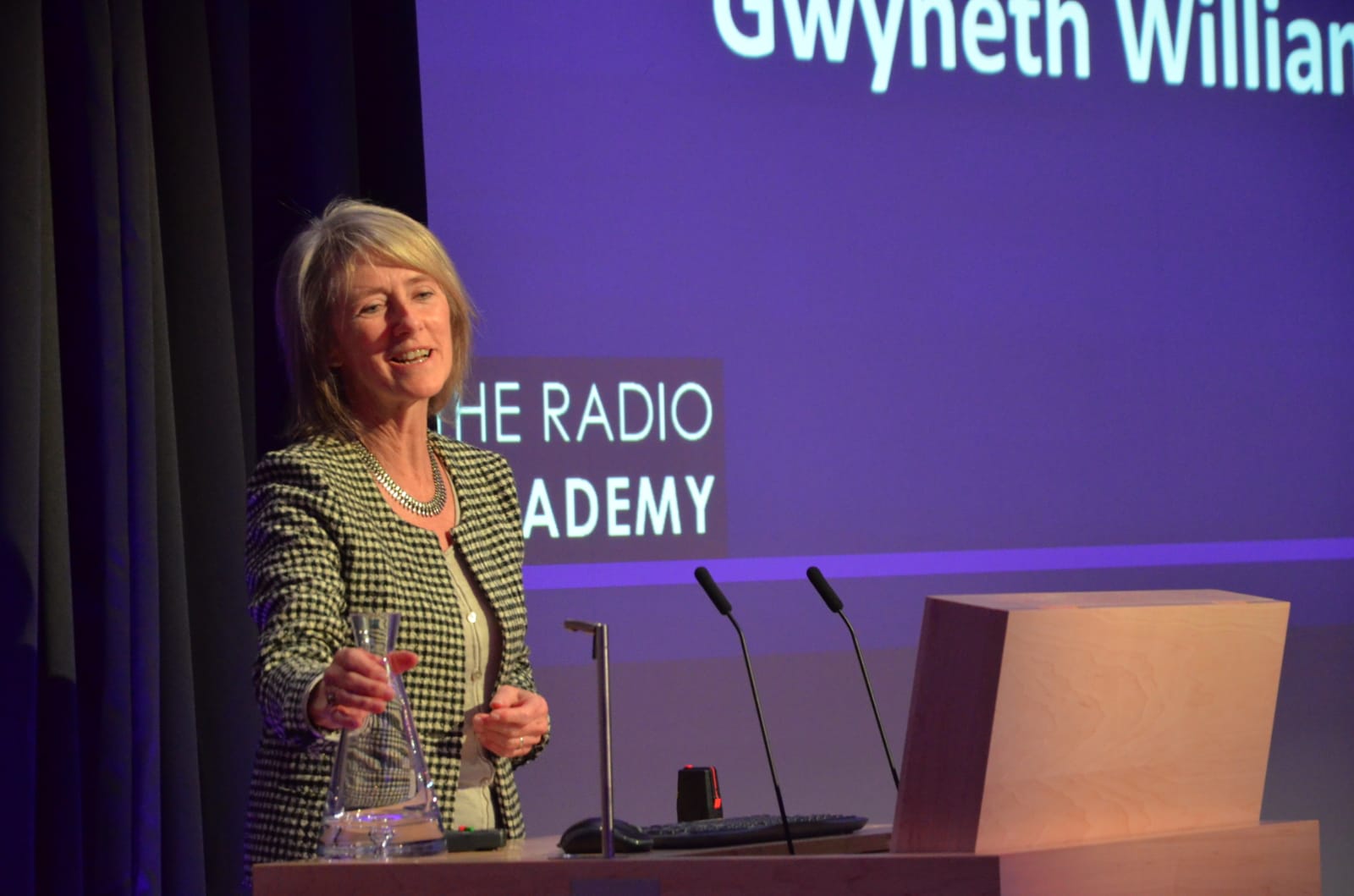 Gwyneth Williams, Steve Taylor, Paul Chantler and Betsan Powys have been awarded Fellowships of the Radio Academy.
They were given The Radio Academy's highest honour for their dedication and contribution to the world of radio and broadcasting.
Gwyneth Williams, former BBC Radio 4 Controller, was awarded her Fellowship by BBC Group Managing Director, Bob Shennan, who said: "Gwyneth has been a brilliant and tireless champion of Radio 4 and indeed everything that's wonderful about radio.
"She has overseen record audience figures and some brilliant creative innovation including Stephen Hawking's Reith Lectures, an extended World At One with Martha Kearney and Sarah Montague, and new programmes like The Life Scientific with Jim Al-Khalili.
 
"For me she has been a wonderful colleague and defender of the radio faith. She's had a glittering BBC career: as well as leading Radio 4 she's been a hugely influential figure at The World Service and in News and Current Affairs. These sort of jobs demand gravitas and humanity and I shall miss her enormously when she leaves us."
Gwyneth Williams awarded a @radioacademy fellowship #RadFest19. Congratulations Gwyneth pic.twitter.com/FPhcH71uQh

— RadioToday Live at #RadFest19 (@RadioTodayLive) May 13, 2019
Other Fellowships awarded were to Paul Chantler who was presented his Fellowship by John Ryley, Head Of Sky News, for his "outstanding contribution to both public and commercial radio as a journalist, presenter and programmer".
From his early days as a newspaper journalist then presenter with the BBC – Paul was the first voice on air for BBC Wiltshire Sound – to his senior programming roles at stations such as Galaxy 101 and Essex Radio, Paul has been a familiar and popular face in UK Radio. These days he's a respected international radio programming consultant and best-selling expert in media law. 
Second @radioacademy fellowship of the day goes to @PaulChantler. Congratulations Paul #RadFest19 pic.twitter.com/5h2jjXoZ4v

— RadioToday Live at #RadFest19 (@RadioTodayLive) May 13, 2019
Betsan Powys, former Editor of BBC Radio Cymru, was awarded her Fellowship by Huw Stephens of BBC Radio 1 and BBC Radio Cymru, for her "peerless contribution, enthusiasm, leadership and vision at BBC Radio Cymru."
Betsan joined BBC Wales as a news trainee in 1989, before moving to the newsroom in Cardiff as a bilingual, bi-media reporter. She presented the Welsh language news programme Newyddion, was chief reporter on the European current affairs series Ewropa, and joined Huw Edwards to front United Kingdom national election specials. Following time working on Panorama and presenting the Welsh language version of Mastermind, the award-winning Betsan became Editor of Programmes at BBC Radio Cymru in May 2013.
Congratulations to former BBC Radio Cymru editor Betsan Powys who has won a Radio Academy Fellowship at #radfest19 pic.twitter.com/FevCuPnqt3

— RadioToday Live at #RadFest19 (@RadioTodayLive) May 13, 2019
Steve Taylor, Creative Commercial Director, Bauer Media, was awarded his Fellowship by Steve Parkinson, Group Managing Director, National Radio Bauer Media, for "his unique and outstanding contribution to UK Commercial Radio".
Steve Taylor, or Tetley, as almost everyone in the industry knows him as, is universally admired and respected. He began his radio career in 1986 as Promotions Manager for Invicta Radio before moving north to head up the Promotions Department at Viking FM.
In 1994 he joined Virgin Radio as Promotions Director, successfully executing over four hundred promotions. Since 2005 he's been with Bauer Media, at the forefront of commercial creative thinking across all their brands.
A @radioacademy fellowship goes to Steve "Tetley" Taylor #RadFest19. Congratulations Tetley pic.twitter.com/aEDDUwoDVN

— RadioToday Live at #RadFest19 (@RadioTodayLive) May 13, 2019
Need a new or improved logo for your radio station? Visit OhMy.Graphics and see how awesome you can look.

Posted on Monday, May 13th, 2019 at 4:32 pm by Roy Martin