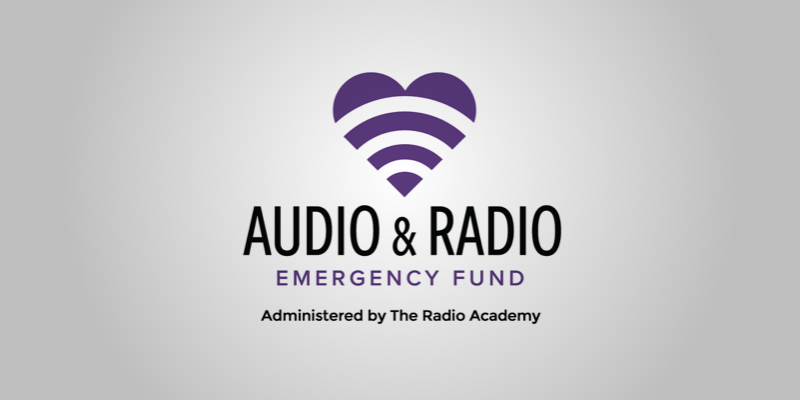 Grants totalling almost £50,000 have been distributed in the first five weeks of the Audio and Radio Emergency Fund, which is supporting workers across the industry whose income has been adversely affected by the coronavirus pandemic.
The Radio Academy says demand for grants has increased, with requests received for more than £250,000 in total.

It says many applications are coming from freelancers who are losing work and do not qualify for government support schemes. Commercial as well as community stations are affected as advertising and grant revenues have dropped. Those running the fund say there is a fairly even split between grant requests from people in radio and those in other audio sectors such as podcasts, voice overs and audiobooks.
One successful applicant said: "The fund has been an absolute saviour for me. I've seen my work grind to a standstill, while also not qualifying for any of the Government's help programmes. Without the fund, I'd have struggled to make it through the month."
Another freelancer commented: "The fund has helped me pay my rent during these uncertain times. Whilst so many of us freelancers have been forgotten by government and corporate support, this fund has been not just been valuable, but vital."
Following initial support from The Radio Academy's Benevolent Fund, the BBC and Audible, the Academy has been campaigning with partners including AudioUK, Reelworld and RadioToday to help find more donations to keep the fund going. Last month the Show You're Listening initiative was launched to encourage those still working in the industry to donate in support of less fortunate colleagues.
John Dash, CEO of the Radio Academy, said: "Lots of people have been in touch asking how they can help and we have had some really generous donations. Businesses wanting to support the fund can come direct to me at The Radio Academy and individual donations can be made through our JustGiving page. Some businesses have also been match funding donations from their staff."
Chair of the fund Dom Chambers said: "We have raised over £10,000 through the Show You're Listening initiative in just a few weeks. A really big thank you to everyone who has donated. We need to keep this going because demand is far outweighing the funds we have. As it stands, we only have enough money for two more rounds. The Emergency Fund has shown we can quickly get
support to the people who need it so please continue to be generous and help us make that happen."
A report released this week by Oxford Economics suggests the loss of 400,000 jobs in UK creative industries including music, theatre, film, TV, fashion, publishing, architecture, museums and galleries, because of the pandemic.
You can Show You're Listening and make a donation via justgiving.com/radioacademy or to apply for funding visit radioacademy.org
---
Posted on Friday, June 19th, 2020 at 9:48 am by RadioToday UK
---