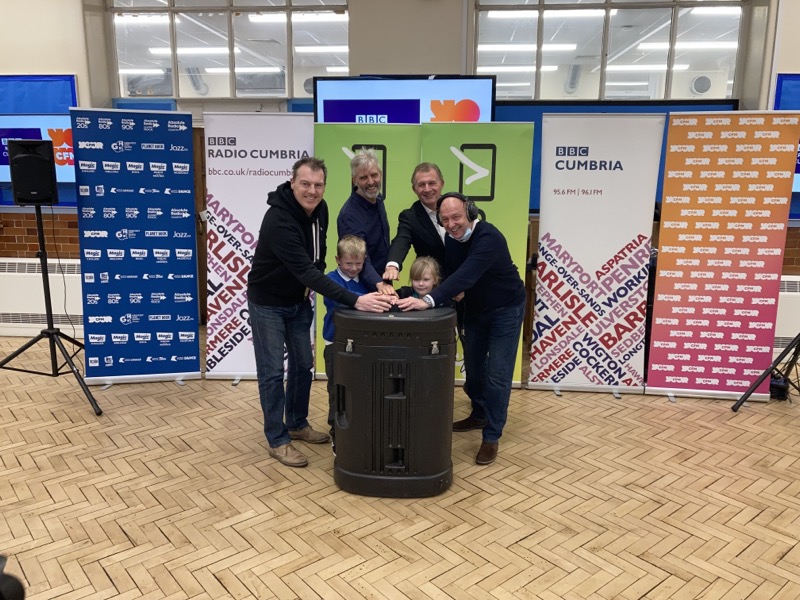 Two new DAB digital radio multiplexes are now live in north Lancashire and Cumbria.
The new networks collectively carry 28 digital radio services including local FM stations BBC Radio Cumbria, CFM, Heart North Lancashire & Cumbria and Smooth Radio Lake District broadcasting in DAB or DAB+ for the first time alongside a host of new and additional services.

The new DAB digital transmitters went live this morning from nine sites across the two networks, with one network, operated by Bauer Digital Radio Ltd, covering North and West Cumbria including Carlisle, Penrith, Workington, Whitehaven and Keswick; and a second network, operated by MuxCo Cumbria Ltd, covering South Cumbria and Morecambe Bay including Morecambe, Lancaster, Ulverston, Kendal and Windermere.
Bauer's Digital Radio Cumbria network has launched with five transmitters in North and West Cumbria carrying twenty services:
BBC Radio Cumbria (DAB+)
CFM
Greatest Hits Radio
Scala Radio
Absolute Radio Country (DAB+)
Jazz FM (DAB+)
Absolute Classic Rock
Magic Chilled (DAB+)
Magic Soul (DAB+)
Planet Rock
Mellow Magic
Absolute 80s
Absolute Radio 90s
Hits Radio Pride (DAB+)
Magic at the Musicals (DAB+)
Absolute Radio 20s (DAB+)
KISS Dance (DAB+)
KISS Garage (DAB+)
Magic at the Movies (DAB+)
KISS Bliss (DAB+)
Mux Co Cumbria has launched with four transmitters in South Cumbria and Morecambe Bay carrying eight services:
BBC Radio Cumbria
Heart North Lancashire and Cumbria
Smooth Radio Lake District
Nation 80s
CandoFM
Bay Trust Radio
Beyond Radio
Fun Kids
The launch of the two new digital networks is being celebrated this morning at a special switch-on event at Robert Ferguson School in Carlisle with the school's children helping local presenters BBC Radio Cumbria's Mike Zeller and CFM's Robbie Dee countdown the moment of launch live on air.

Mark Elliott, Executive Editor of BBC Radio Cumbria said: "It's great that BBC Radio Cumbria is coming to DAB digital radio. We know from audience research that many people choose to tune in via DAB and now they can hear our broadcasts in digital quality. We will broadcast in DAB+ which means listeners will need to check they have a DAB+ enabled radio but this will mean in poorer reception areas our signal will be more robust."

Ben Cooper, Chief Content and Music Officer, Bauer Media Audio UK, said: "Today brings a new fantastic choice of radio stations from classical music to classic rock. You can now get better accessibility to your local station CFM, as well as now being able to hear Simon Mayo's Drivetime show on Greatest Hits Radio or Lemar on Magic Soul."

Ford Ennals, CEO, Digital Radio UK, said: "The launch of local digital radio across Cumbria and the Lake District is an important milestone and enables listeners to receive their favourite local stations such as BBC Radio Cumbria and CFM on DAB for the first time. This launch also brings a wealth of choice to listeners in Cumbria with a range of much-loved commercial stations alongside new digital stations available on DAB for the first time anywhere in the UK. Stations in different areas do vary, so to check which stations are available in any particular area listeners should check the postcode checker at getdigitalradio.com and make sure they retune their digital radio."

Photo: Mike Zeller, BBC Radio Cumbria breakfast presenter; Graham Frost, Headteacher, Robert Ferguson Primary School; Ford Ennals, Digital Radio UK; Robbie Dee of CFM's Robbie Dee in the Morning; and pupils Peyton Ellis and Freddie Routledge from the school's Year 3.

Need a new or improved logo for your radio station? Visit OhMy.Graphics and see how awesome you can look.

Posted on Wednesday, December 1st, 2021 at 6:30 am by Roy Martin