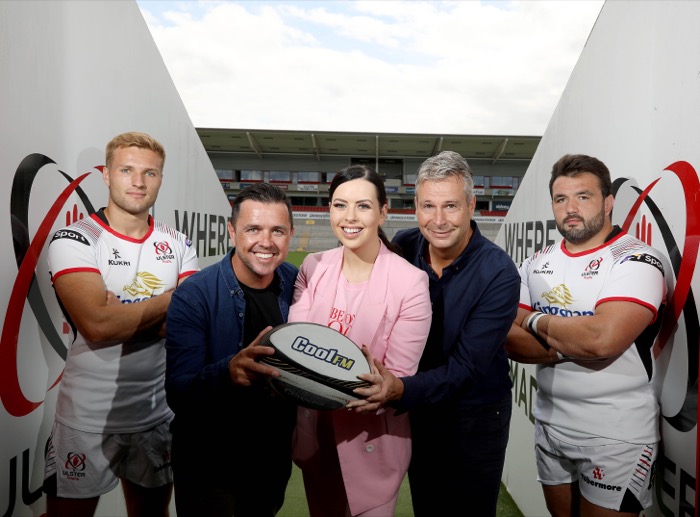 Cool FM signs two year deal with Ulster Rugby

Cool FM has teamed up with Ulster Rugby in an exclusive two-year deal, extending to sister stations Downtown Radio and Downtown Country.
The partnership will see Cool FM deliver new match day initiatives at the home games across the year, with content online, on air, and across news programming.

Exclusive interviews, in-depth reports and analysis across the trio of Bauer stations and across the many layers of its multiplatform distribution channels will also feature.
Cool FM Managing Director, Mark Mahaffy said: "We are delighted to partner Ulster Rugby for the forthcoming season, and very much look forward to promoting the sport in a professional, innovative, and highly engaging manner to our unrivalled on-air and online audiences.
"This represents another significant partnership in our extensive portfolio of sporting collaborations across Northern Ireland. With almost half the adult population tuning into our stations across the week, we are both confident and excited that we can bring a new dimension to the game and introduce new ideas that will appeal to all Ulster Rugby fans."
Ulster Rugby's Head of Sales and Marketing, Fiona Hampton, added: "The partnership with Northern Ireland's biggest commercial station Cool FM, along with sister stations Downtown and Downtown Country, is a vital part of our aim in bringing Ulster Rugby content to as many fans as possible.
"The scope that the three stations can bring in engaging with our key audiences, from young to old and with reach across the country, was a key driver in cementing the deal. We are excited to be teaming up with Cool FM to deliver some unique experiences on match days, and also in delivering engaging and relevant content for fans across the full range of platforms."