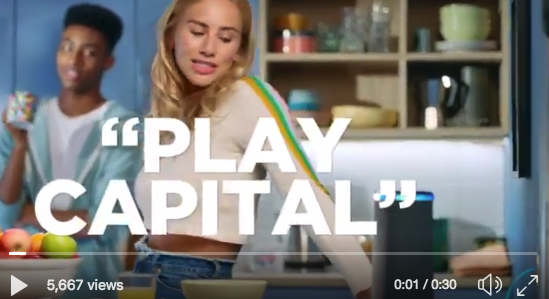 Capital's new television advert promotes Play Capital

Global has a new television advert for Capital, based around telling your smart speaker to "Play Capital".
The 30 second spot, which appeared on social media for the first time over the weekend, includes clips from the Summertime Ball, a weather forecast style map with Capital logo stickers across the UK, and the established tagline The UK's No.1 Hit Music Station. Some of the station's core artists also feature.

The end logo continues to display the frequencies as 95-106, despite the station now being available on 107.2 in Brighton and 107.6 in Liverpool, and the three options to listen are Radio, Mobile and Smart Speakers. It also features the Global logo in the top right hand corner.
The advert gives no preference to any particular smart speaker, removing wake words such as "Alexa" or "Hey Google".
"Play Capital" – who knows what'll happen 😝 pic.twitter.com/JkUpX5MhYj

— Capital (@CapitalOfficial) September 23, 2018