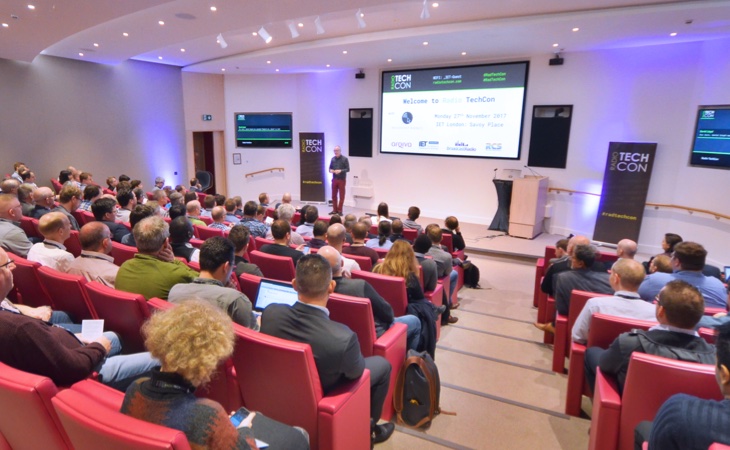 Radio TechCon's topics this year include Touchscreen studios, creating Arthur Dent's Vogon spaceship and ensuring radio sounds at its best on smart speakers.
The first sessions for this year's radio and audio industry's technical and engineering conference have just been announced, and include:
Building a backup Emley Moor – keeping broadcasting when the largest freestanding structure in the UK needs maintenance

Dirk Maggs on creating the sounds for the Hitchhiker's' Guide to the Galaxy – old and new

Judy Parnell from the European Broadcasting Union on the future of audio

Loudness and Smart Speakers – how best to adjust your audio for one of the most important outlets for radio in the last 80 years.

The latest research on audio mixing from the University of Salford

An update from Ofcom on the small-scale DAB trials

How Artificial Intelligence can revolutionise audio

Creating a studio controlled only by touch – lessons from Bauer's innovative new setup

Plus many more sessions still to be announced
Ann Charles, from organisers TBC Media Ltd, says, "I'm so excited that it's almost time for Radio TechCon again. Our wonderful team of volunteers has been working really hard to bring a range of speakers and presentations that showcase the innovations that are going on in broadcast technology from around the world. If you want to know where the future of radio and audio is headed – you need to be in the room with us!"
The event brings together broadcast engineers, technologists, managers and tech-savvy producers for a day of learning and sharing about all things at the technical end of the industry. There's also a mini trade-fair during the event.
Full details of the event, which takes place on Monday, 26th November 2018 at IET London: Savoy Place, are available at radiotechcon.com
---
Posted on Friday, September 7th, 2018 at 2:05 pm by Roy Martin
---