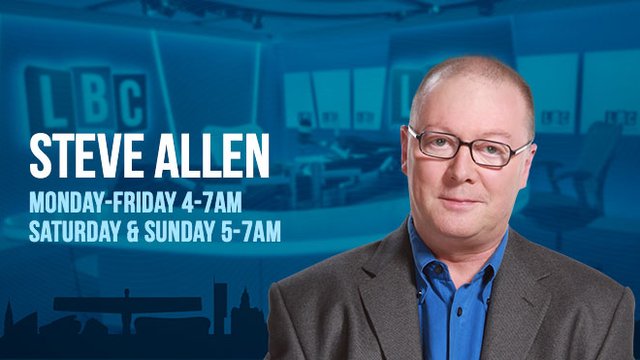 Steve Allen in breach for blind people comments

Steve Allen has been found in breach of the Ofcom broadcasting code for remarks he made on LBC about blind people.
A listener complained that Steve made discriminatory comments during this programme on October 1st 2018.

Steve commented on an article in The Times newspaper which reported on a blind man who is scared of dogs and intends to use a guide horse rather than a guide dog.
Steve's comments included: "Well if he's blind, tell him it's a rabbit or something. I've never heard of anything so stupid." and "Not every blind person gets a dog. To give him a horse is quite ludicrous. He's afraid of dogs. Why? Why's he afraid of dogs? Well don't give him – don't give him anything at all then."
He also compared it to the BBC hiring a blind cameraman. He said: "I remember once the BBC took on a blind cameraman. Well I was sort of thinking to myself how does that work out? He's a blind – somebody's going to have to say to him 'little bit to the right, little bit to the left, little bit, oh, up, oh no missed it completely'. It just doesn't work. I can understand people going 'oh I want to be treated the same', but I mean, you know, a joke's a joke I think".
In response, LBC Radio said that Steve Allen was "expressing genuine surprise at the story [in the Times], and rhetorically questioned the practicality of using a guide horse for assistance within an office space or on public transport".
LBC added that Steve Allen "…is aware that his comments may have had the capacity to offend". However, it added that "his intention was not to treat the blind community with insensitivity… It is worth noting that Steve has a long history of working with the Royal National Institute of Blind People (RNIB) and has agreed to treat such discussions with more consideration moving forward."
Ofcom ruled in favour of the complainant, saying Mr Allen seemed to be implying that people who are blind cannot differentiate between a
rabbit and a dog, and that this remark could have been interpreted as belittling blind people and offering a highly pejorative view of them.
The regulator also said the potential offence was exacerbated by Steve Allen mocking the idea that the BBC had employed a blind cameraman. We considered that this was likely to have been interpreted by listeners as a further example of the presenter using a pejorative and discriminatory attitude to blind people.
As a result of the complaint, LBC confirms Steve Allen and station producers have received "specialised compliance training, with an emphasis on sensitivity around material relating to minority communities protected under the Equality Act";
An additional producer is to be assigned to the show "with specific responsibility for compliance and control of the 'dump button'", and the Licensee's compliance team is carrying out additional sampling and monitoring of the programme and regularly review the results with the presenter and producers.
Ofcom decided that Steve Allen is in breach of Rule 2.3 – which requires broadcasters to ensure that the broadcast of potentially offensive material is justified by the context.