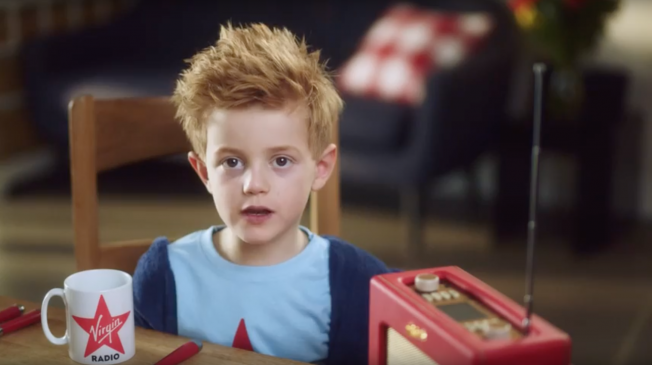 Chris Evans and his family are appearing in a new marketing campaign for his upcoming Virgin Radio breakfast show.
A number of videos are being shared on the socials, one with six-year-old Eli who appears confused as he watches his dad talking but can only hear (analogue) static noises. After pressing a button on his digital radio, the voice of Chris Evans can be heard, and Eli explains what you need to do if you want to listen to 'Dad on the radio' (press the digital button).
In another, nine-year-old Noah and Chris will deliver a pastiche of 'Uncle Buck' in an advert set to appear on TV from Friday. Noah, known to previous listeners of the Chris Evans show for his 'Killer Question', is seen firing questions at his Dad, to his increasing frustration. The sequence is a nod to a well-known scene from Uncle Buck in which Macaulay Culkin interrogates his Uncle Buck, played by John Candy.
A third has the whole Evans family unite with 'Love Actually'- styled boards to explain how to access the Virgin Radio Breakfast Show.
Joining Chris at Virgin Radio from Monday 21st January will be many of his team from Radio 2, including Vassos Alexander as sports reporter and Rachel Horne who will be expanding her role as the breakfast show travel guru – providing regular news bulletins as well.
The first week will be 'a week of Fridays' with guests and a live music performance every day.
In a partnership between Virgin Radio and Sky, the Chris Evans Breakfast Show will broadcast without any ad breaks, allowing listeners to have the same uninterrupted audio experience they've come to expect from his BBC Radio 2 show.
The Chris Evans Breakfast Show on Virgin Radio UK. Breakfast without ad-breaks. Weekdays from 6:30 am from Monday the 21st of January. pic.twitter.com/vOrnjDumXT

— Virgin Radio UK (@VirginRadioUK) January 14, 2019
The Chris Evans Breakfast Show with @SkyUK starts on Monday 21st January at 6:30am on @VirginRadioUK (Click for sound!) @achrisevans pic.twitter.com/VNaWWCCtsg

— Virgin Radio UK (@VirginRadioUK) January 14, 2019
RadioToday's take

What's not to like about these adverts for 'radio'. The more people who see and hear news, marketing and social activity about radio, the better for all of us. Today was a great example of spreading the word about a new radio show with the strength of the BBC and social media.

But if you thought the promotion surrounding Zoe Ball's breakfast show was good, you haven't seen anything yet. Just wait till the full commercial money-is-no-object-campaign for Chris Evans kicks in, powered by the enormous collaboration of News UK and Sky TV.

All hands will be on deck for next Monday, 21st January. Maybe, just maybe, Chris Evans will even tweet about his new job to his 2.34 million followers? (He hasn't tweeted about radio for the last 18 months).

Need a new or improved logo for your radio station? Visit OhMy.Graphics and see how awesome you can look.

Posted on Monday, January 14th, 2019 at 8:33 pm by Local Reporter