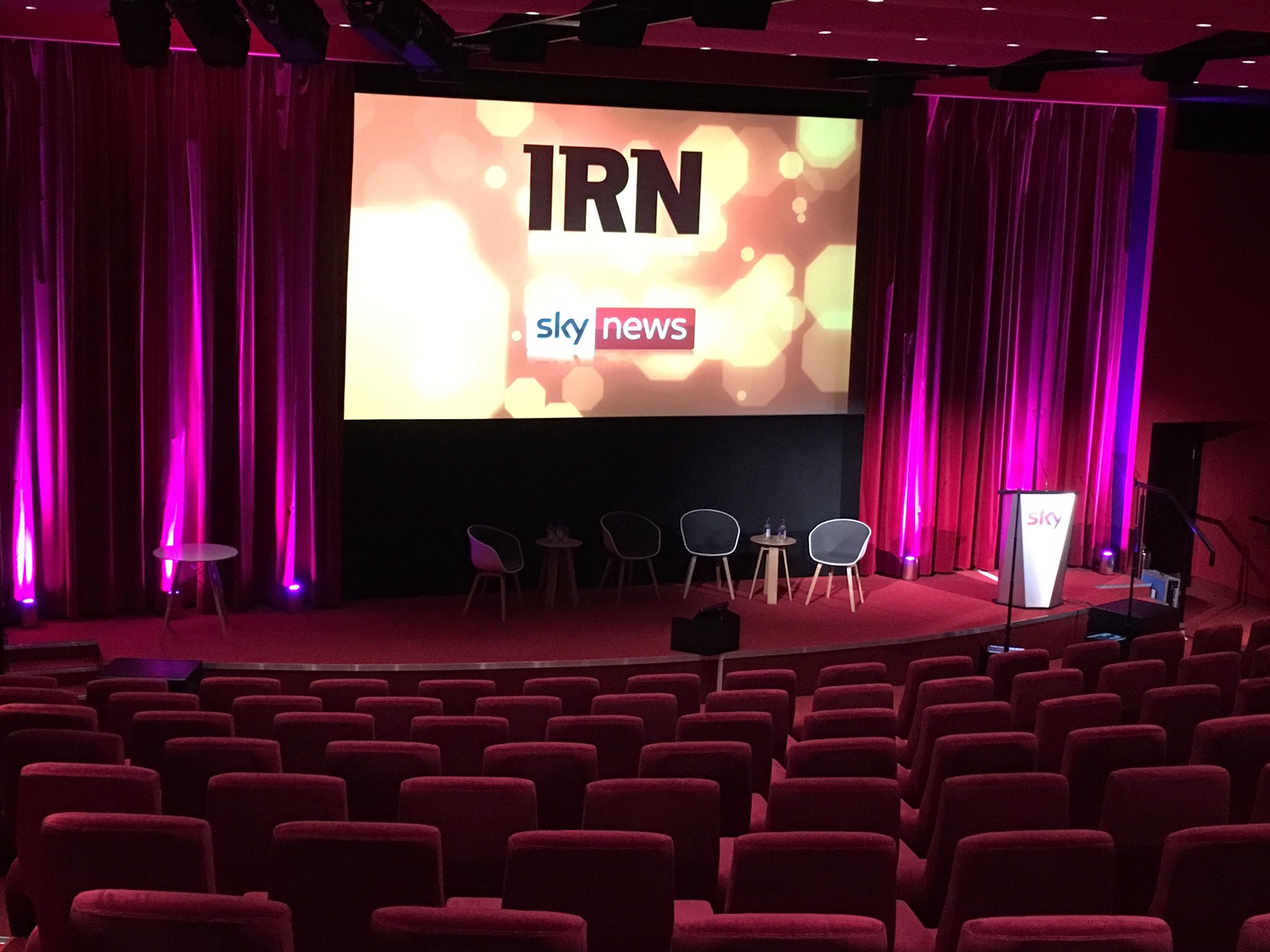 Scottish radio stations dominate at IRN Awards 2019

Half of the prizes at this year's IRN Awards have been won by reporters or teams from Scottish radio stations.
Six of the 12 awards are on their way back to Scotland following the ceremony at the Sky Cinema in west London, which was hosted by Sky News presenter Kay Burley.

Four of those six were won by Bauer – for Clyde, Forth, West FM and MFR/Northsound journalist Bryan Rutherford. The other two went to Global's Newsroom Scotland.
Among the English winners there were three each for Global and Bauer. Global's Yorkshire and North East newsroom took two and LBC one; while there were also awards heading back to Hits Radio Manchester, CFM and Lincs FM for Bauer.
The Lincs FM winner was Andy Marsh, who was given the final prize of the night – the IRN Gold Award. Andy was a presenter at Viking FM before joining Lincs FM at launch in 1992. He switched from presenting to news in 2001 and is now a senior journalist at the station.
Presenting the award, Lincs FM's Director of Programming, and previous winner of the Gold Award, Sean Dunderdale said "In North East Lincolnshire, everyone knows him. He's one of those journalists who knows how to build up and maintain contacts, can find original stories on the quietest of days and takes our newer, younger journalists under his wing when they first join us. He's shown a thorough commitment to commercial radio – and commercial radio news – throughout his career but does it without making a fuss, without wanting the glory."
This year's Student Journalist of the Year award went to Dave Wheeler from Bournemouth University. Judges said Dave's story about a girl's grief over the death of her sister at young age was 'a brilliantly told sad and frank human story creatively produced.'
IRN and Sky News Radio Editor Dave Terris told RadioToday: "Commercial radio news teams continue to push the boundaries with the strength, depth and quality of their coverage. The winners have demonstrated a passion for original journalism, highly engaging campaigns, thoughtful storytelling and imaginative treatments all for the benefit of millions of listeners. The standard of entries was exceptional and proved yet again that journalists across the network are in tune with the stories their audiences want to hear."
IRN Managing Director, Tim Molloy said: "It is very encouraging for the future of commercial radio journalism to hear the many talented younger voices entered into both Newcomer of the Year and the Student Journalist of the Year categories. All of the winners, runners up and nominees are at a high level and undoubtedly they help their stations to build trust with their audiences through engagement with professionally produced bulletins and reports – which is vitally important in the era of fake news."
Ayrshire's West FM was named 'News Team of the Year' with a TSA of under one million with judges saying it was 'brave enough to invest in its own special reports and bold enough to shape the agenda by throwing its weight behind campaigns.'
Global's Newsroom Yorkshire and North East were the recipients of the News Team of the Year in the over one million TSA category. The judges were impressed with the 'range' offered by the team 'from hard-hitting investigations to gentler, more poignant stories.'
The 'Reporter of the Year' among stations with a TSA of over one million was LBC's Rachael Venables. Rachael was described as 'the complete package' who is 'at the top of her game' displaying 'empathy, enthusiasm and assuredness combined with a sense of humour.'
Here's the IRN Awards 2019 winners list in full:
IRN Gold Award
Andy Marsh
News Team of the Year (Over 1m TSA)
Global's Newsroom Yorkshire and North East
News Team of the Year (Under 1m TSA)
West FM News
Best News Special or Feature
Echoes of Dunblane: Journey To Parkland – Global's Newsroom Scotland
Reporter of the Year (Over 1m TSA)
Rachael Venables – LBC (Global Radio)
Reporter of the Year (Under 1m TSA)
Bryan Rutherford – Northsound and MFR
Best Sports Coverage
Scottish Football: Home and Away – Clyde 1 and Clyde 2
Campaigning Journalism Award
Take The Time – Radio Forth
Best Interview
Lockerbie: Love Never Dies – Global's Newsroom Scotland
Newsreader of the Year (Over 1m TSA)
Sam Thomson – Global's Newsroom Yorkshire and North East
Newsreader of the Year (Under 1m TSA)
Charlotte Murphy – CFM Radio
Newcomer of the Year
Abi Smitton – Hits Radio Manchester
Student Journalist of the Year – Supported by the BJTC
Dave Wheeler – Bournemouth University
Created on Thursday, March 7th, 2019 at 9:28 pm