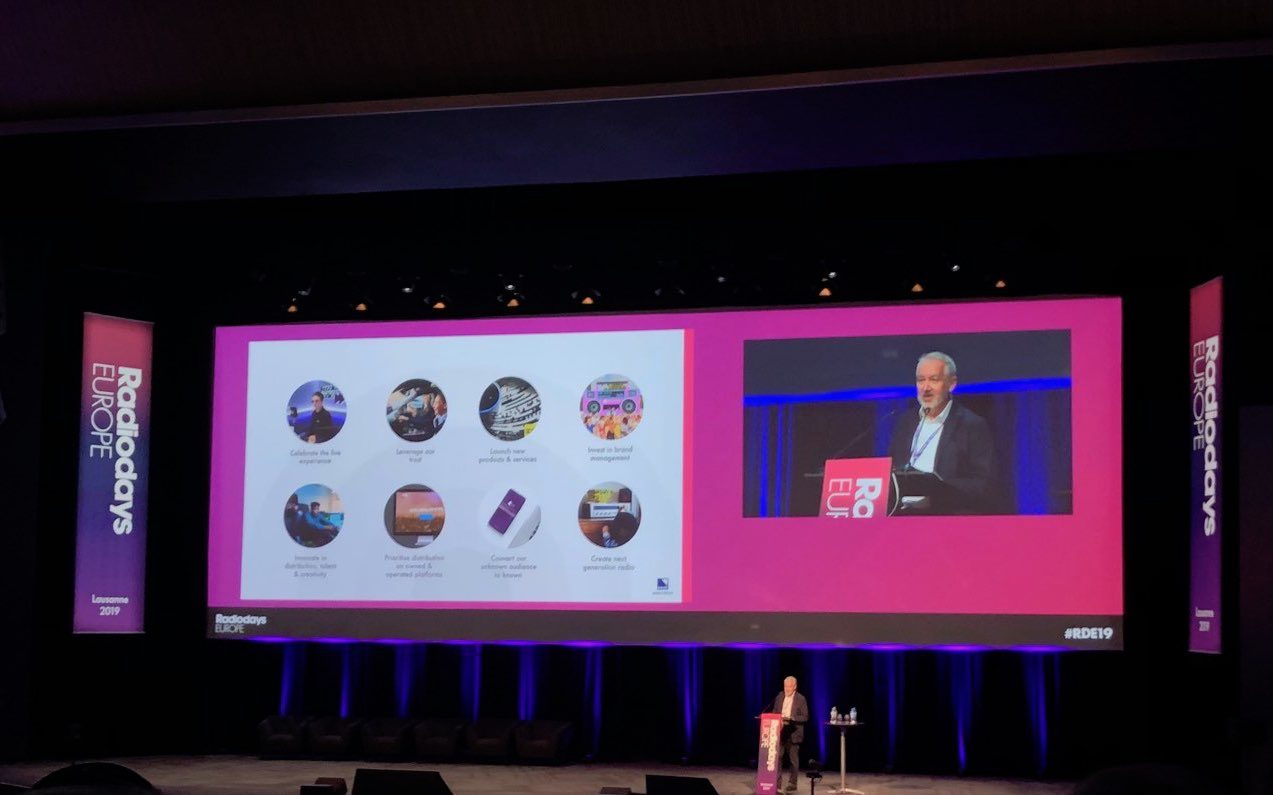 Bauer Media UK's CEO Paul Keenan has called for the whole radio industry to unite so that the sector can continue to prosper, saying there's never been a better time in commercial radio.
He was speaking in the opening session at this year's RadioDays Europe event in Lausanne, Switzerland – where he also revealed that 40% of Bauer's streaming of radio in the UK comes from smart speakers.

Mr Keenan said commercial radio across Europe is seeing all-time high levels of listening, share and record advertising revenues, underpinned by "innovation and unprecedented high-profile talent moves from public radio".
He added: "We must challenge ourselves to think differently, and renew how we work. Radio is the master of reinvention, the ultimate adaptive medium and commercial radio has proved itself to be agile and opportunistic in launching new services.
"Commercial radio has never been so strong across Europe and we call for strong co-operation with our public service broadcasting colleagues, underpinned by a new spirit of collaboration and respect rather than duplication and needless competition. Our focus must be on adopting a pioneer's mindset to understand future consumer trends and create next generation radio – enhanced services the listener will value, which harness the capability of new voice activated devices."
Watch Paul Keenan's speech here

You can follow full coverage of RadioDays Europe over the next two days on the RadioTodayLive page.
"When we look across the radio industry from public, to commercial and community… we have more which unites us than divides us" – Paul Keenan at #RDE19

— Bauer Media Group UK (@bauermedia) April 1, 2019
? "Radio is the master of re-invention. The Madonna of media." pic.twitter.com/bBy5yuwPVD

— Radiocentre (@Radiocentre) April 1, 2019
"Radio can still be refreshing and surprising", Paul Keenan of @bauermedia, at @RadiodaysEurope #RDE19

***DIGITAL IS GOOD 4 RADIO*** pic.twitter.com/rVwiI9itat

— Sergio Figueiras (@sergiofigueiras) April 1, 2019
40% of Bauer Media's online streaming is delivered by smart speaker. #RDE19

— James Cridland #RDE19 (@JamesCridland) April 1, 2019
Maybe there has never been a better time if you are a shareholder of a large corporation, but anything below that doesn't feel very "exciting" right now. Quite the opposite.

— The Local Radio Group (@LocalRadioGroup) April 1, 2019
Posted on Monday, April 1st, 2019 at 9:06 am by Stuart Clarkson