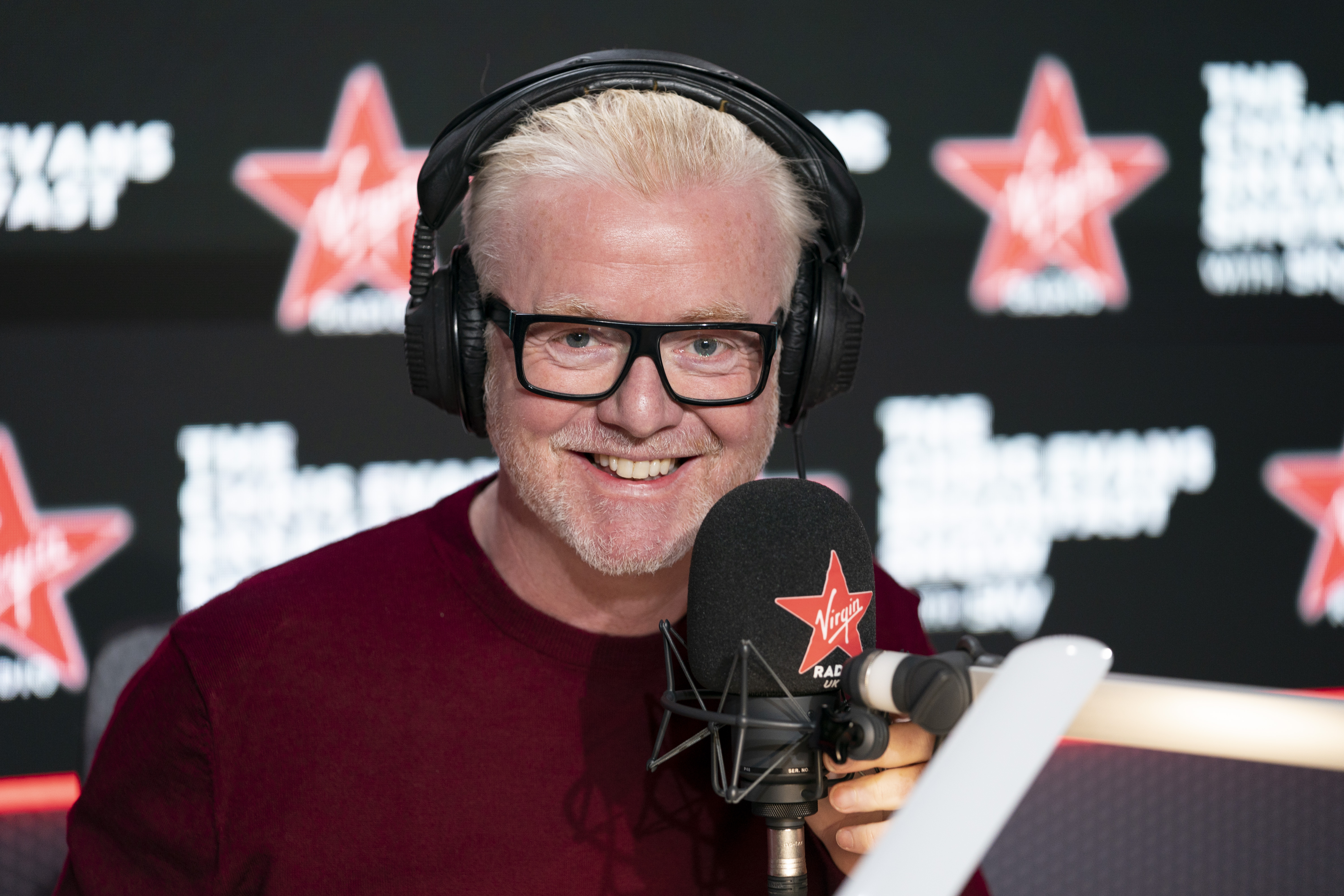 Chris Evans and Virgin Radio both reached over a million listeners in the first quarter of 2019.
The digital station's audience has almost trebled compared with the last period of 2018 thanks to the arrival of Evans from Radio 2. In Q1/2019 it posts a weekly reach of 1.3m and total hours of 7.765m. A year ago those figures were 427,000 and 1.632m. Last quarter they were 447,000 and 1.686m.

Chris' breakfast show – which also goes out on new digital spin-offs Virgin Radio Anthems and Virgin Radio Chilled – has an audience of 1.048m. That's bigger than the 928,000 that Chris Moyles has taken 3 years to build up on Radio X breakfast in the same timeslot. Virgin as a station is only 237,000 behind Radio X, which has FM coverage in London and Manchester and a larger national digital coverage area.
Chris Evans says: "Last year, I said I wanted a new mountain to climb. And the view from the top of the News Tower isn't half bad. But really this is just base camp. I'm back in my spiritual home and loving every minute of it."
Wireless CEO Scott Taunton told RadioToday: "This is an exceptional set of results for the new Chris Evans Breakfast Show with Sky. The breakfast slot has grown its audience to over one million listeners – seven times what it was in the last quarter – while Virgin Radio UK has trebled its overall audience year-on-year thanks to Chris and our friends at Sky. This is the first milestone in our ambition to become the UK's leading commercial digital station and we are all delighted."
If Radio 2 listeners have made the switch to Virgin with Chris, then the BBC's flagship radio breakfast show has attracted new audience since he's left too, as the Zoe Ball's reach remains fairly constant since her arrival at 9.047m – down by just 18,000 from Evans' last three months at the helm. Radio 2 remains the UK's biggest radio station with a weekly reach of 15.356m – up 3% from last quarter, but down 57,000 year on year.
Global claims the Top 4 commercial radio brands in the UK – with Heart (9.655m), Capital (8.172m), Smooth (5.704m) and Classic (5.288m) all ahead of Kiss (5.215m), Magic (4.108m) and talkSPORT (3.3m).
Capital is London's biggest commercial station with 1.766m listeners, while LBC is number one on market share at 5.7%. Capital retains the title of London's biggest commercial breakfast show (972,000), while Nick Ferrari is top on share. LBC's national reach of 2.25m is another record high for the station. Heart 80s also has a new record audience – up 8% this quarter to 1.422m.
The departure of long-standing breakfast team Rickie, Melvin & Charlie has had an impact on the performance of Kiss in Q1/2019. Across the UK, the show's reach is down from 2.093m a year ago to 1.788m. In London the slot has lost almost 300,000 in 12 months, dropping from 968,000 to 671,000. The impact on the brand's reach means that while Kiss Fresh and Kisstory remain fairly static, the overall Kiss network is down more than 5% year on year to 5.215m
Absolute 80s has another great book – up 11% from a year ago to a reach of 1.737m. It's just behind Kisstory (1.845m) in the race to be the biggest digital-only commercial station. The 90s could soon be the new 80s too – with Absolute 90s up 40% over the last 12 months from 684k to 958k weekly listeners. Absolute 70s' audience fell by nearly a quarter over the year though, dropping 58,000 listeners to 193k.
There's good year on year growth too for Mellow Magic (up almost 40% to 603,000) Magic Chilled (up almost 30% to 336,000) and Planet Rock (up 14% to 1.212m).
The main talkSPORT station is back over 3 million for the first time since a year ago, while talkSPORT 2 has hit a record high at 424,000. That's up more than 100k compared with Q1/2018. talkRADIO hit a record reach this quarter too – up to 339,000 from 316,000 a year ago.
Virgin Radio Anthems debuts on the SDL national DAB multiplex with 74,000 listeners, while Virgin Radio Chilled is slightly more popular at 92,000.
At the BBC, star performer is Radio 4 Extra – up 7.5% to 2.238m. A decent quarterly rise (but slightly down year on year) at 6 Music, which remains the biggest digital-only station with 2.515m listeners a week. There's a record for 6 Music breakfast, with 1.28m a week tuning in to Lauren Laverne's new programme in Q1/2019. Weekend breakfast is up too following the arrival of Radcliffe and Maconie to the slot – they debut on the show with 761,000.
There's solid year on year growth for Radio 3, 5 Live, 1Xtra and the World Service. Not great results this time out though for 5 Live Sports Extra (down 26.9% year on year to 708,000) and BBC Asian Network (down 14.6% to a reach of 536,000).
Radio 1 is down slightly compared with both a year ago and Q4/18, with a reach of 9.303m – though this rises to 10.18m when you include children aged 10 to 14. The station tells RadioToday it's the number one station in the country for 10 to 29 year olds and that Greg James' breakfast show has seen a 9% increase in under 30s. It also says a third of all 15-24 year olds in the UK tune in to Radio 1 at some point each week. Greg's breakfast show reaches just over 5m listeners aged 15+, while there's a record breakfast audience for 1Xtra, with Dotty posting a Q1/19 figure of 441,000.
Elsewhere, JACK Radio debuts with 85,000 listeners across the UK and 467,000 hours. Sister station Union Jack has a reach of 150,000 (up from 114k a year ago and 153k in Q4/18).
In London, Love Sport debuts in RAJAR with 38,000 listeners – tuning in for an average 2.3 hours a week. Total hours are 87,000. The station has told RadioToday that 74% of its audience is in the 15-34 age bracket. It quotes the equivalent figures for talkSPORT and 5 Live as 31% and 14% respectively. Love Sport Founder Kelvin MacKenzie said: "It's astonishing for a speech station to attract such a youthful audience. With its modern, diverse and dynamic schedule, Love Sport has knocked out the opposition when it comes to its ability to deliver 15-34 year olds. Young sports fans finally now have a station that caters for them and their on-the-go lifestyles. Our audience are more interested in Harry Kane, while talksport and 5 live listeners are still looking for their walking cane."
More quotes
Ashley Tabor OBE, Founder & Executive President of Global, said: "I'm immensely proud to see a really strong card for Global again as we now achieve the top four commercial radio brands across the UK with Heart, Capital, Smooth and Classic FM. It's fantastic to see Capital Breakfast with Roman Kemp retain its position as No 1 commercial breakfast show in London for reach, whilst LBC leads the pack for hours and share with its unmissable coverage of an ever-changing news agenda. With our recent launch of Capital Breakfast nationwide and preparation for the roll-out of Heart Breakfast on June 3rd across the UK, it's hugely encouraging to see strong performances to support pivotal moments in Global's history. These figures from the Global portfolio signal our focus on reaching and engaging with listeners right across the UK. Congratulations again to an amazing team at Global."
Dee Ford, Group Managing Director Radio, Bauer Media, said, "This is a great set of results for commercial radio, digital product innovation is underpinning commercial radio's highest ever reach. The significant step up in Bauer's lead in digital listening reflects our continued commitment to bringing listeners fresh, new, unique radio services complementing our powerful big brand portfolio – listeners love them, and so do our advertisers. Our latest 2019 launches, Scala Radio and Country Hits Radio, will record their first set of figures next quarter."
Scott Taunton, Wireless CEO, said: "This is a superlative set of results for Wireless, reflecting our investment in talent and sports rights. Chris Evans has driven huge growth at breakfast and across the whole station, and that's in just ten weeks. talkSPORT is reaping the benefits of our award-winning live coverage of major sporting events – including our investment in cricket and football rights – and talkRADIO is increasingly the destination for those looking to make sense of Brexit. With the backing of News UK, our growth strategy is ahead of expectations, with one million more listeners joining Wireless in the last year. We're delighted with this performance."
James Purnell, Director of BBC Radio and Education, said: "The refreshed line up on Radio 2 and 6 Music breakfast shows has proved hugely popular with audiences and it's brilliant to see some record listener numbers too. It's been an incredible team effort with our talented presenters and their production teams hitting the ground running and bringing joy to millions of listeners in the morning. It shows yet again the importance of BBC radio in the daily lives of the 34 million people who tune in each week. This quarter we've also seen the highest proportion of people listening to radio on digital platforms, including online and on apps, as well as increased numbers in the UK listening to podcasts each week, and I'm delighted listeners are discovering our much loved content however suits them."
Ben Cooper (Controller BBC Radio 1, 1Xtra & Asian Network) said: "Radio 1 goes from strength to strength, as more young people consume the station in different ways with over 10 million listeners, 10 million social followers and over 14 million views every week. It's fantastic to see Greg James continuing to build his successful new Breakfast Show by adding a quarter of a million listeners."