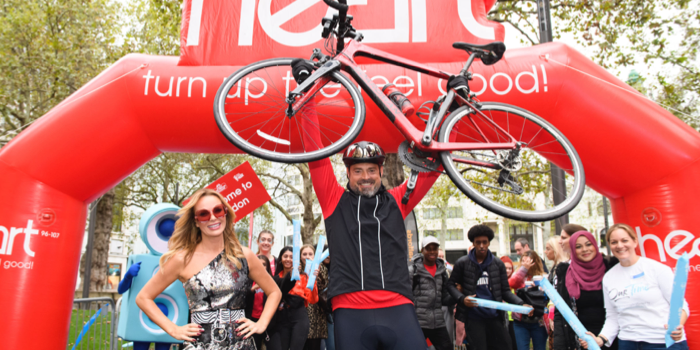 The total from Global's Make Some Noise Day stands at over four million pounds – at £4,097,325 raised in just one day.
Staff from Global stations all over the UK took part in fundraising activities, from Jamie Theakston cycling from Edinburgh to London, Kate Garraway appearing in five West End Shows in one day, and Roman Kemp travelling 1,000 miles around the UK without money or use of his phone.

Roman Kemp made it to Global's Leicester Square studios after travelling 1,000 miles to present five breakfast shows in five days, without money or the help of his phone.
Since Monday, Capital listeners up and down the country have rallied around Roman and helped him get from Edinburgh to London via Newcastle, Leeds, Liverpool, Manchester, Birmingham, North Wales, Wrexham, Southampton, without any money, with some also offering him a bed for the night.
Celebs including Lewis Capaldi, Liam Payne, Jesy Nelson, Halsey and The Vamps set Roman challenges including a night spent camping off the edge of a cliff, an 80-mile cycle and a busking challenge.
On Friday he arrived back at Capital's Leicester Square studios to be surprised by his dad Martin Kemp (and his tiny dog Luna) live on air.
Martin told Roman and the Capital Breakfast team: "Me and mum are so proud of you, I can't tell you. We're proud of all of you guys for what you've put on because Make Some Noise is so important to everybody, to all those small charities that never get a look in because they're swamped by the big ones.
"You're making it possible for them to put their name forward and collect some money to do good things for young kids. Ro, we are so proud. I know it's been really tough, really tough. When you were hanging off that cliff and I showed mum your Instagram story, she nearly fainted! She looked at me and said 'never show me that again!'. You know what she's like!"
It's over! @romankemp started in Glasgow, and made it all the way back to London, with no money and no phone. ?

This is the moment he returned… ?

? https://t.co/3pTd0ZGn9F | #NoMoneyRoadTrip | @makenoise pic.twitter.com/dQqffxxNo9

— Capital (@CapitalOfficial) October 11, 2019
Jamie Theakston was greeted by co-host Amanda Holden and a crowd of well-wishers as he returned to Global after cycling 650 miles, covering eight cities in eight days.
He began his challenge last Friday in Edinburgh, travelling through Newcastle, Leeds, Manchester, Birmingham, Cardiff, Bristol and culminating in London on Friday.
An incredible effort by @JamieTheakston for @makenoise cycling from Edinburgh to London. Just amazing. pic.twitter.com/qs9JiP7yHy

— Stephen Miron (@StephenMiron) October 11, 2019
A hero's welcome for @thisisheart Breakfast's @JamieTheakston in #LeicesterSquare this morning. Welcome home Jamie ?? #MakeSomeNoise | #BikeBritain | https://t.co/ukECwoOsgb pic.twitter.com/dyQffFTBCE

— Global (@global) October 11, 2019
And Kate Garraway appeared in five West End productions on 10th October. She started her challenge as a cocktail-maker in one of London's newest shows, BIG The Musical at the Dominion Theatre, followed by an appearance as a parent in the finale of Andrew Lloyd Webber's School of Rock The Musical.
From there, Kate dashed to The Hippodrome to be serenaded by dancer 'Manny' in London's hottest production, Magic Mike Live, before joining Joe Sugg and the cast of the romantic musical comedy Waitress at the Adelphi Theatre.
Finally, Kate took to the stage as a wedding guest in one of the West End's most successful productions, MAMMA MIA! at the Novello Theatre.
Our #throwbackthursday goes to @KateGarraway's 2018 #24jobhop challenge in aid of @MakeNoise… appropriate as she prepares to take on her 2019 challenge today! Follow #KateWestEnd for updates ?? @SmoothRadio pic.twitter.com/mW7FSqV6FS

— Global (@global) October 10, 2019
From all of us at Global, a heartfelt thank you for coming together to raise a staggering £4,097,325 in aid of @MakeNoise on #MakeSomeNoise Day 2019! You've transformed and enriched more lives than you'll ever know ?? https://t.co/PfkUaNGOQk pic.twitter.com/uMNFYKbtuj

— Global (@global) October 11, 2019
Other activities included Classic FM's Tim Lihoreau pulling a piano five miles across London, Chris Moyles being suspended, and Amanda Holden doing a skydive.
Stephen Miron, Group CEO of Global, said: "Global's Make Some Noise brings together our radio brands, our star-studded presenter line-up and our 25 million weekly listeners to help small charities that change young lives, and we're overwhelmed by the incredible support for our sixth annual fundraising campaign.
"We've raised a staggering £4.1 million for Global's Make Some Noise and we've raised awareness for small projects and charities that do incredible work but that struggle to be heard. This truly will help transform the lives of disadvantaged youngsters living with illness, disability or lack of opportunity across the UK, and we'd like to say a massive thank you to the entire Global family, our friends and especially our listeners for their generosity and support."
Wynne Evans aka Gio Compario aka The Go Compare Man jumped in the pod with @ChrisMoyles ?#CableCarChallenge pic.twitter.com/c8blJ5fPjx

— Radio X (@RadioX) October 10, 2019
Very organised @GlobalsNewsroom @LBC ? #MakeSomeNoise | @MakeNoise pic.twitter.com/VmIdZfhR2d

— Global (@global) October 11, 2019
Christmas has come early – you've helped us raise an incredible FOUR million pounds and then some! It's not too late to donate – even the price of a Friday evening pint will be greatly appreciated & make a huge difference ?#MakeSomeNoise | @MakeNoise | https://t.co/QOMirq3ym9 pic.twitter.com/xAo9gsefJe

— Global (@global) October 11, 2019
We're live from @BirminghamMal from 4-7 for @makenoise! Weekend had begun! Come down and let's celebrate @global's special day! pic.twitter.com/yeIf2veDxZ

— Heart West Mids (@heartwestmids) October 11, 2019
The South Coast news team's dress 'loud' effort for @global @makenoise today…personal highlight is @Jonweeks5 breaking out the dungarees for the first time since 1994 ? pic.twitter.com/nDpFxpIezg

— Steve Forbes (@ForbesyPresents) October 11, 2019
What a bunch of Wallies…#MakeSomeNoise @makenoise pic.twitter.com/8CJ6Gn6p0h

— Smooth Radio (@SmoothRadio) October 11, 2019
GROOVY CHOOOONSSSSS BABY, WEEKDAYS 4/7PM! Happy Global's @MakeNoise day! ? #80sBaby #MakeSomeNoise pic.twitter.com/ELpc26Ade5

— Ben Sheppard (@BenSheppard) October 11, 2019
We asked Globallers to #DressLoud for @MakeNoise… and they have delivered! #MakeSomeNoise | https://t.co/PfkUaNGOQk pic.twitter.com/AGy2lNvWWs

— Global (@global) October 11, 2019
Wondering why @LemonTwittor is jumping for joy? We've surpassed £2,000,000 for @MakeNoise ? We're only half way through the day… imagine how much more money we can raise together before home time! #MakeSomeNoise | #KeithLemon | https://t.co/QOMirq3ym9 pic.twitter.com/6Npkz8uAjo

— Global (@global) October 11, 2019
Our Global execs @AshleyTaborKing, @StephenMiron & @JamesRea busy taking your kind donation calls for @MakeNoise at HQ before they head to our new Holborn office! #MakeSomeNoise pic.twitter.com/Xb1jlOG0Hc

— Global (@global) October 11, 2019
To donate £5 to Global's Make Some Noise, text NOISE to 70766 with 100% of donations going to Global's Make Some Noise.

Posted on Sunday, October 13th, 2019 at 9:56 am by Roy Martin