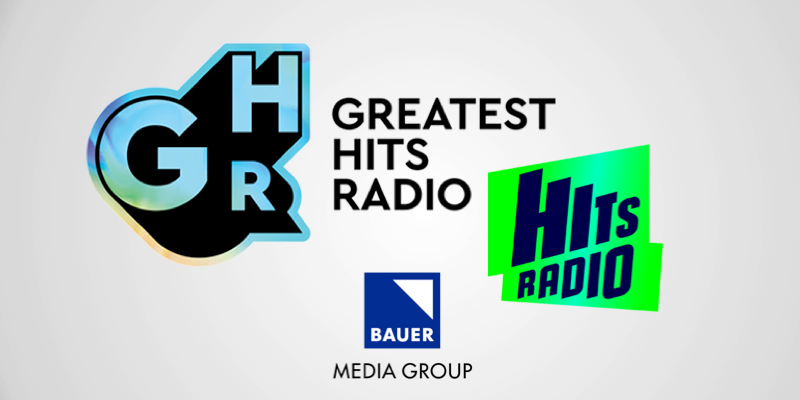 24 local radio stations are stepping up their transitions to Hits Radio and Greatest Hits Radio from next week as part of Bauer's plans to integrate the four groups acquired last year.

From Monday 13th July, former Wireless and Celador stations that are becoming Greatest Hits Radio will feature shows from presenters including Mark Goodier, Pat Sharp, Andy Crane, Rossie and Alex Lester. The stations will retain their existing breakfast shows in the run-up to early September when they will fully switch over to Greatest Hits Radio. For the time being, Rossie – who does the Greatest Hits Radio national breakfast show – will be on these 21 stations at drivetime.
The full list of stations affected from next week is shown below.
Former Wireless:

– Peak FM
– Pulse 2
– Radio Wave (Blackpool)
– Signal 107
– Signal 2
– Tower FM
– Wire FM
– Wish FM
Former Celador:
– Dream 100
– North Norfolk Radio
– Radio Norwich
– The Beach
– The Breeze – Bristol
– The Breeze – Cheltenham
– The Breeze – East Hants
– The Breeze – Somerset
– The Breeze – South Devon
– The Breeze – Thames Valley
– The Breeze – West Wilts
– The Breeze – North Dorset
– Town 102
The following week – Monday 20th July – will see Pulse 1 and Signal 1 begin taking Hits Radio network programmes outside of weekday breakfast. This will mean Mike Toolan, Greg Burns, Wes Butters & Gemma Atkinson, Jordan Lee, Jenny Longdon and John Isherwood will be on air on weekdays across Pulse 1 and Signal 1. From 25th July the two stations will not have any local shows at weekends.
The Wave in Swansea also joins the Hits Radio network and takes some of the shared shows, but will retain extra local programming – including a mid-morning show hosted by Badger and drivetime show presented by Jamie Pritchard.
There are no changes at the moment for Sam FM in Swindon and Bristol or Fire in Bournemouth.
Graham Bryce, Group Managing Director – Hits Radio Network Brand, told RadioToday: "We're pleased to welcome in this pivotal new chapter for the stations as we launch a new line-up of esteemed nationally-known presenters. Reimagining local radio for the future is a vital part of securing its future success, and these changes have been designed to offer listeners access to fantastic new shows alongside all the local news content, local information and traffic and travel that is important to them."
The changes do mean that freelance presenter contracts will be coming to an end, with staff presenters under consultation.
Graham Bryce added: "I'd like to personally thank all the individuals for their professionalism and outstanding contribution. These changes in no way diminish those achievements but merely reflect the changing market in which we operate. We wish them the very best for the future."
Stations previously owned by UKRD and Lincs FM Group are not included in the announcements today – RadioToday understands that this is because of the different structures in place across the former groups and the fact the staff consultations are still ongoing. So far the main change on air at these stations has been the introduction of imaging which says 'from the Greatest Hits Radio Network' and changes to the music logs to remove most current and recent tracks.
---
Posted on Thursday, July 9th, 2020 at 11:35 am by Stuart Clarkson
---