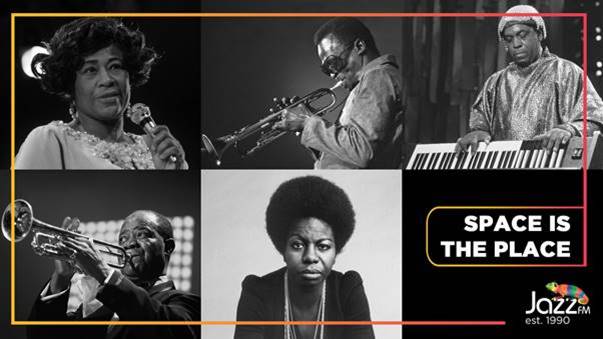 As part of its 30th anniversary season of programmes, Jazz FM is set to broadcast a new series of specially commissioned dramas in the run up to Christmas.
Based on five pivotal moments in the lives of some of the station's artists, "Space Is The Place" will broadcast each evening in Dinner Jazz with an omnibus edition on Saturday evenings, supported by the Audio Content Fund.

The stories will feature the lives of jazz titans Miles Davis, Nina Simone, Louis Armstrong and the man whose album and film 'Space Is The Place' lends its name to this series, Sun Ra.
The first series of stories are from the 'first lady of song' who launched Jazz FM in 1990 – Ella Fitzgerald. Each set of stories will feature the mysterious time travelling "Jazz Traveller" who will take the listener to key moments in the lives of these artists that make them the legends they became.
Jazz FM's Content Director Nick Pitts says: "Whilst there have been so many challenges this last year, our 30th Anniversary celebrations have carried on and I'm so pleased that we are not only closing our year of special programmes with this, but once again we are able to break the mould and broadcast something so unique for our audience.
"We know that the listeners have a healthy interest in the history of the music and the superstars of jazz, and this programme is not just going to tell the stories but really bring them to life."
Produced by Manchester based Sparklab Productions, where MD and Exec Producer Melanie Harris says: "This was a complete joy to produce. Terrific scripts, a hugely talented ensemble of actors and a chance for all of us to immerse ourselves in the lives and music of five extraordinary artists. What a great project! I'm proud to bring this series to Jazz FM: the perfect platform for these stories."
Space Is the Place
Consisting of 5 x 5minute 'Acts' (Monday-Friday @ 8pm) and 1 x Omnibus (Saturday @ 9pm)
w/c 23 November – ELLA FITZGERALD written by Jeff Young
w/c 30 November – LOUIS ARMSTRONG written by Fraser Ayres
w/c 7th December – MILES DAVIS written by Fraser Ayres
w/c 14th December – NINA SIMONE written by Jeff Young
w/c 21st December – SUN RA written by Frazer Ayres
Cast: Kevin Harvey, Peter Bankolé, Lloyd Thomas, Elexi Walker, Madeline Appiah, Wil Johnson, Beru Tessema, Lloyd Thomas, David Carr and George Eggay
Director/Producer: Melanie Harris
Production assistants: Eleanor Mein & Louis Blatherwick
Recording Studio: Crown Lane Studio
It's easy to put travel news on your radio station, from £25 a month for online stations. See
RadioTravelNews.com
for details and same day set up.