Here's what happened at Radiocentre's Tuning In event at The St David's Hotel, Cardiff on Tuesday night.
A catchy jingle, a distinctive zig-zag moustache and children's TV were keys to the success of CoCompare.com advertising featuring fictional Italian tenor Gio Compario, the man who plays him – Welsh tenor and broadcaster Wynne Evans, revealed at an event earlier last night.
Speaking at Radiocentre's Tuning In event, Evans recounted how the campaign introduced him to a wider audience but also deeply polarised opinion.
Not only did the character he played win Most Annoying Man in Britain for three years, an 'I Hate Go Compare Man' page on Facebook attracted 2.75 million Likes soon after the campaign's launch, compared with just 75,000 Likes to then BNP leader Nick Griffin's 'I Hate Nick Griffin' Facebook page.
"Annoying became another word for effective, however," Evans added, going on to explain the elements that made the campaign so memorable.
"When the Compare.com campaign was devised, a number of things made it really famous.
"For a start, there was a massive media spend which meant it was on TV about six thousand times a week. It had a catchy jingle, so on radio people would know instantly what brand it was for which meant we could buy shorter ad packages. And because of the instantly recognisable moustache we could do the same on TV.
"But what we didn't predict was the massive effect it would have on children, who absolutely loved the campaign and still do."
With advertising on children's TV cheaper than during The X Factor, he continued, the ads also "bombarded" Nickelodeon and Disney Channel helping the brand "really get into the national psyche".
"With kids singing it at home, parents just couldn't avoid it,' Evans continued. "And when they went onto Facebook to find the 'I Hate GoCompare Man' page and click Like we'd be in their brain for ever."
GoCompare.com's ad campaign starring Wynne Evans, was created by Chris Wilkins and Sian Vickers and launched in 2009.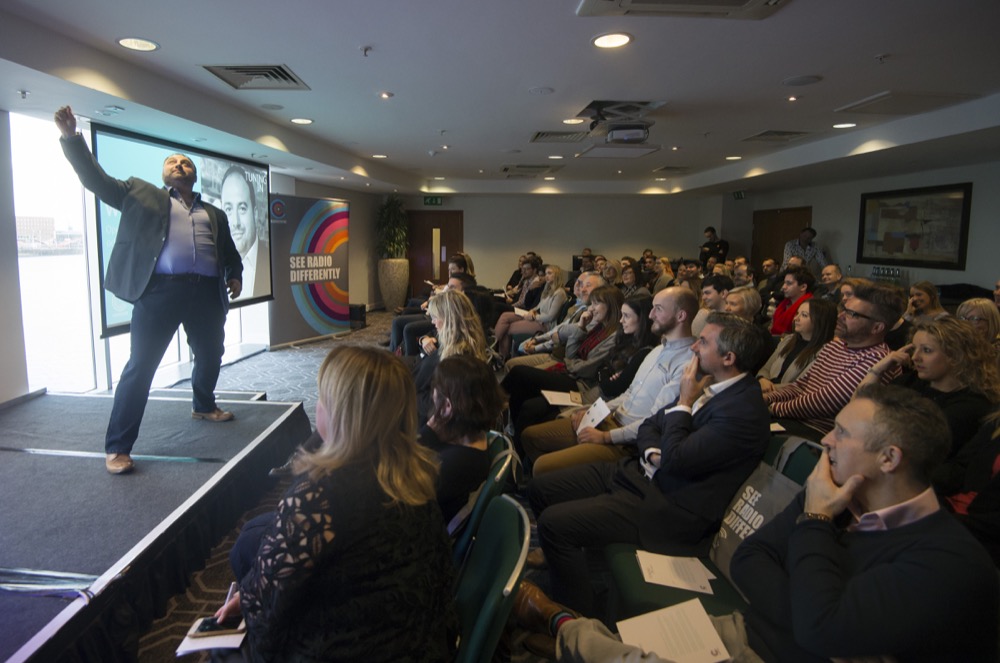 Tuning In Cardiff brought together Radiocentre members, agencies and clients from across Wales and the South West to hear and discuss the latest trends and opportunities in the rapidly evolving world of radio and audio.
Radiocentre CEO Siobhan Kenny said: "With the current success of commercial radio across the UK there has never been a more important time to travel the country and hear directly from those behind this success.
"Tuning In Cardiff follows visits to Manchester, Edinburgh and Birmingham and we look forward to sharing the latest news, research and innovations from across the industry."
2017 has seen commercial radio celebrate a record number of listeners, record ad revenues and new research has revealed that listeners trust radio above any other medium for their news.
There are currently 50 licensed commercial radio stations broadcasting across Wales – 30 national and 20 local – with a combined audience of over 1.6 million listeners (62.5% of the local population).