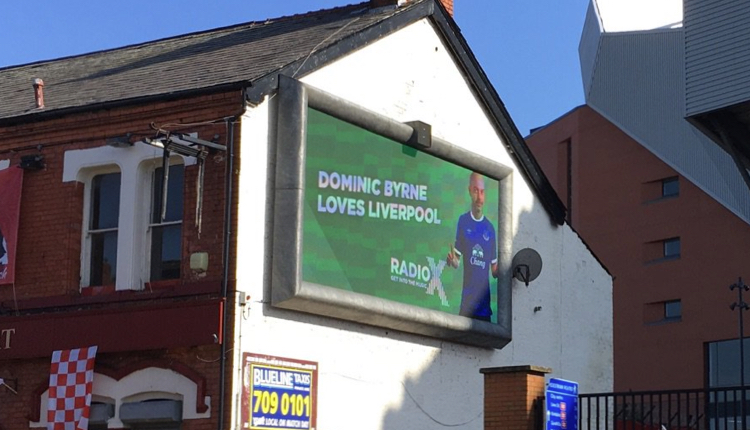 The team on the Chris Moyles Show have taken over the Radio X digital billboards across the UK, putting up custom messages instead of the standard text.
Listeners sent in photos of billboards, of which there are around 120 around the country, and we've got photos of some of the best ones below for you.

One of the messages was "Dominic Byrne loves sitting on the toilet" which was displayed to people in Leeds, Motherwell, Manchester, Cambridge, Dudley, Sheffield, and more.
There was even one of Dominic Byrne in an Everton shirt with a caption saying "Dominic Byrne loves Liverpool".
The ads are being used to display "Now Playing" information when not under the control of Moyles, and are created by 8 Outdoor.
This billboard of @domisatwit outside Anfield is BRUTALLY HILARIOUS! Hahahahaha! ??? pic.twitter.com/1jRhpL7j75

— Radio X (@RadioX) June 7, 2018
@RadioX it's made our day ?????? pic.twitter.com/IY8beQm0sb

— Tobyby (@Tobyby1) June 7, 2018
just stopped traffic in Sheffield to get this pic ?? @RadioX @ChrisMoyles @domisatwit @Pipskin pic.twitter.com/DghdpryIiL

— Graham Hopkins (@hopo001) June 7, 2018
#dominiclovessittingonthetoilet #leeds @ChrisMoyles @domisatwit @RadioX @Pipskin pic.twitter.com/MSGXYHC2K1

— Brian Norton (@BrianNorton89) June 7, 2018
Here is the picture of the morning (day? month? year?!) …@RadioX's @domisatwit in an Everton shirt, right outside Anfield ???@ChrisMoyles #DOOH #Powerof8 #YourOutdoor pic.twitter.com/bCwaUme22X

— 8 Outdoor (@8OutdoorMedia) June 7, 2018
@RadioX .Made me later for work taking this pic. Well worth it though. Kopites are gobshites !!!???? pic.twitter.com/dXEMfIhauL

— david smith (@bluebugsy) June 7, 2018
just stopped traffic in Sheffield to get this pic ?? @RadioX @ChrisMoyles @domisatwit @Pipskin pic.twitter.com/DghdpryIiL

— Graham Hopkins (@hopo001) June 7, 2018
@RadioX @ChrisMoyles @domisatwit @Pipskin Everyone in Dudley now knows Dom loves sitting on the toilet pic.twitter.com/x9amMUvKDx

— Harry Baldwin (@HarryBaldwin90) June 7, 2018
@RadioX regent road salford ? pic.twitter.com/vDvyz2CByN

— Thomas Jackson (@tomjacko81) June 7, 2018
@RadioX @ChrisMoyles At Cambridge United pic.twitter.com/8imBVHkZ1x

— Tom (@OmTomNom) June 7, 2018
@RadioX #dominiclovessittingonthetoilet Trinity Way Manchester pic.twitter.com/MPdqxu6ZJg

— James'Butch'Clarkson (@anlaeola) June 7, 2018
@RadioX @ChrisMoyles yes !! Dominic Byrne Loves babestation!!!! @domisatwit and now has an head like a egg slap in the middle of leeds city centre pic.twitter.com/p9OcVwjwrn

— Rob Callery (@calz88) June 7, 2018
We're super proud to have worked with @Global, @TalonOOH & @PHD_UK on creating this project, showing live playing tracks on @RadioX in a brilliant demonstration of #DOOH @ChrisMoyles @Johnnyvaughan #YourOutdoor #Powerof8 pic.twitter.com/KG0XDSpQAU

— 8 Outdoor (@8OutdoorMedia) June 6, 2018
Posted on Thursday, June 7th, 2018 at 10:09 am by Roy Martin