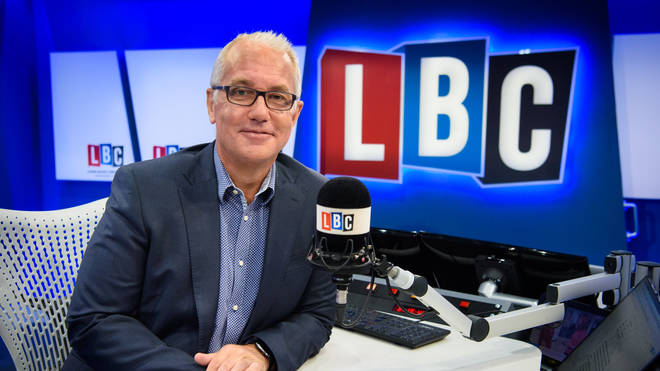 Eddie Mair confirmed for LBC from September

LBC has confirmed it's hired Radio 4 PM presenter Eddie Mair to do a new show on the commercial station from September.
It follows his news yesterday that he was leaving the BBC after more than 30 years.
The Global station hasn't yet said which programme Eddie will be presenting, but says it will announce more details over the next few weeks.
Eddie says: "LBC has established itself as a ground-breaking broadcaster. Innovative, informed and fun with appointment-to-listen shows and a reputation for setting the agenda. Its growth has been driven by bosses and staff who are passionate about radio, which is why I am eager to get started."
James Rea, Managing Editor of LBC, added: "Eddie is hugely respected broadcaster and I'm absolutely delighted he's joining LBC. He will be a fantastic addition to our formidable line-up. I know Eddie's new show will be exceptional when it launches in September."
Mair joined the BBC in 1987 after a few years with commercial station Radio Tay in Dundee. He worked at BBC Radio Scotland before a move to 5 live in the 90s and later Radio 4.
The presenter was revealed last summer to earn between £300,000 and £350,000 a year for his work at the BBC. Reports today in The Times suggest Global is paying him around double his BBC salary to work for them.
Hugely excited to announce the brilliant Eddie Mair is joining @LBC. He's an exceptional broadcaster and I'm absolutely delighted he'll be on our great team from September. #EddieMairOnLBC @global pic.twitter.com/hKtFT3H9eQ

— James Rea (@JamesRea) July 2, 2018
It's official. I'm delighted to welcome the incomparable @eddiemair to @LBC. His signing is a real statement of intent from LBC and I'm very much looking forward to working with him. I first became a fan when he was on 5Live back in the day – a truly exceptional broadcaster. pic.twitter.com/oeLawn1uyo

— Iain Dale (@IainDale) July 2, 2018
It's pretty interesting to see whether Eddie Mair will share his political opinions on LBC or whether he'll still act BBC on the LBC

— Scott Bryan (@scottygb) July 2, 2018
As I just announced in the news, the legendary @eddiemair is joining us at @LBC. Wonderful appointment! #WelcomeEddie

— Simon Conway (@SimonConway) July 2, 2018
'Distinguished' https://t.co/pUMUlWMvOU

— Eddie Mair (@eddiemair) July 2, 2018


Don't forget, we can send you radio news via email direct to your inbox with a number of options. Just use the form below to register.