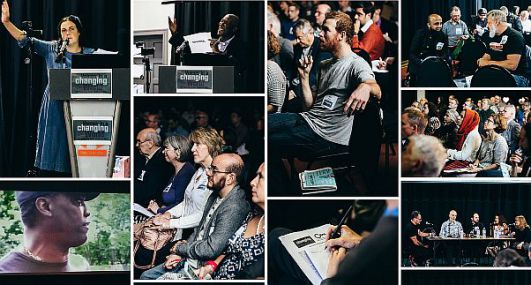 Community Media Association conference details

Sheffield's youngest ever Lord Mayor, Magid Magid, will join young people from community media organisations around the UK to present a day of talks, films, workshops and discussions about the future of media.
It's happening at the Community Media Conference 2018, presented by the Community Media Association, takes place on Saturday 15th September from 10am to 5pm at The Workstation in Sheffield.
Lucinda Guy, chair of the Community Media Association (CMA) said: "The annual Community Media Conference is coming home this year – to Sheffield, where our organisation is based. We support and campaign for the many small independent groups around the UK who have come together to create their own media channels. This year we challenged under 25-year-olds to programme our national Conference. Their bold and exciting ideas will help us imagine the future of independent media in the UK, and the ways in which communities are taking back control of their information, entertainment and democracy."
Global media charity Internews is working closely with the CMA on this year's Conference, bringing an international perspective to the issues of citizen voices, accountable media and empowering all to share information accurately and responsibly. Daniel Bruce, CEO of Internews Europe says: "This topic is vitally important because without the active engagement of young people in community media, the sector will not survive future generations. This would be a disaster for citizen voice, participatory democracy and accountability at the local level up and down the UK. I congratulate the CMA on putting this issue front and centre at their Conference."
The day will begin with a discussion of the relationship between media, misinformation and mental health, with young media practitioners and mental health experts, and including a presentation by Carolyn Powers of the Listening Post Collective, an innovative, US-based project.
CMA Vice Chair Hannah Parry will present films from community television projects around the UK, alongside Caroline Diehl, founder of the Media Trust and Together TV. As Caroline explains: "At Together TV we see daily the power of broadcast, on-demand and social community video content to engage and empower young people from across all backgrounds, to connect them with new audiences, and to build stronger communities. For young content creators the 360° experience of producing high-quality video content, of reaching out to both mass and targeted audiences, of being validated in their opinions and solutions builds skills, confidence and experience, creating the next generation of leaders from across our communities."
Adam Wood from Spark, the Sunderland-based youth radio station, will join CMA Council member Dom Chambers, producer of the inRadio podcast, to present a special edition live from the stage. "The conference gives those of us in community media a unique opportunity to all be in the same room as each other and really look at how we take things forward in this ever more digital world. I am really excited to share my skills and knowledge to watch something I have been part of for so long grow," Adam says.
The afternoon's workshops cover a wide range of skills, including hosting local networking events, applying for funding, an introduction to the CiviCRM platform, using social media for branding and opportunities for qualifications. Melanie Xulu, the 18 year old editor of Moof Magazine will guide people through the process of creating a zine.
London based radio presenter Sylvie Carlos will join Magid Magid on the closing panel of the day, discussing how the next generation is shaping creative, diverse and participatory media. Sylvie says: "I'm looking forward to this panel… What a time to be young. Young people are becoming super "woke" and really using their platform to bring forth change!"
More details here.